My Own Downtown - Sunny Hobbs
---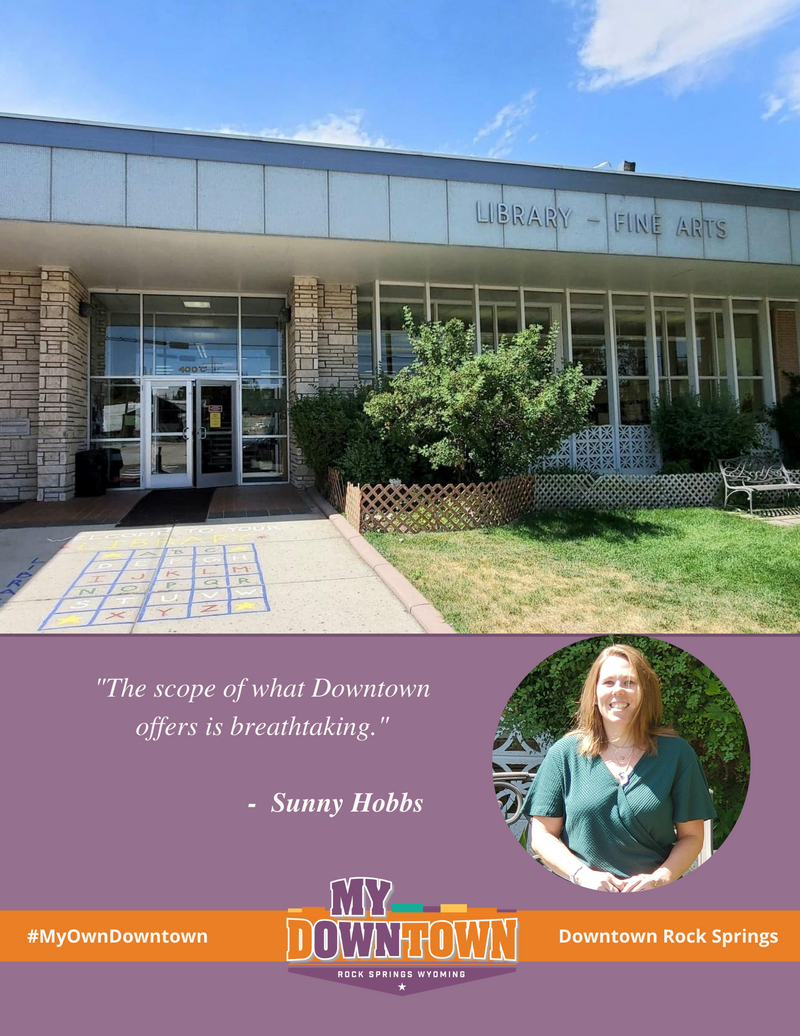 A library is
 where children can interact with others. It's a place outside the home where they have space to roam and explore. It's a place where special discoveries are made.
            Sunny Hobbs is the Youth Services Department Director for Rock Springs Library.
            "It was something I fell into," Sunny shared. "It took me about 13 seconds to become absolutely hooked!"
            She added, "I adore the organized chaos there – you never have the same day twice and you can never dream too big."
            Sunny enjoys working with children at the library.
            "It is so humbling to put a book into a child's hands and watching them connect with it," she expressed. "A light goes on in their eyes and the world stops, just for a second, as they realize they can hold magic in their hands."
            Sunny is always excited to see what will happen next in Downtown.
            "There is always something fresh or comforting to try," she said. "I'd like to see what new goodies are available at Escape Day Spa and what new beer Square State Brewing has."
            "Plus, you can never go wrong getting lunch at Remedies, Bitter Creek, or Cowboy Crepes!" she included. "I have been incredibly impressed with all the businesses abilities to adapt over the last few months."
            Sunny enjoys connecting with business owners in Downtown, especially during the current, ongoing activity, the Downtown Story Walk.
            "No one is afraid to try a new program," she beamed. "Downtown is the absolute best because of the business owners that populate it!"
            Sunny believe everyone has a good reason to go to Downtown.
            "The products and merchants speak for themselves," she pointed out. "The scope of what our Downtown offers is breathtaking."
            According to Sunny, people can see their doctor, visit their lawyer, eat lunch, get a haircut, have a massage, buy a new book, new yarn, buy a new bike, take advantage of pet grooming services and get professional pictures taken in about four blocks in Downtown.
            By sharing those adventures to her patrons at the library, she is enticing visitors and new locals to visit Downtown for the first time.
            "As a customer, I've had many great memories in Downtown," Sunny said. "Buying my daughter's first 'big girl' bike at Bike and Trike, all the amazing food, the strolls through the shops."
            This year, one of the highlights for children has been "Story Time" during the Main Street Market.
            "I love being surrounded by the noise and activity," Sunny mentioned. "It has been so much fun giving the kids a place that is all theirs at the market – just a little slice of the library in the open air."     
            To conclude, Sunny believes the future in Downtown is "blinding." 
            "The merchants have consistently come up with relevant and exciting shops and there are fun and interactive activities for people to enjoy," she said. "The community is responding by participating and shopping local whenever they can. I can't imagine a better scenario."