Coal Train Coffee Depot and The Stellar Cellar among latest "Backing Small Business Grant" recipients
---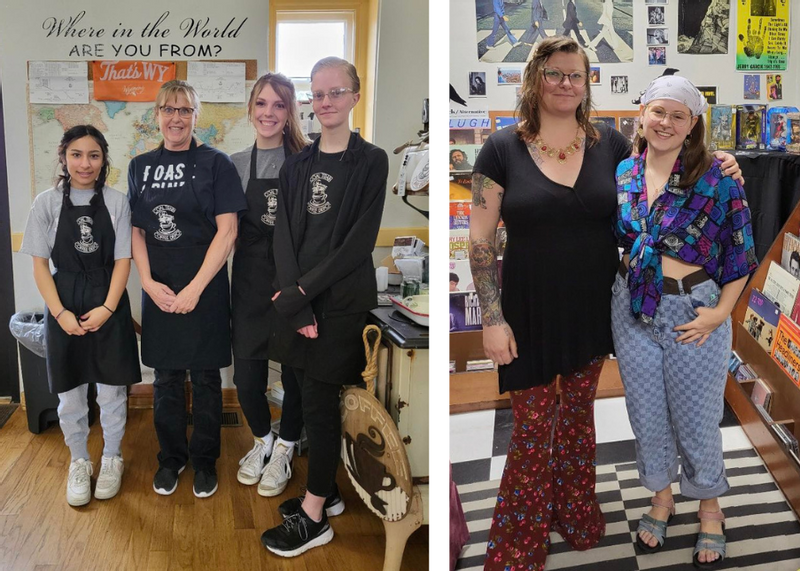 On Wednesday, June 14, Main Street America and American Express announced the next round of recipients for the "Backing Small Businesses" grant program. Coal Train Coffee Depot (501 S Main Street) and The Stellar Cellar (403 N Front Street), based in Rock Springs, Wyoming, were among the winners.
The Rock Springs Main Street/Urban Renewal Agency (URA) brought the grant to the attention of qualifying businesses located in the Downtown district back in March. The turn-around for the grants was tight, but several local merchants applied.
"That our small community received two of the 350 grants nationwide is really exciting," said Chad Banks, Rock Springs Main Street/URA manager.
"It reinforces the strength of our businesses community and their opportunity for growth," Banks added.
According to Jessi Fife, owner of The Stellar Cellar, the grant will help her grow her business, especially her music selection. "It'll also allow me to add to the diversity of what we offer to the community, including more eco-friendly products," Fife said.
"For a small business, like mine, this grant is a real 'shot in the arm,'" she concluded.
Denise Webster of Coal Train Coffee Depot will use her grant funds to add sound dampening materials to help with the acoustics in her coffee shop. She'll also add some dividers and hopefully enhance her outdoor dining experience.
"I'm looking forward to enhancing our business. We know the acoustics in the space are tough, so that's been a priority for me for many years," Webster said.
"for a small business like mine, every little bit helps," Webster concluded.
In 2021, American Express and Main Street America created the grant program to support U.S. small business owners as they recovered from the COVID-19 pandemic and looked to grow their businesses. In its first year, the program provided $1.65 million in grants to 330 small business owners across the country.­
In its second year, the program increased both grants awarded and total funding to further support small business U.S. small business owners in addressing critical needs. Small business grants of $5,000 were awarded to 350 small businesses in the U.S. and territories.
In partnership with Bunker Labs, CARE, Center for Community Progress, Disability:IN, HIAS, Hispanic Federation, National ACE (National Asian/Pacific Islander American Chamber of Commerce & Entrepreneurship), NGLCC (National Gay and Lesbian Chamber of Commerce), and Small Business Majority, grantees were selected based on feasibility of project implementation; how the grant would help improve the viability of the business; and the extent to which the grant will help address an acute business need or help a business owner overcome challenges.
This program marks the latest effort in American Express' "Backing Small" initiative to provide financial support and resources to U.S. small business owners. Other Backing Small programs include the Coalition to Back Black Businesses and Backing Historic Small Restaurants. Backing Small complements American Express' Shop Small, a global year-round movement to spotlight small, independent businesses.
To learn more about the Backing Small Businesses grant program and hear from about past grantees, click here.
The Rock Springs Main Street/URA is charged with the redevelopment of Downtown Rock Springs. As part of their mission, there are three standing committees – Economic Vitality, Promotions, and Arts & Culture. For more information on the Façade Improvement Grant or the overall program, contact the Rock Springs Main Street/URA at 307-352-1434 or visit their website at DowntownRS.com