Brown Bag Concert Series returns for summer lunch-hour entertainment.
---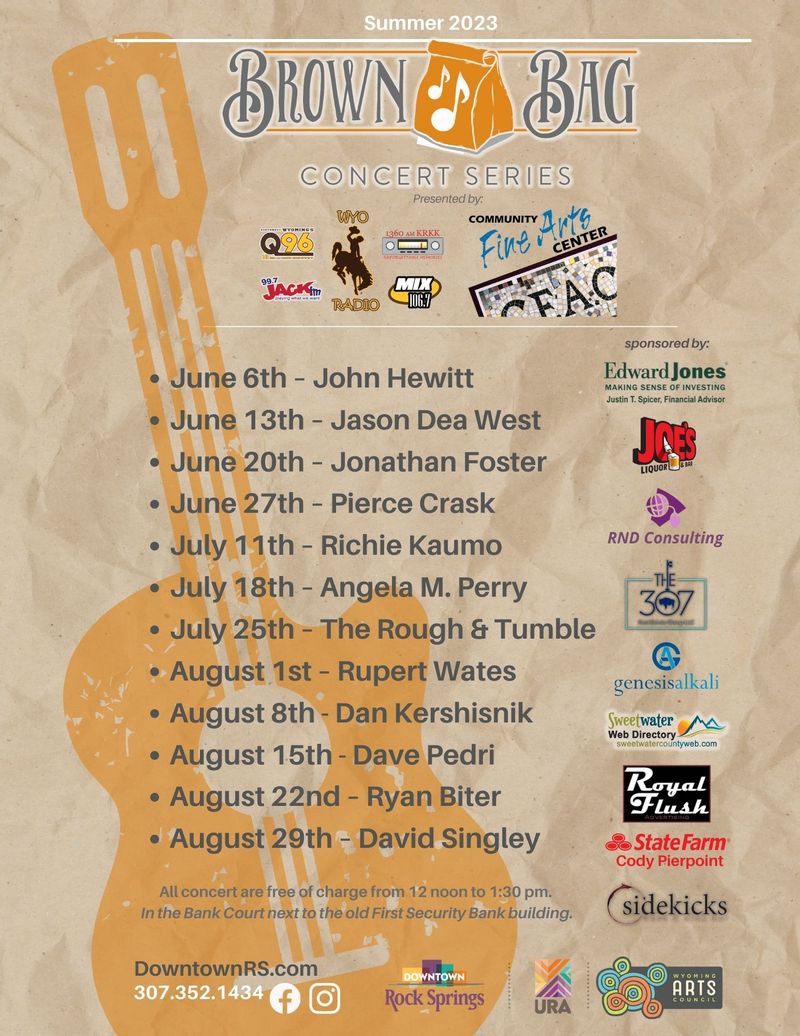 Rock Springs, WY - Rock Springs Main Street/Urban Renewal Agency (URA) is thrilled to announce the return of the highly anticipated Brown Bag Concert series for its eighth year. Presented in partnership with the Community Fine Arts Center (CFAC), Wyoming Arts Council, and WyoRadio, this exciting lunchtime concert series will take place every Tuesday throughout the summer (June to August) from 12 noon to 1:30 p.m. The concerts are open to the public and completely free of charge, providing an excellent opportunity for individuals to bring their lunch and enjoy the vibrant atmosphere of Downtown Rock Springs. For added convenience, many downtown restaurants offer take-out options for concert-goers.
After a temporary relocation to Sweetwater Square park last year due to construction, the URA is delighted to announce the series' return to the Bank Court location this summer.
The twelve-week Brown Bag Concert series will showcase a diverse range of music styles, including country, rock, folk, and Americana, among others.
We extend our heartfelt gratitude to the sponsors who have made this event possible:
Edward Jones - Financial Advisor Justin T. Spicer, AAMS
Joe's Liquor and Bar
RND Consulting
The 307 Real Estate Group
Genesis Alkali
Sidekicks Wine & Book Bar
Sweetwater Web Directory
State Farm – Cody Pierpoint
Whiskey Goats/Royal Flush

The 2023 line-up includes:
· June 6th – John Hewitt
· June 13th – Jason Dea West
· June 20th – Jonathan Foster
· June 27th – Pierce Crask
· July 11th – Richie Kaumo
· July 18th – Angela M. Perry
· July 25th – The Rough & Tumble
· August 1st – Rupert Wates
· August 8th - Dan Kershisnik
· August 15th - Dave Pedri
· August 22nd – Ryan Biter
· August 29th – David Singley
Let's delve into each artist's background:
John Hewit (performance June 6) - Based in Edmonton, Alberta, John Hewitt is a singer/songwriter, multi-instrumentalist, producer, and filmmaker. Throughout 2021, he dedicated his time to producing, writing, and recording music, including the albums "Dead Lovers," "Hollywood Reality," and "Life Blood & Tears." With notable performances across various locations, John has become a well-established presence in the music scene.
Jason Dea West (performance June 13) - Jason Dea West is an American troubadour known for his heartfelt lyrics and skillful blend of vintage country, folk, and blues. With a rich musical history and extensive touring experience, Jason's performances showcase his deep-rooted love for American musical traditions.
Jonathan Foster (performance June 20, 2023) - Award-winning songwriter Jonathan Foster, hailing from Cranberry Lake, New York, and currently residing in Redding, California, offers authentic roots music that resonates with old souls. His folk-Americana sound, highlighted by captivating vocals, imaginative lyrics, and acoustic guitar melodies, evokes a sense of familiarity and wanderlust.
Pierce Crask (performance June 27) - Chicago-based singer-songwriter Pierce Crask draws inspiration from acclaimed artists like Townes Van Zandt, Steve Earle, and John Prine. With his band, The Falling Martins, Pierce has released six albums, earning praise for his eloquent roots rock, infused with blues and country influences.
Rich Kaumo (performance July 11) - Local accordion extraordinaire. The self-styled, Rocky Mountain Polka King.
Angela Perry (performance July 18) - Hailing from a small Kansas town, Perry's songs are infused with energy, honesty, and a rawness that can only come from real-life experiences. Her powerful voice brings to life stories of love, loss, and the lessons learned along the way. Perry's song "Sunflower Child" has already amassed over 250K views on YouTube and Facebook, solidifying her presence as a rising star in the music industry.


The Rough & Tumble (performance July 25) - With their unique blend of dumpster-folk and thrift store-Americana, this Pennsylvania-born and Central California-based duo have been captivating audiences for over a decade. Their upcoming album, Only This Far, draws from their personal journeys and promises to deliver an emotional rollercoaster ride through their soul-stirring music.
Rupert Wates (performance August 1) –Rupert Wates is a full-time songwriter who has garnered over 50 songwriting and performing awards since moving to the United States from London. With his rich musical background and profound storytelling, Wates will transport listeners on a musical journey that transcends borders.
Dano K (performance August 8) - With a passion for music that began in his youth, Dano K's repertoire includes heartfelt original compositions as well as beloved cover songs that resonate with audiences of all generations. His campfire concert atmosphere will create a warm and inviting experience for all attendees.
Dave Pedri (performance August 15) - Dave Pedri and the EIO Band, a Sweetwater County favorite, will bring their timeless melodies to the stage. With over three decades of performing experience, Pedri and his band keep the tradition of accordion music alive and thriving, leaving audiences with a sense of nostalgia and a desire to dance the night away.
Ryan Biter (performance August 22) - Ryan Biter will take audiences on an unforgettable adventure. Inspired by his Flagstaff, Arizona home, Biter's soulful blend of Americana, blues, and indie-rock will leave listeners soaring with emotion. His masterful guitar work, poignant songwriting, and powerful vocals make for a truly mesmerizing performance.
David Singley (Performance 8/29/23) - Guitarist David Singley will grace the stage with his impressive jazz background and years of experience performing alongside renowned musicians. Singley's ability to seamlessly navigate between genres creates a captivating and fluid musical experience.
The Rock Springs Main Street/URA is proud to present this exceptional lineup of talented artists as part of their mission to revitalize Downtown Rock Springs. The Promotions, Business Development, and Arts & Culture committees have worked tirelessly to curate a series that offers something for everyone.