30 Mother's Day Gift Ideas for under $30
---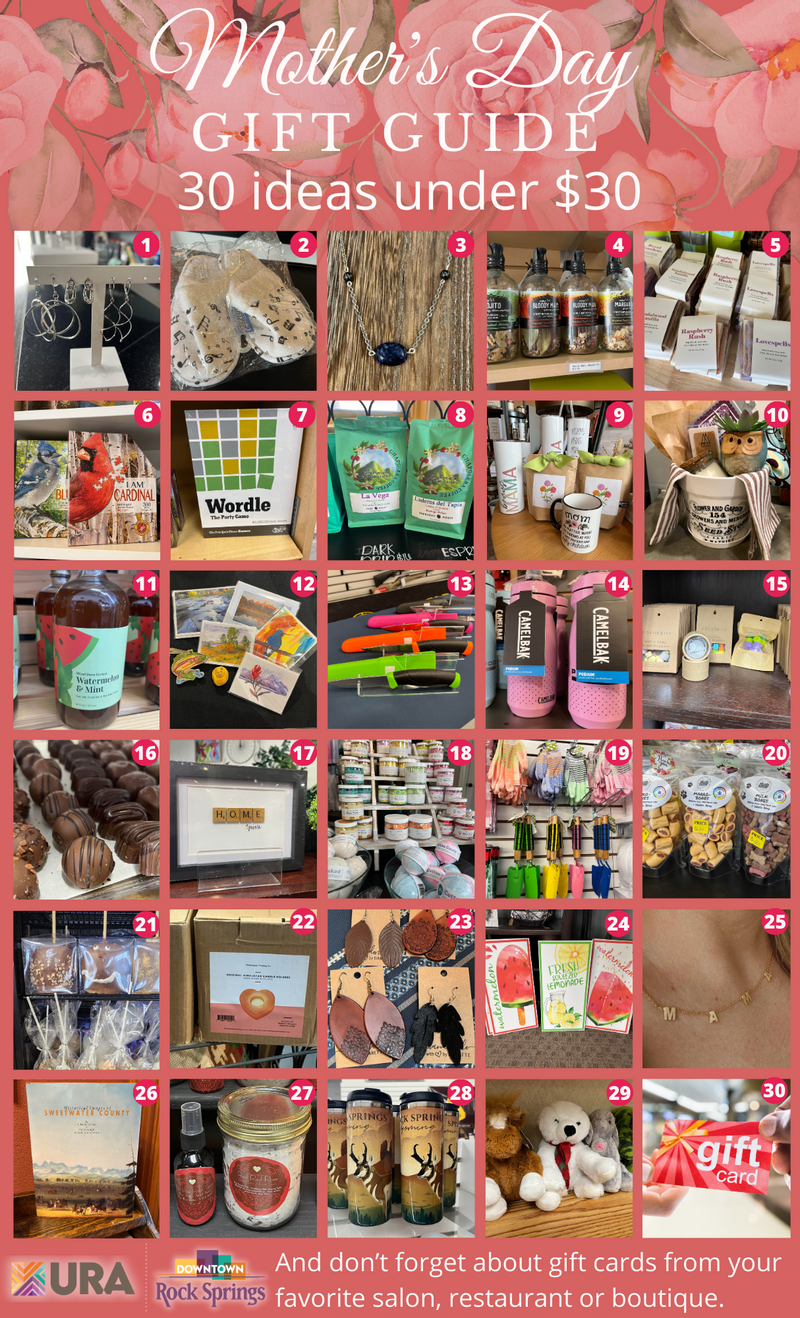 We've developed a list of 30 Mother's Day gift ideas for under $30 from your favorite Downtown merchants. If you don't see what you're looking for, be sure to visit the merchants in person. They have much more to select from.
Daniel's Jewelry – Stainless Steel Drop Earrings
Pickin' Palace – Musical Note Slippers
Wyoming Freight Company – Jewelry by Silver Lining
Joe's Liquor and Bar – Spirit Infusions
Nell's Coffee (Downtown) – Sweetwater Soap
Sidekicks Book and Wine Bar – Puzzles
Desert Keep Games – Family Board Games
Coal Train Coffee Depot – Custom Coffee Blends
Studio Designs Floral – Tumblers, Gardens in a Bag
Details Boutique – Mother's Day Gift Basket
Mack and Company – Cocktail/Mocktail Mixer
Community Fine Arts Center – Notecards and Hand-Made Items
Trailhead Guns – Morankniv Knives
The Bike & Trike – Camelbak Water Bottles
the yarn and the tale – Knitting Accessories
Wild West Candy Parlor – Specialty Chocolate Candies
Sweet Sage – Scramble Art
Escape Day Spa and Boutique – Bath Bombs and Bath/Shower Fizzers
BargainMart – Gardening Supplies
Muttley Crue (for all of the dog moms) – CBD Treats
A Touch of Class Floral – Caramel Apples
Frankie's Silver Linings – Heart Shaped Himalayan Tea Light Holders
Kneeland Fine Art – Handmade Leather Earrings
CJ Signs – Summer Signs
Lola B Boutique – MAMA Necklace
Rock Springs Historical Museum – "Historical Images of Sweetwater County" Book
The Stellar Cellar – Red Red Rose Bath Salts and Foot Soak
Bi-Rite – Rock Springs Travel Mug
Fetal Fotos 307 - (for moms to be) - Heartbeat Stuffed Animal
Gift Cards from your favorite salon, restaurant or boutique.