2023 Mayor's Arts Awards recipients announced
---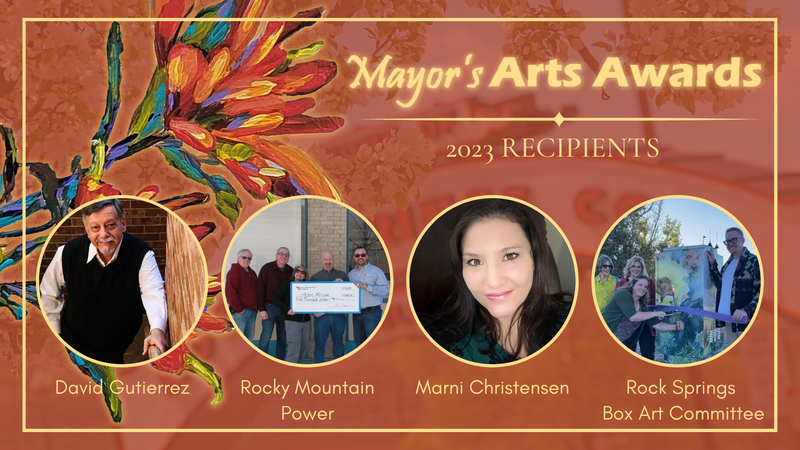 Rock Springs Mayor Max Mickelson, along with organizers Rock Springs Main Street/Urban Renewal Agency (URA) and Community Fine Arts Center, announce the recipients of the third annual Mayor's Arts Awards.
This recognition celebrates artistic achievement as well as extraordinary support for and contributions to the arts. Acknowledging these individuals and organizations affirms the value of the arts as a source of creativity, innovation and pride and supports the development of the arts and culture for all Rock Springs' residents. According to Mayor Max Mickelson, "the arts are an important part of our community and I'm excited to help honor these wonderful contributions to Rock Springs."
Four awards will be presented on March 31st at the White Mountain Library – Grace Gasson Room at 6:30 p.m. The public is invited to attend to honor the following individuals and organization:
Rocky Mountain Power is receiving this award for their continual support of our community's cultural events and projects. Donations for annual events such as International Days are extremely important and consistent donations to the Sweetwater concert association, the Broadway Theater (a cultural hub for both local and touring performances), and the all-volunteer Actor's Mission which has now received not only the Rock Springs Mayor's Award but this year's Governor's Arts Award. Beautifying our community is the Rock Springs Box Art Committee which selects local artists' images to cover utility boxes through the town, with Rocky Mountain Power making regular donations to the project.
The company's employees serve as volunteers, particularly Ron Wild who not only organizes the financial support but he, as an individual, volunteers for many of these events.
Two unique projects were the salvaging and relocation of the Peace I sculpture and repainting the iconic Gorilla statue on Elk Street. Rocky Mountain power partnered with Greene's Welding and Dominion Energy for the first project and the Community Fine Arts Center for the second.


A multi-talented artist, David Gutierrez has been an educator, graphic designer, fine art photographer and dedicated to the Actor's Mission, serving as a board member, actor, director, set and graphic designer. Having taught at Rock Springs High School and Western Wyoming Community College, Dave continues to share his knowledge with those around him. During play rehearsals, he is coaching, motivating and sharing his knowledge on all aspects of theater.
His graphic design work spans decades working with established design firms. Now for the last several years he has been a freelance artist, creating for Deep Wild Journal, Green River URA, and numerous local businesses.
The last decade has found Dave exploring our landscapes with his camera, capturing the Reliance Tipple, White Mountain and the lowliest of sagebrush and making them beautiful. He continues to have ideas for what might be next in his creative life!


Marni Christensen is a dedicated professional photographer who specializes in pet portraiture. After completing an associate's degree from Western Wyoming Community College, she continued her education receiving both the Certified Adobe Photoshop Expert and Master of Photography degree from the Professional Photographers of America.
The local Sweetwater County Photography Club members have also benefited from Marni's education and experience. Several times she has led workshops on different photography and software techniques, and is described as a "knowledgeable and generous" teacher.
While she does have clients to enlist her services, Marni volunteers and donates many hours to helping both the Red Desert Humane Society and Rock Springs Animal Control creating animated, colorful photos of the pets available for adoption. Using her knowledge, equipment and time, she is able to capture the personalities of these dogs and cats. By showing these animals in the best way possible and promoting them on social media, dozens of potential pet owners have been brought into both facilities ready to give an animal it's "forever" home.
If that wasn't enough, Marni has raised thousands of dollars the last two years holding pet portrait sessions as well as a printed calendar, with proceeds raised going to the Humane Society. As a professional, she creates images and web designs for businesses in the area


The colorful creative images popping up around Rock Springs on utility boxes have made a big artistic impact, thanks to the Rock Springs Box Art Committee! The Rock Springs Box Art Committee started in 2019 when organizing members Susie von Ahrens and Peggy Larson contacted Ron Wild with Rocky Mountain Power about the idea. Their idea of a "Power of Art" project hit the ground running and along with several volunteer members, the committee did the research, contacted potential donors and organized the fundraising to make it happen in our town.
Now you can see 30 utility boxes all around Rock Springs showcasing the work of local artists. The committee has had several calls for local artists to submit their ideas of fine art, photography and graphic arts. Subject matter ranges from wild horses to UFOs, landscapes to people.
Working with the Rock Springs International Day Committee, the boxes in Bunning Park now have international themed artwork. Working as volunteers, this committee has brightened many street corners for everyone to enjoy!


The Rock Springs Mayor's Arts Award is open to any Sweetwater County citizen, organization or business whose accomplishments reflect substantial contributions made in Rock Springs that exemplify a long-term commitment to the arts.
The public is invited to attend the celebration featuring a cheesecake dessert bar on March 31st, reception at 6:30 pm and presentation of awards at 7:00 pm at the White Mountain Library. The Community Fine Arts Center and Rock Springs Main Street/URA work together to promote the arts with multiple events, concerts and art related activities.