Celebrate Arts Month 2023 in Rock Springs
---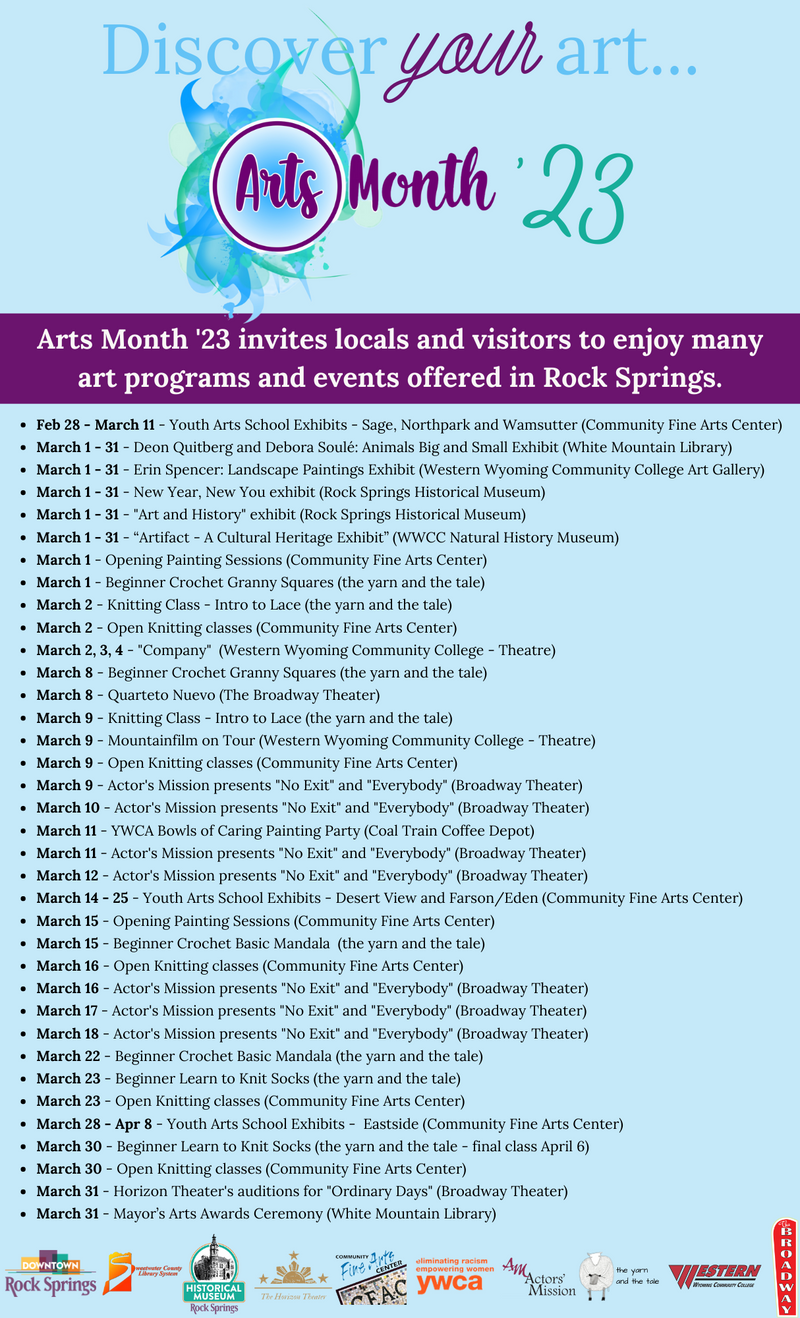 Join us as we focus on the Arts in March. Create something from your imagination. Take a class. Go to a concert.  Visit a gallery or museum.  Rock Springs Arts Month 2023 invites locals and visitors to enjoy many art programs and events offered in Rock Springs, March 1 through March 31.  
            Mayor Mickelson will officially designate March as Arts Month in Rock Springs at the March 7, 2023 City Council meeting. 
            Viewers are encouraged to stop by the Rock Springs Historical Museum and check out the "New Year, New You," exhibit. Since it is a window display, it can be seen from outside. It is best to see it at night when the exhibit is lit up, according to museum director, Jennifer Messer.
            Throughout the month of March, local artists, Deon Quitberg and Debora Soulé will have their exhibit, "Animals Big and Small" displayed at White Mountain Library. There is no admission price.
            Western Wyoming Community College is hosting "Artifact - A Cultural Heritage Exhibit" in the Natural History Museum.  This large collection of Wyoming images by photographer Mike McClure celebrates the enormous diversity of Wyoming's prehistoric and historic landscape. It consists of 90 images and text panels divided into three regions in Wyoming: northern, central, and southern.
            Actor's Mission will present two one-act plays, "No Exit" and "Everybody," at the Broadway Theater over seven dates in March.  The plays are free and open to the public.  For more information, visit ActorsMission.org.
            The Western Wyoming Community College Theatre Program will present "Company" on March 2, 3 and 4 at the Western Theatre. 
            Youth Arts School Exhibits will again be featured at the Community Fine Arts Center throughout the spring.  Sage, Northpark, and Wamsutter schools will be showcased through March 11; Desert View and Farson/Eden will be featured March 14 – 25; and Eastside will round out the month March 28 through April 8. 
            At the Western Wyoming Community College Art Gallery, visitors can see Erin Spencer – "Portraits of the Sky" exhibit throughout the month.  Erin Spencer is a Rhode Island-based artist who has spent the last 15 years exploring the landscape in her art. In her words, the landscape is a "Well of inspiration [that] never runs dry."  Her explorations of the landscape have taken her around the country and to Europe, from California to New England, and from England to France and the Netherlands. Her paintings are included in private collections around the world including across the United States, Canada, Europe, Israel, Australia, and Japan.  
            Making a return to Downtown is the Spring Artists and Makers Market at Bunning Hall, March 4. The Market will feature all handmade and homemade items.  Admission is free and the event will run from 10 am to 4 pm, featured 20 vendors. 
            The Broadway Theater will present a special concert by Quarteto Nuevo on March 8.  More information and tickets can be found at BroadwayRS.com.
            Western Wyoming Community College will be hosting the Mountainfilm on Tour on Thursday, March 9. Eight short films will be shown in Western's Theatre at 7:00 PM. The event is free to the public, but seating is limited to the first 500. Doors will open at 6:30 PM.  Mountainfilm on Tour brings a selection of culturally rich, adventure-packed, and incredibly inspiring documentary films curated from the Mountainfilm Festival in Telluride, Colorado.
             A variety of classes and workshops will be offered at the Community Fine Arts Center, and the yarn and the tale throughout March.  Subjects include open painting sessions, crochet, and knitting. 
            March 11 will also see a YWCA Open Painting Party at Coal Train Coffee Depot for Bowls of Caring 2023.  Pay $15 for a ceramic chili bowl or $20 for a mug or cereal bowl that you get to personalize and keep forever.  The profits brought in from the fundraiser benefit all of Sweetwater County through the services offered at YWCA.
            Rock Springs Arts Month will conclude with the presentation of the Mayor's Arts Awards.  The awards ceremony and reception will take place at the Grace Gasson Room of White Mountain Library on March 31.   
            Above is just sampling of the offerings during Rock Springs Arts Month.  For the full list and more information, visit DowntownRS.com or contact the Rock Springs Main Street/Urban Renewal Agency at 307-352-1434.