Rock Springs Main Street/URA releases annual report.
---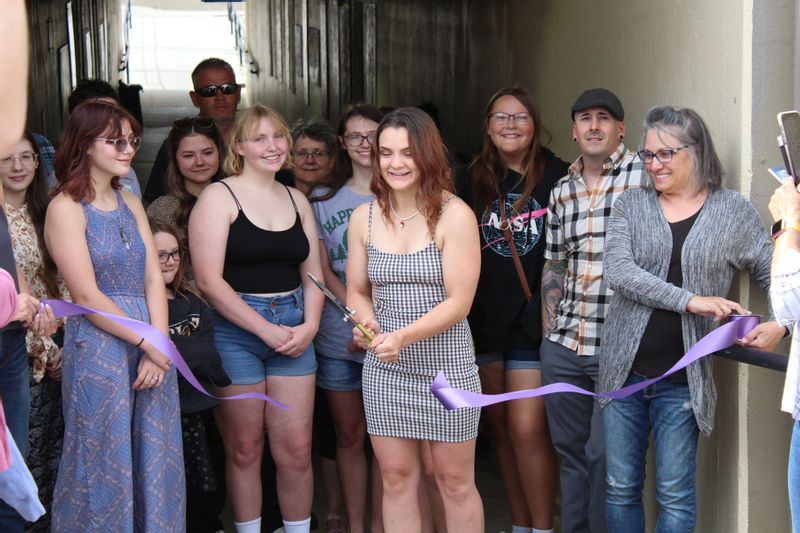 Things exploded for the Rock Springs Main Street/Urban Renewal Agency (URA) in 2022. The Rock Springs Main Street/URA is proud to share some highlights from the 2022 Annual Report.
            Behind everything the Rock Springs Main Street/URA does is the economic vitality of Downtown Rock Springs. To that end, Downtown saw the opening of eighteen (18) new businesses in the district, creating 20.5 net full time jobs:
AAA Taxi
New York Life

The Art of Integrative Medicine & 

Wellness

Details Boutique
Wyoming Freight Company
Debernardi Law Office
El Catracho Barbershop
Not Your Mama's Tattoo Parlor
Desert Keep Games
Rogue Plumbing, LLC
Sweet Dayz Bakery
Roots to Rise
Mind Works Behavioral Health, LLC
Frankie's Silver Linings
Taxes by Tiffany, LLC
Nell's Coffee
Fetal Fotos
Lola B Boutique
            One of the foremost goals is to expand the business base in Downtown Rock Springs and grow the retail mix, according to the organization's annual report. To that end, the agency continued Project Pop-Up program in 2022. The program is designed to give potential new businesses three months of free rent to get them started with a store-front.
The 2022 recipient was Crystan Wilkinson with Lola B. Boutique:
            "The Project Pop-Up program is an amazing program for my new business. It's a great way for me to see how my business will succeed in a brick and mortar store while I save up enough money for rent and expenses. I'm grateful to the URA for giving me the opportunity to fulfill my dream of owning a boutique in Downtown Rock Springs."
            Eighteen (18) private buildings were restored or updated in 2022, amassing $144,050 in investments towards the overall quality and appeal of Downtown Rock Springs..
            In addition to providing grants to property owners, the URA is always looking for new funding streams and mechanisms for their projects.
            "We were blessed to receive ten (10) grants throughout the year," URA Board Chairperson, Maria Mortensen expressed.
Those grants include:

Sweetwater Joint Travel and Tourism:
Sweetwater Blues n' Brews
Wyoming International Film Festival - Rock Springs Encore
Snowman Stroll
ARTember
Wyoming State Historic Preservation Office - First Security Bank, terra cotta restoration
Certified Local Government Grant - expansion of the National Historic District
Wyoming Arts Council - Broadway Theater programming
Wyoming Cultural Trust Fund - Snowman Stroll
Wyoming Main Street:
Summer Placemaking Grant
Technical Assistance Grant
            Volunteerism continues to be the driving force behind the Rock Springs Main Street/URA and that is reflected in the volunteer hours donated to the community though the organization. During 2022, a whopping 1,871 volunteer hours were contributed to the betterment of Downtown Rock Springs.
            The organization continues to prove that Downtown Rock Springs is the hub of economic activity, while creating a positive image that highlights our community's unique character. Events began returning to Downtown Rock Springs in 2021, following the shutdowns from the pandemic. In 2022, the number of events increased exponentially. Bunning Hall alone hosted 107 events in 2022 with attendance topping 8,000.
            Promotions position Downtown Rock Springs as the center of the community, while creating a positive image that showcases Rock Springs' unique character. 
            One such promotion was the very popular "Downtown Monsters" which took place during the summer.  The organization worked with local artist Kaye Tyler to create the monsters and then placed them around Downtown. Merchants got into the spirit with window paintings and scavenger hunts were developed, along with coloring pages and special monster-themed events throughout the summer to engage families and draw them Downtown. Hundreds of families participated in the summer-long promotion.
            Utilizing funding from the Wyoming Main Street program, a Downtown Shopping Sweepstakes was hosted for Christmas. The program was designed to drive sales to Downtown merchants while allowing a development a benchmark to track sales in future years. The sweepstakes encouraged Downtown shoppers to text copies of their receipts from Downtown purchases to the Rock Springs Main Street/URA office. Nearly 350 entries were collected with sales totaling more than $17,000. While thrilled with the response, it was only a small portion of the local sales generated.
            Working with Mayor Kaumo and the Community Fine Arts Center, the Rock Springs Main Street/URA held the second annual Mayor's Arts Awards. The awards are designed to elevate the arts in Rock Springs and highlight those doing good work. Four awards were presented in 2022 – two to organizations and two to individuals.
            In order to drive traffic during January and February, the Snowman Stroll was developed in 2022. Six life-sized snowmen were created by local artists and placed throughout Downtown with accompanying activities. This event has continued in 2023.
            Because Downtown Rock Springs is home to a large number of women-owned businesses, a partnership with Casey Kuckert Consulting to host monthly "Ladies Who Lunch" focused conversations was implemented. The lunches are designed to tackle topics faced by women entrepreneurs throughout Sweetwater County.
            Monthly "Community Conversations" to further engage our community were implemented at local, Downtown businesses in 2022. The conversations alternated between morning coffee conversations and evening cocktail conversations so anyone could participate. The conversations are a way to solicit ideas and input from the community at large and were very well attended.
            The Broadway Theater remains the center of activity in Downtown Rock Springs. Each year since it's opening, the Broadway Theater continues to expand in attendance and offerings and 2022 was no different. There was a surge particularly in theatrical productions, as the venue became the home theater for three (3) community theater groups – the already established Actor's Mission, and two newly formed companies: The Horizon Theater, and The Starling Company. The theater hosted over 100 productions with attendance topping 8,000 - the biggest numbers yet! That number doesn't including attendance for theatrical rehearsals and auditions, as well as routine meetings and gatherings.
 A few of the most popular events at the theater included:
 A Christmas Carol - A New Musical
Polar Express
Shadow Cast showings of The Rocky Horror Picture Show
The Actor's Mission presents a 24 Hour Happening "Page To Stage" One Acts
Jarabe Mexicano
Michael Martin Murphey
Primary Election Debates
Imagine: Remembering the Fab Four!
Drag Me to '23: A New Year's Eve Dragstravaganza
            The Rock Springs Main Street/URA was once again accredited by the National Main Street Center; a particular point of pride for them. They continue to operate under the National Main Street Center's Four Point Approach.
            The entire 2022 annual report can be downloaded from the Rock Springs Main Street/URA's website – DowntownRS.com.  Hard copies are also available at their office, 603 S Main Street.