2022/2023 season at the Broadway Theater announced.
---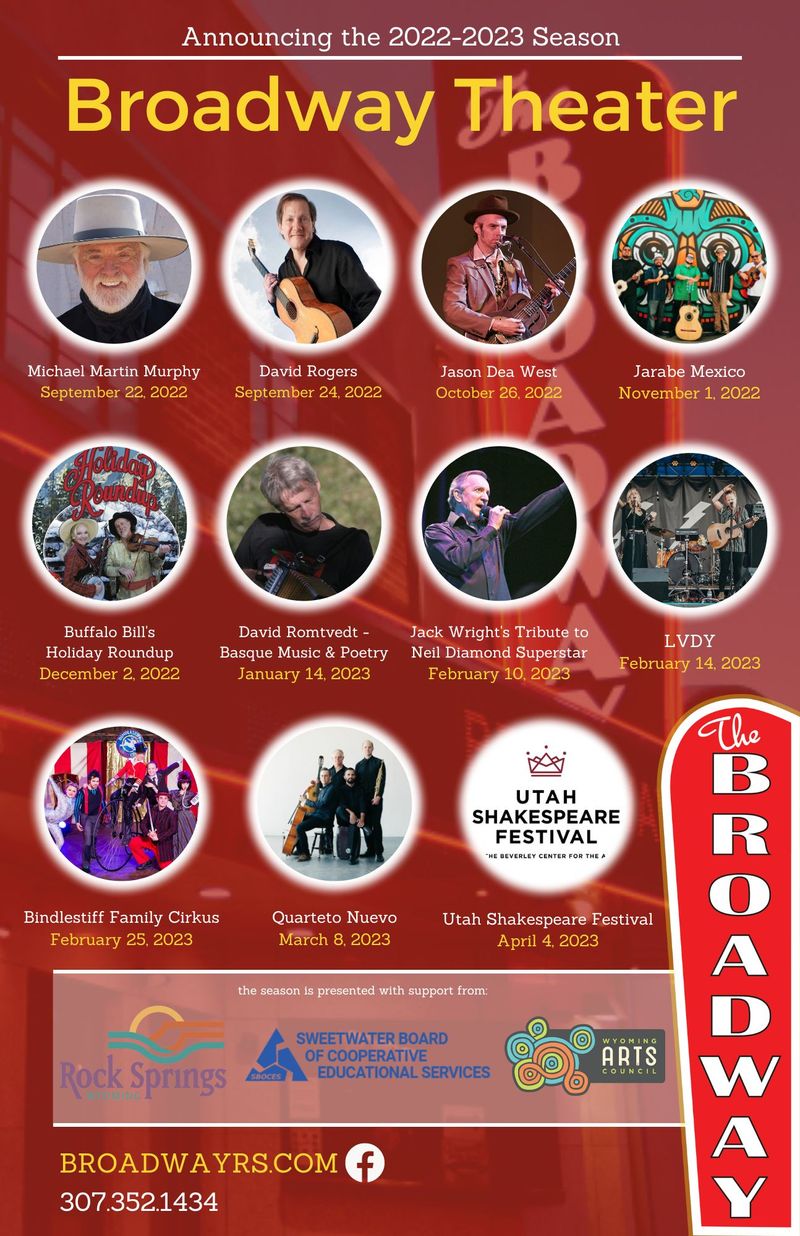 The Broadway Theater is excited to announce the upcoming season's line up. Last year's productions were a success, bringing the venue back with a bang after losing a year to the pandemic. The staff and board for the Theater are thrilled to be bringing culture and the performing arts back to the community once again.
            According to Maria Mortensen, Rock Springs Main Street/Urban Renewal Agency chairwoman, the season is a great mix of favorites and new events.
"The schedule has a wide variety of genres and shows that will appeal to a broad range of guests," Mortensen added.
            The 2022-23 season includes:
·         Michael Martin Murphy (September 22, 2022)
·         David Rogers (September 24, 2022)
·         Jason Dea West (October 26, 2022)
·         Jarabe Mexicano (November 1, 2022)
·         Buffalo Bill's Holiday Roundup (December 2, 2022)
·         David Romtvedt - Basque Music & Poetry (January 14, 2023)
·         Jack Wright's Tribute to Neil Diamond Superstar (February 10, 2023)
·         LVDY (February 14, 2023)
·         Bindlestiff Family Cirkus (February 25, 2023)
·         Quarteto Nuevo (March 8, 2023)
·         Utah Shakespeare Festival (April 4, 2023)
-------------------------------------------------------------------------------------------------------------------
          Michael Martin Murphy - September 22, 2022
Michael Martin Murphey's musical journey has taken many unpredictable paths over the past 50 years - topping the Pop, Country, Western and Bluegrass charts. He is best known for his chart-topping hits "Wildfire," "Carolina In The Pines," "What's Forever For," "Long Line of Love," "Geronimo's Cadillac", "Cowboy Logic," and many more across his 35 albums released to date. Murphey's original songs have been recorded by The Monkees, Kenny Rogers, The Nitty Gritty Dirt Band, John Denver, Hoyt Axton, Johnny Cash, Tracy Byrd, Lyle Lovett, Jerry Jeff Walker, Dolly Parton, Johnny Rivers, Billy Ray Cyrus, and many others.
            Murphey has been awarded gold albums for Cowboy Songs, Vol. I Blue Sky Night Thunder, and a Platinum single, "Wildfire". He has been given the prestigious Charlie Russell Award for Western Heritage. He is a 5-time recipient of the Wrangler award from the National Cowboy and Western Heritage Museum and Cowboy Hall of Fame, and boasts awards from the Academy of Country Music, Rock Music Awards, Academy of Western Music Awards, Governor of New Mexico's Outstanding Achievement Award, Outstanding Son of Texas Award by the Texas Legislature, and multiple from BMI.
David Rogers - September 24, 2022
Termed "a prominent guitarist" by the New York Times, and praised by The Washington Post for his "astonishingly florid" improvisations, David Rogers Fuses classical, jazz, and world music into beautiful, expressive and virtuosic performances. He has been called a "modern master" of the classical guitar' by 20th Century Guitar. ClassicsToday.com has praised his "first rate instrumental artistry," and the Lute Society of America Quarterly has called his technique "formidable."
Jason Dea West - October 26, 2022
Jason Dea West is an American troubadour who sings what he lives and lives what he sings. Wests' poignant lyrics are brilliantly blended with vintage country, folk and blues, and timely sensibilities. From epic guitar and harmonica instrumentals to humorous song as story, Jason never strays very far from the anarchic punk-folk roots of his beloved former band Barefoot Surrender and his celebrated current band Intuitive Compass.
Jarabe Mexicano - November 1, 2022
Jarabe Mexicano captures the nostalgic spirit of their border roots with their brand of "Bordeño-Soul," which honors the musical tastes and cultural influences of its members. Jarabe, which translates to 'concoction,' highlights the eclectic mix of genres they perform ranging from Mexican Folk, Rock & Roll, and Norteño/Tex-Mex to Latin Rock, Trio Romántico, and popular Cumbia. Their traditional Mariachi string instruments and Norteño-inspired drums complement dramatic vocals in English, Spanish, and Spanglish, and shows how this multi-generational ensemble embraces change while still honoring the past.
As educators, cultural ambassadors and advocates for the arts, the Vilar Performing Arts Center raves that Jarabe Mexicano is "thought-provoking, heartfelt, and engaging." Both their "Fiesta En Familia" concerts and educational outreach program "Día de los Muertos: A Celebration of Life" aim to create a deeper and more inclusive sense of family and community, with a special commitment to underserved groups. Jarabe has also shared the stage with Louie Pérez of Los Lobos and opened for internationally renowned acts Gaby Moreno and La Santa Cecilia. The band is currently working on their upcoming third album, while their EP "Semillas" as well as their self-titled album "Jarabe Mexicano'' can be found on all streaming digital platforms.
Buffalo Bill's Holiday Roundup - December 2, 2022
A live music presentation with exciting Wyoming and Western Songs about, Cowboys, The Oregon Trail, The Transcontinental Railroad, Lewis and Clark, Stories in Traditional Native American Indian Sign Language, Cowboy Poetry and World-Class Yodeling. Bill and Jo perform on the fiddle, banjo, mandolin, guitar with superb harmony vocals. This exciting concert length presentation truly tells a story about Wyoming and our proud Western Heritage.
"Buffalo Bill" and Dr. Jo (Flower of the Prairie) are winners of a Western Music Association Harmony Duo Award. "Buffalo Bill" is a WMA Male Yodeler Award Winner.
David Romtvedt - Basque Music & Poetry - January 14, 2023
David Romtvedt was born in Portland, Oregon, and grew up in Arizona. He received a BA from Reed College and an MFA from the University of Iowa. Romtvedt served as the poet laureate of Wyoming from 2003 to 2011. The recipient of a Wyoming Governor's Arts Award, he has also been awarded fellowships from the National Endowment for the Arts and the Wyoming Arts Council, among others. He teaches at the University of Wyoming.
He is the author of several poetry collections, including No Way: An American Tao Te Ching (Louisiana State University Press, 2021); Dilemmas of the Angels (Louisiana State University Press, 2017); Some Church (Milkweed Editions, 2005); A Flower Whose Name I Do Not Know (Copper Canyon Press, 1992), chosen by John Haines for the National Poetry Series; and Moon (Bieler Press, 1984).
Romtvedt has published several books of prose, including Zelestina Urza in Outer Space (Center for Basque Studies, 2015) and Windmill: Essays from Four Mile Ranch (Red Crane Books, 1997). Also a musician, he plays traditional American dance music with The Wyoming Fireants Band and has received a Distinguished Service to Music Education Award from the Wyoming Music Educators Association. He, alongside Xabier Irujo, translated the complete poems of Joxe Mari Iparragirre in The Tree of Gernika (Center for Basque Studies Press, 2020).
Jack Wright's Tribute to Neil Diamond Superstar - Feburary 10, 2023
Jack Wright's tribute to Neil Diamond is a highly acclaimed national touring performance of the hit songs that have kept Neil Diamond in the hearts of his fans for more than five decades.
Jack captures the essence of Neil's timeless multi-generational appeal through his interpretive singing and dynamic stage presence – without over-the-top mimicry. He connects with his audiences the way Neil always has. He sweeps us along a powerful spectrum of emotions into an authentic, sophisticated, contemporary Neil Diamond experience.
LVDY - February 14, 2023
LVDY (pronounced LADY) is a Colorado-based duo comprised of Kathleen Hooper and Aubrey Mable. Their uplifting sound and intimate storytelling is a delightful recipe of singer-songwriter, indie-folk, with powerful melodies and harmonies that speak to the senses. Love anthems weave in and out of their messages, with simple yet important reminders that we're not alone.
LVDY's debut EP, Electricity was produced by Dreamers Delight and arrived in February of 2019. During their first year of pursuing music full-time, the LVDIES were named the Best Folk Band/Artist by Denver's renowned music and arts publication 303 Magazine and toured the country playing nearly 100 shows and festivals at renowned venues, including Denver's famous Lost Lake, Larimer Lounge, The Marquis Theater and The Oriental, plus Rockwood Music Hall (NYC), The Hotel Café (L.A.) and House of Blues Chicago while gathering a dedicated and connected audience. LVDY has supported incredible acts like powerhouse vocalist LÉON, the incredible sister trio Joseph, Rising Appalachia and Morgan Saint.
Bindlestiff Family Cirkus - February 25, 2023
Since 1995, Bindlestiff Family Cirkus has traveled the world, bringing its unique hybrid of vaudeville, circus, Wild West shows, burlesque, and sideshow to theaters, clubs, colleges, and festivals, adding a contemporary twist to the grand traditions of American Circus. Bindlestiff Family Cirkus co-founders Stephanie Monseu and Keith Nelson have produced more than a dozen off-broadway shows, custom performances for special audiences, family productions, and sophisticated adult shows. Their dedication to the variety arts has made them famous among audiences and within the variety arts community.
Bindlestiff Family Cirkus offers a number of hands-on learning programs, from after-school programs to summer camp experiences. Students can learn to juggle, walk a wire, clown around, ride a unicycle, march on stilts or build a human pyramid. Outreach activities are suitable for all ages.
Quarteto Nuevo - March 8, 2023
Quarteto Nuevo merges western classical, eastern European folk, Latin and jazz with an organic feel that packs a wallop! Winners of two South Arts Jazz Road Tours grants, the ensemble has composed new movements for its Jazz Road Suite celebrating each state they visit! Known for engaging outreach, Quarteto's master musicians create emotionally charged soundscapes with instruments and sensibilities that represent very different world cultures.  Their unique instrumentation – soprano saxophone/woodwinds (Damon Zick), cello (Jacob Szekely), guitar (Kenton Youngstrom), and hand percussion (Felipe Fraga) – richly colors their wide-ranging repertoire.
Utah Shakespeare Festival – April 4, 2023
The Utah Shakespeare Festival was founded in 1961 by a young theater professor named Fred Adams. Adams envisioned a theater festival to entertain the millions of annual visitors to the nearby national parks.
The Festival is one of the oldest and largest Shakespeare festivals in North America and most of the Festival's lead actors are members of the Actors' Equity Association and come from all over the country, including Los Angeles, New York and Chicago. Famous actors that have appeared on the Festival stage include Harold Gould, Benjamin Bratt, Jeremy Irons, Bradley Whitford (NBC's The West Wing), Matt Bomer (USA's White Collar) and Ty Burrell (ABC's Modern Family).
In 2000, the Utah Shakespeare Festival received the coveted Tony Award for America's Outstanding Regional Theatre. The Tony Award is the most prestigious and sought-after award in live theatre—the equivalent to the Academy Award in film—and is presented by the American Theatre Wing and the League of American Theatres and Producers. The Festival was nominated for the award by the American Theatre Critics Association.
-------------------------------------------------------------------------------------------------------------------
            When tickets for each show are available, they will be announced closer to the dates of the performance and will be available at the Rock Springs Urban Renewal Agency office, 603 South Main Street and online. Season ticket packages for all 11 shows are available for $200 now. Keep following The Broadway Theater on Facebook and keep checking with their website at BroadwayRS.com.
            Those who appreciate The Broadway Theater are encouraged to sign up for the Friends of the Broadway patron program to help support events.
            "We're really excited about the variety of shows we've scheduled so far," URA Manager Chad Banks said. "There's something for everyone. And it wouldn't be possible without our patrons and many underwriters."
            Underwriters for The Broadway Theater include City of Rock Springs, Sweetwater BOCES, and Wyoming Arts Council.