Ladies Who Lunch
---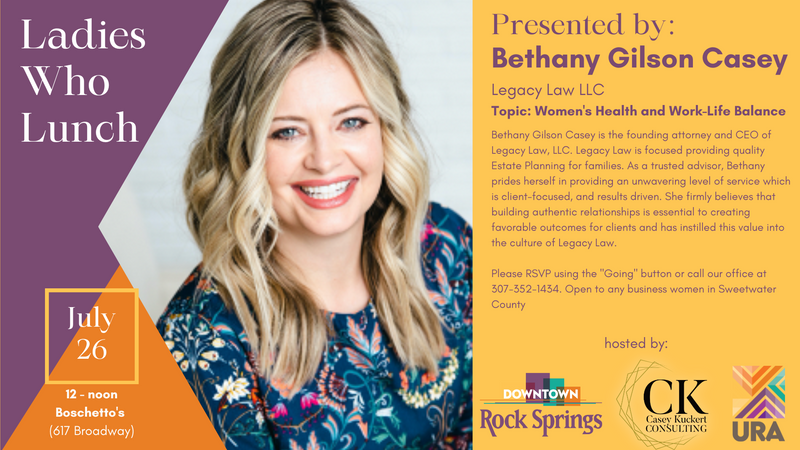 The Rock Springs Main Street/Urban Renewal Agency (URA) is continuing its initiative in collaboration with Casey Kuckert Consulting aimed at helping women entrepreneurs in Sweetwater County. "Ladies Who Lunch" are regular conversations that can help build professional and personal networks for support and business growth for Sweetwater County business owners and managers.
Participants can enjoy lunch while meeting other business owners in the area. This is a time to not only network with other business owners but also have real discussions about business issues. Each meeting will focus on a different business-related topic.
This month's topic is presented by Bethan Gilson Casey and will be focused on "Wills vs Trusts. Which is best for you?" and "How to protect your legacy and business for the future." Boschetto's European Market will be hosting the event on their outside patio on July 26th at noon, 12:00 PM.
Bethan Gilson Casey is the founding attorney and CEO of Legacy Law, LLC. Legacy Law is focused providing quality Estate Planning for families. As a trusted advisor, Bethany prides herself in providing an unwavering level of service which is client-focused, and results driven. She firmly believes that building authentic relationships is essential to creating favorable outcomes for clients and has instilled this value into the culture of Legacy Law.
Bethany graduated from the University of Utah, earning a Bachelor of Science in Speech Communication with an emphasis in Interpersonal Communication. Bethany received her Master of Arts in Education with an emphasis in Post-Secondary Studies from the University of Wyoming. Bethany then went on to earn a Juris Doctor from the University of Wyoming.
Bethany is a member of the Wyoming and Utah bar associations and is licensed in Wyoming and Utah. She has served over 150 families in creating quality plans. Bethany is married to Steve Casey, a proud mother of her sons, Brock, Beckham and stepson, Broden. She credits her family as the source of her inspiration for designing quality Estate Plans that protect families! Anyone is welcome to attend and there is no cost to attend.
Participants will be responsible for their own meals, and are encouraged to RSVP for the event through the following link:
https://fb.me/e/2gPsY1Z5O