My Own Downtown - Kelly Sugihara
---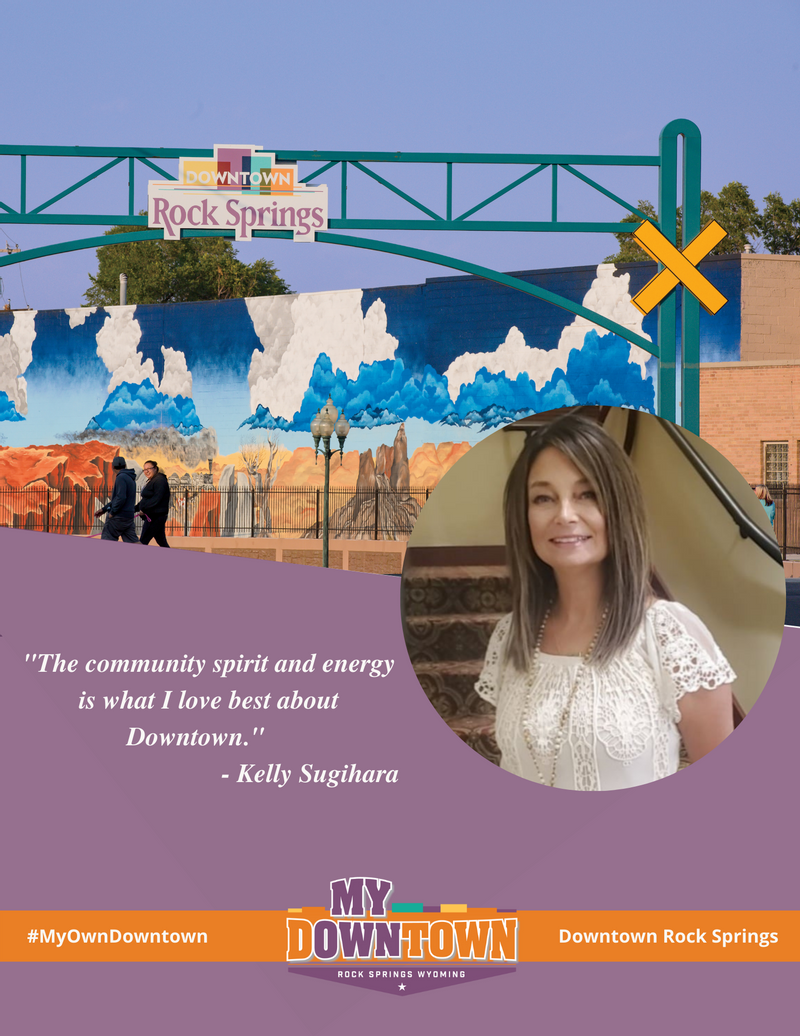 Kelly Sugihara is a well-known advocate in our community. With a grant position from the State of Wyoming Cancer Program, she is able to work at Memorial Hospital of Sweetwater County as a Wyoming Cancer Resource Coordinator. She uses her knowledge, experience and skills in Region 5, which is made of five counties. She is on a mission to educate people on cancer prevention and assist with free cancer screenings.
 "I LOVE my job!" Kelly expressed.
 It has been proven that when businesses support causes, more customers are drawn to those businesses.  
 "The Downtown businesses support the cancer events like Paint the Town Pink," she shared. "They've supported me through my personal cancer journey and they continue to support me. I cannot thank them enough!"
 "The business owners and I have been good friends throughout the years," she added.
 The holidays in Downtown bring joy to Kelly and her family.
"I absolutely love shopping on Small Business Saturday with my friend, Eva Wassen and her kids," she beamed. "We are always at the top of the line – snow, wind or 20 below zero, we cannot wait for all the goodies in the free bags and visiting out favorite little shops."
 "I also love the Christmas parade especially when the "GRINCH" shows up!" she laughed.
 To encourage others to support small businesses, Kelly always shares her Downtown experiences, her stories and deals that she gets with Downtown businesses.
 "I always tell new community members to visit Downtown and I always encourage people to go experience Downtown - you will not be disappointed!" she said.
 Kelly is glad to see Downtown ongoing progress. 
 "I only see Downtown growing year after year," she observed. "Our URA, Chamber of Commerce and art district is forever engaging and improving our Downtown with new art, new concerts and fun events for all ages. I love to see and share all things Downtown."
Kelly has two beautiful girls and one nephew who is like a son to her.
 "They are amazing," Kelly shared. "I am a new grandma and I must say it is the best thing ever."
 Kelly and her husband, Ric have been together for 26 years.
 "He's an amazing partner," Kelly mentioned. "Ric supports me and all my crazy ideas."
 According to Kelly, summer is her favorite season.
 "I'm all for warm weather and anything outside during the summer months," she said. "I want to say gardening but I'm still working on that – I'm not a green thumb."
 Next time you see Kelly in Downtown, don't be shy and say, "Hi!"
 "The community spirit and energy is what I love best about Downtown," she replied.
…And that's why Downtown Rock Springs is My Own Downtown.