My Own Downtown - Debora Soule
---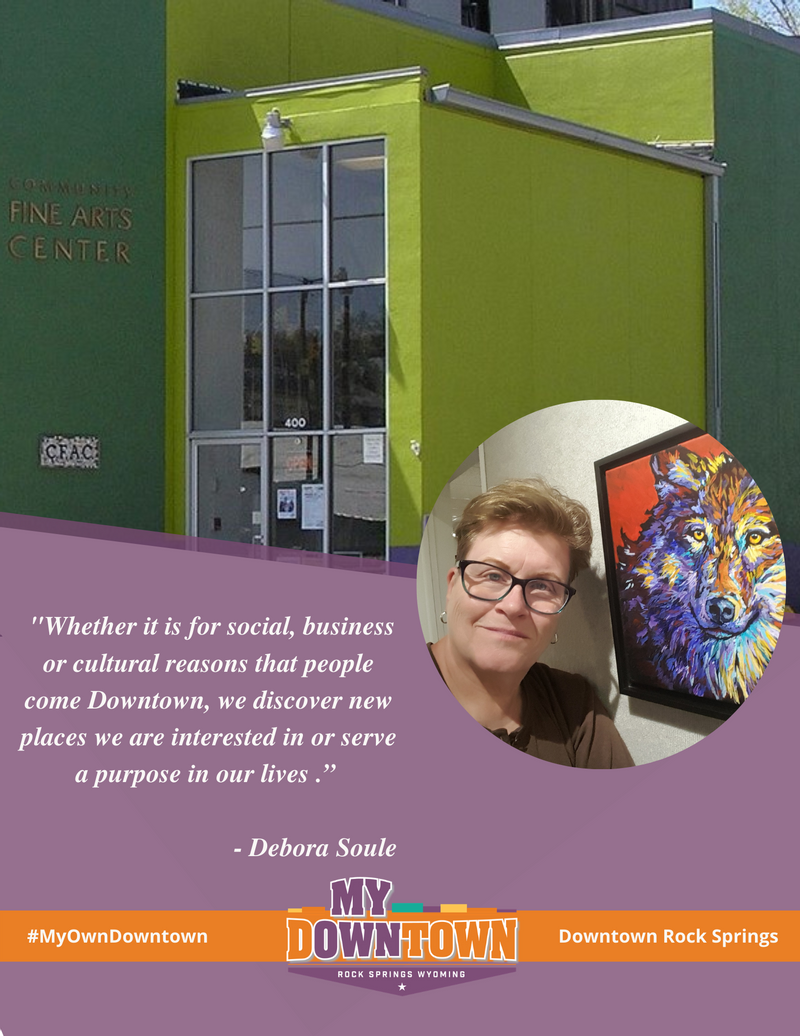 Art has exploded in Rock Springs. 
Community Fine Arts Director, Debora Soule moved to Rock Springs 40 years ago. Back then, she thought she was here for a temporary job.
"Then I found such welcoming friends," she shared.
Not only is Debora the Director of Community Fine Arts Center, she is also a local artist.
"I always knew I had to be an artist, maybe I didn't have the clearest definition, but art was what made me who I am," Debora revealed. "I have found through the years that I also value supporting others in their creative efforts as well."
She added, "Being honored with the role of director of the Community Fine Arts Center, I have been able to teach art to all ages, help emerging and established artists find venues to exhibit their creative work, and bring new experiences in the arts to our community."
"I feel like I have continued the traditions of those directors before me and hopefully added something more for the next art leaders in our town," Debora said.
 Downtown Rock Springs continues to impress Debora, especially the old architecture.
"The First Security Bank building had just been vacated and I dreamed about what a wonderful location for an "art space," Debora expressed. " I can't tell you how exciting it is to see this beautiful relic being brought back to life."
 According to Debora, familiar faces and strangers who are willing to help has created a community in Downtown Rock Springs.
 Debora's admiration for the Rock Springs Library and Community Fine Arts Center continues.
  "Along with the initial sense of discovery with the old buildings, I found the "C Street" Library and the Rock Springs Fine Arts Center, now known as the Community Fine Arts Center, that first week of moving here," Debora said. "But it's the newer memories of events to bring people together that are my favorites." 
 As the director of the Community Fine Arts Center, Debora has met many visitors, locals and new residents. Her job makes it easy to see the connections that keep our city hub a vital part of the community.
"Whether it is for social, business or cultural reasons that people come downtown, we discover new places we are interested in or serve a purpose in our lives," Debora pointed out. "Being a part of International Days, the Rods and Rails Car Shows, and more recently helping build the art-related events whether ARTember, Artist and Makers Market, and presenting performances at the Broadway Theater, has created some of the best memories."
Debora hopes to see the ongoing support for local businesses in Downtown.
 "By supporting small businesses, we are all benefiting because those same people can then make purchases from others in our community," Debora replied. "I feel good about shopping locally because I know it helps someone living and working in our town."
Debora went on to say, "Yes, it might be easier to go online, but if there is anything I have taken away from this past year, it is the need to interact with another human being."
 Recognizing and supporting local creatives is important in Rock Springs too.
"Whether it is a painter, jewelry maker, potter, musician or author, they are filling a need for all of us," Debora said. "They live right here with us, investing in our community."
 According to Debora, Art, in all its forms, can be found in every community, every culture, and every country.
"Art has been created since time began -- look at cave paintings and rock art some of which is literally here in our own back yard," Debora shared. "Today, we are looking for other economic avenues as our state is suffering from the lower activity in the oil and minerals industries."
She went on to explain, "Art can be a major economic force, look at Jackson Hole, ranked in the top five largest art communities in our country."
 "We need art to be complete human beings, to express ourselves and communicate," she expressed. "Art allows us to record our stories and history, to be an outlet as well as let us look inward. We need art. Period."
Debora is excited to see what is in store for Downtown Rock Springs.
 "I love the renewal of our Downtown, bringing people together and valuing the community," she beamed. " The growing enthusiasm of reclaiming these wonderful old buildings, recognizing when they might have to be replaced, but making the improvements to make the space workable and livable has taken hold in the people here."
Debora concluded by saying, "My hope is that with strong leadership in our elected officials and determined business owners, this vision and pride in Rock Springs becomes well rooted."
... And that's why Downtown Rock Springs is My Own Downtown.