Brown Bag Concerts: Are You Ready For Live Music?
---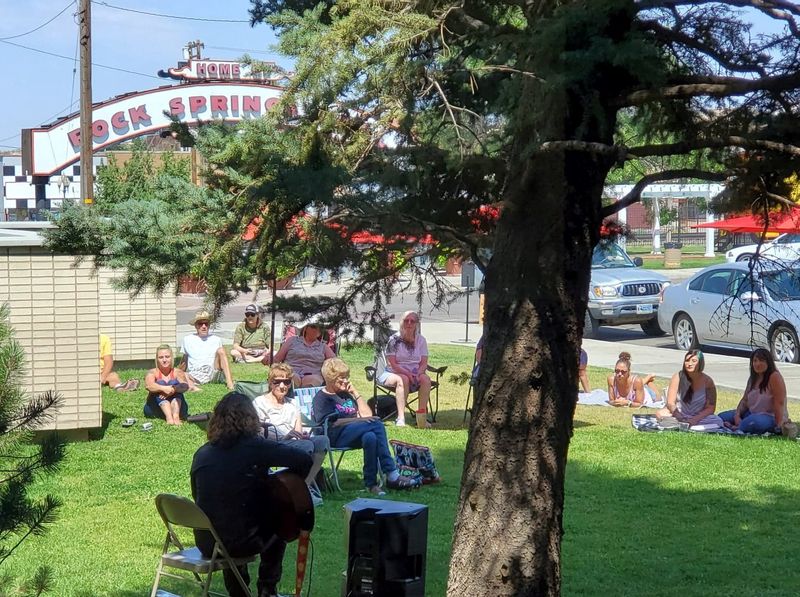 The Rock Springs Main Street/Urban Renewal Agency (URA) is rolling out the sixth year of their lunchtime concert series – the Brown Bag Concert Series.  Presented this year by SweetwaterNOW, the concerts will be held every Tuesday this summer (June through August) from 12 noon to 1:30 p.m.  Due to ongoing construction on the historic First Security Bank building, the concerts will be located on the lawn behind the Sweetwater County Health and Human Services building at 333 Broadway; picnic tables with umbrellas will be available for guests.  The shows are free and guests are invited to bring their lunch and enjoy a summer day in Downtown Rock Springs; most of the Downtown restaurants offer take-out as an option for lunch. 
The fourteeen-week concert series will feature a variety of music styles including country, rock, folk, Americana and more. 
The Brown Bag Concert series is underwritten by the Wyoming Cultural Trust Fund.  Sponsors of the series include
Edward Jones - Financial Advisor: Justin T. Spicer, AAMS
High Country Realty – Emily Lopez
Wyoming Cultural Trust Fund
Joe's Liquor and Bar
RND Consulting
The 307 Real Estate Group
Western Engineers and Geologists
WyoData Security
       This year's line-up includes:
June 1 - Stephen "T00M3R" Caron
            Stephen is a local performer, blending his lyrics with hip-hop beats. He has five albums under his belt, including his recent release, "Nothing's Perfect."
            Only one year after Steven got his first six-string guitar, he was writing his own songs. Music has been a constant passion in his life.   
            Andy is an Americana, Rock, Folk singer/songwriter from Denver. The multi-instrumentalist uses satire to get his point and is constantly touring.
            This Green River duo is popular for their country/outlaw originals.
            Eddy is a Rock Springs singer/guitarist, specializing in humor in some of his songs. Most are familiar with his catchy tune, "I-80 Is Closed."
            Feel free to dance on the grass. Dave is a local accordion player who plays polka tunes.
            Interaction is very important to Wates. The London-born artist prefers smaller, more intimate spaces, where the audience is up close and personal, where true musicianship counts and where real emotion isn't faked.
            With some songs, Biter is allowed to play with expansive/ambient sounding tones and textures. Local radio stations such as Arizona's Adult Alternative, 92.1, Prescott has been supporting his music.
July 27 – Micah Paisley Micah was inspired to play the bass guitar after being invited by friends to join a band when he was in high school. His brother also encouraged him to play, as well. "Although I play mushy love songs, my favorite music to listen to has always been punk rock," Micah revealed.  
August 3 – Few Miles South
            Few Miles South is a female fronted country and roots band created by Blake English and Tori Lund.  
August 10 – The Rough and Tumble
            These performers are a dumpster-folk/thriftstore American duo. They present a no nonsense, straight forward, modern-sounding folk music.
August 17 – DanO K (Dan Kershisnik)
            Kershisnik has played solo and in several bands in Ann Arbor, San Diego, Los Angeles, Denver and Rock Springs.  Along with his original material including "Wild Hearted Woman", "I Like My House", "Stay in the Game", "Tomorrow's Calling" and others, he plays an assortment of cover tunes from Gordon Lightfoot to Tom Petty, Kane Brown to The Cars, in a campfire concert atmosphere. There's something for everybody!
            Joe has been tackling the keys for many years. Many recognize him as a band member in local band, Wy5. He also has his own band, Joe Barbuto Trio.
            Gomez is a multi-instrumentalist from Texas. Always keeping busy musically, sound has always been a passion for Nick and being able to share his art with whoever will listen has always been the greatest and most fulfilling reward.

            The Rock Springs Main Street/Urban Renewal Agency is charged with the redevelopment of downtown Rock Springs. As part of their mission, there are three standing committees – Business Development, Promotions and Arts and Culture. For more information on the program, contact the Rock Springs Main Street/Urban Renewal Agency at 307-352-1434 or visit their website at downtownrs.com.