What's Up Downtown - the week of May 24 - 30, 2021
---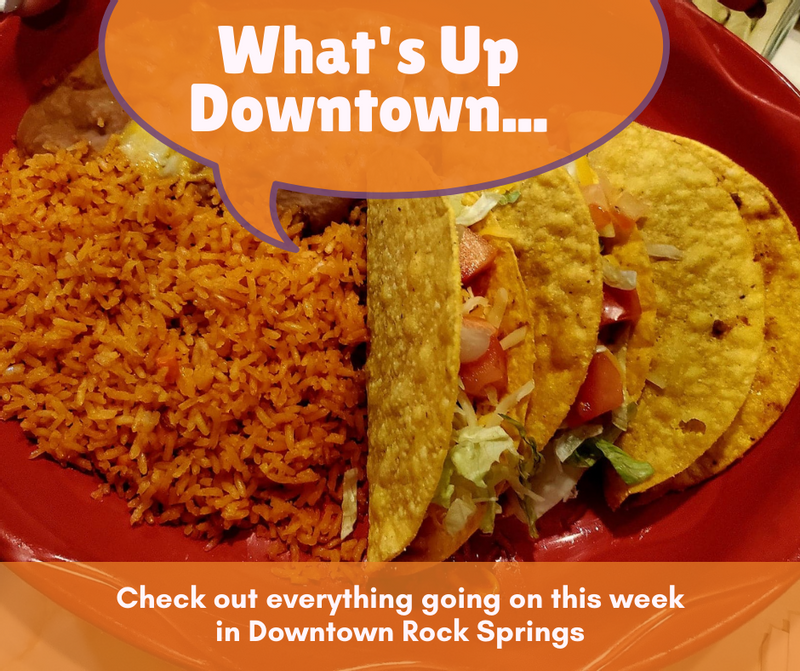 Looking for something to do?
Downtown Rock Springs is the center of activity.
Ongoing, Yoga Classes with Salina, Escape Day Spa and Boutique, Various Times
Discover the benefits of Yoga! Salina teaches practices to quiet the mind, soothe the body & ease back from injury.  Salina Zanetti is a Certified Yoga Instructor and will be teaching Monday - Friday in the Fitness Room at Escape Day Spa & Boutique. All ages and abilities welcome! Classes are held Monday - Friday at 6:15pm and Tuesday-Thursday at 9:30am. (Room is large enough to allow social distancing.) Drop-in rate is $10, 10 class pre-paid series is $80
May1-31, Taco Challenge, Downtown Rock Springs
Throughout the month of May, the Rock Springs Main Street/URA will be inviting residents and visitors alike to enjoy a taco at all seven participating Downtown eateries.  View our website for full details and how you can get a free t-shirt, just for eating tacos! 
May 26 -  Weenie Wednesday Square State Brewing, 4 pm 8 pm 

May 26 - The Lost Apothecary Book Discussion, Sidekicks Book and Wine Bar, 5 pm.

May 26, 

Educator's Night, Bitter Creek Brewing, 4 pm to 7 pm
Bring your school ID and purchase a beverage and receive the chef choice appetizer.
May 27, Trivia 4 Squares, Square State Brewing, 6 pm to 8 pm
May 28, Micah Paisley LIVE at Sidekicks, Sidekicks Book and Wine Bar, 7 pm to 9 pm 
May 28, Big Daddy's BBQ, ,Catering and Food Truck, Square State Brewing, 3 pm to 8 pm 
May 28, Tom Bennett LIVE at the Park Lounge, The Park Hotel, 8 pm 
Starling.May1-31, Historic Preservation Month, Downtown Rock Springs
May is National Historic Preservation Month and the community is invited to celebrate it in Downtown Rock Springs. The Rock Springs Main Street/Urban Renewal Agency (URA) are hosting several events and activities to draw attention to our local historic preservation efforts.  Visit our website for all of the details.