My Own Downtown - Corina Lee
---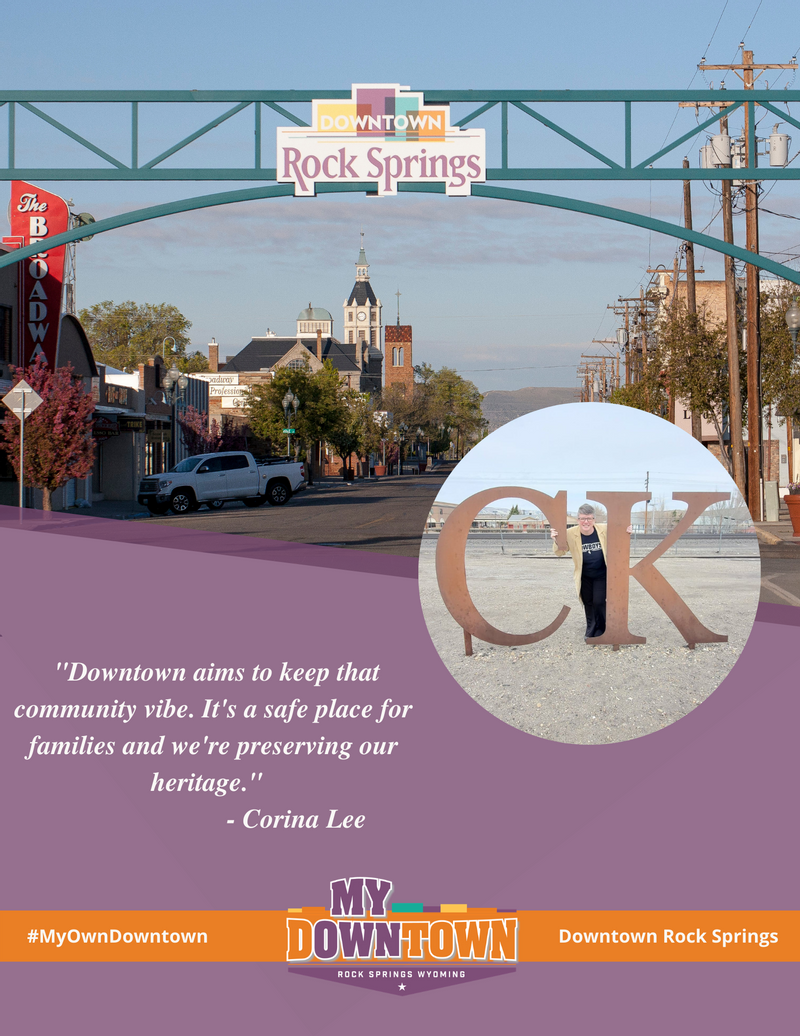 Corina Lee grew up in Rock Springs, graduating with the Class of 1991. She lived in Salt Lake City but has been back since 2004. 
 According to Corina, she was looking for a new creative outlet about five years ago.
"I enjoy public speaking and presenting but had no way to express myself like that," she shared.
During the summer of 2016, she was in Salt Lake City participating in a color run. She saw posters advertising a cemetery tour.
"I had started walking in the cemetery prior to that because I found it peaceful," Corina said. "When I returned home, I decided to do a little research into our cemetery."
Corina figured if the cemetery in Salt Lake City had history, so does our community's cemetery.
"The first thing I wanted to find out about is who is buried in Harvey's Tomb," she revealed. "I grew up here, so of course I have a Harvey's Tomb story."
She asked, "But what was the truth? So I did some digging."
That led to other stories. She asked around to see if others were interested in learning what she found out. Soon, people expressed interest. The first cemetery tour took place in September 2016.
"Every year, since then, I have added more stories," Corina said. "My little tour has continually grown."
She went on to say, "I love sharing stories about people who came and tried to make this place better. Their stories have taught me to be tough and wise. Life may not always turn out like you planned but you roll your sleeves up, get involved, and keep working."
Corina enjoys the feel and vibe of Downtown.
"I enjoy going on walks and seeing the older homes," she expressed. "I'm a history person so I like feeling connected to all the gritty pioneers who came and settled here."
Corina continued to point out that it took (and takes) a special kind of tough spirit to proudly call our high mountain desert home.
Corina believes social media helps with the success of Downtown.
"Honestly, I follow the Downtown Rock Springs page," she admitted. "I have chosen a night's dinner based on a post or two. Social media has helped me be more aware of events and happenings."
Riding bikes through Downtown with friends was one of Corina's favorite pasttimes. They went to the Rock Springs Library (pre-computer days) and read books. They also went to Bi-Rite and enjoyed snacks at the fountain.
"I probably owe my friend roughly a million dollars for all the times she loaned me some money," she joked. "I rode my bike to my cousins' house and would spend all day there. We tried riding our bikes in the cemetery but we would get chased out from there. I no longer ride my bike but now I walk in the same area as my youth." 
Corina will be leading a special guided tour of the Rock Springs Cemetery on Friday, May 14, 2021, 4 pm to 7 pm,  paying tribute to our local Veterans. She is ready and very excited to share their stories. The tour will begin at the Directory in the center of the cemetery. There will be an encore tour on Sunday, May 16th, beginning at 2:30 pm. 
"Downtown aims to keep that community vibe. It's a safe place for families and we're preserving our heritage," she concluded.
...And that's why Downtown Rock Springs is My Own Downtown.