My Own Downtown - Erin Terrill
---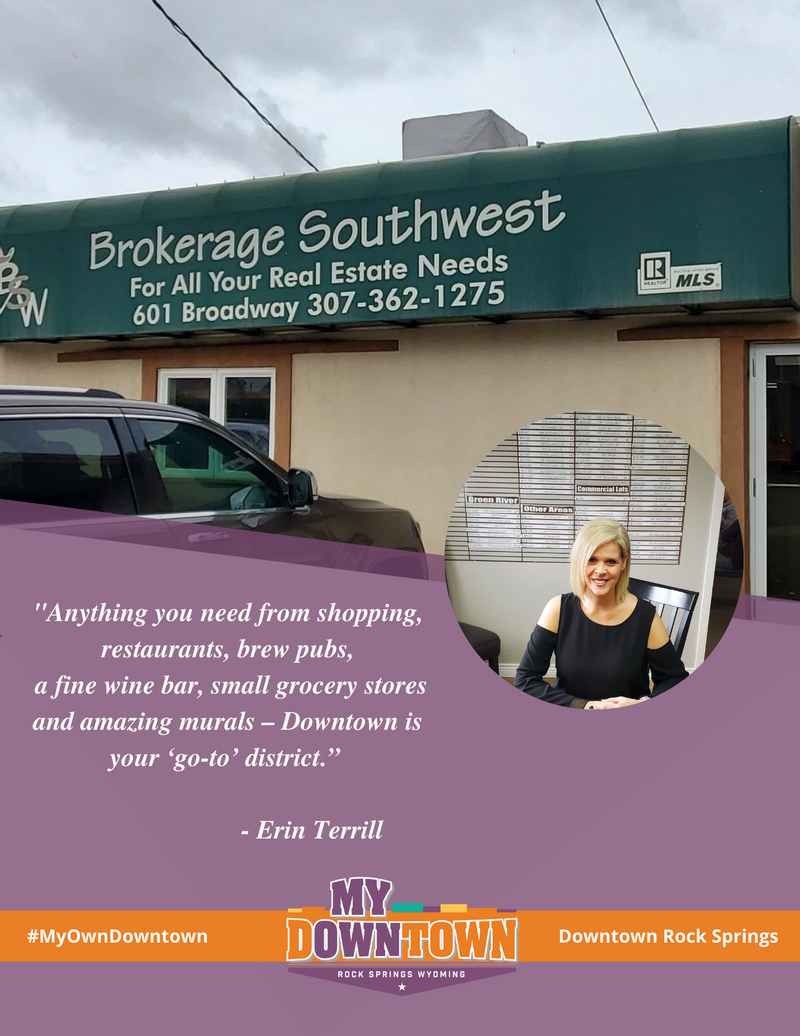 Realtors can help you find a new home that meets your needs. They can also help you connect with other professionals such as a home inspector, lawyer, notary, insurance agents, home movers and reliable contractors. Of course, a new homeowner will have to read a few documents – a realtor can help you understand those documents.

Erin Terrill, Associate Broker with Brokerage Southwest, moved to Rock Springs from Virginia in 1980. The 1992 Rock Springs High School graduate has been in the real estate business for over 20 years.

"I started working with my mom, Debbie Gibbs, in 1996," she said. "Before that, I vowed I would never ever sell real estate."

"Well, the joke was on me," she laughed. "I wouldn't change a thing."

"I love my job," Erin expressed. "I enjoy seeing the look on a new home owner's face when they find 'the one' to start making their own memories in."

According to Erin, one of her favorite memories of Downtown so far is watching Grease 2 with her friends at The Rock Theater.

"I think we were there five or six times to watch that movie!" she chuckled.

To this day, Erin still looks forward to watching the parades in Downtown.

Sometimes, strange behavior during an unexpected event is difficult to forget, such as the "Flood of 1989" in Downtown Rock Springs.

"I remember watching people floating down Broadway Street on 'floaties' during that flood," Erin shared.

Erin has also seen how important teamwork is during recovery in Downtown.

Newcomers ask realtors like Erin what they should expect in our community.

"There are so many family-owned businesses in Downtown," Erin mentioned. "Anything you need from shopping, restaurants, brew pubs, a fine wine bar, small grocery stores and amazing murals – Downtown is your 'go-to' district."

She concluded by saying, "Downtown keeps growing. With everything the URA is doing, more businesses are thriving here, more projects are popping up and the future just looks so bright."

…And that's why Downtown Rock Springs is My Own Downtown.