My Own Downtown - Kevin Harper
---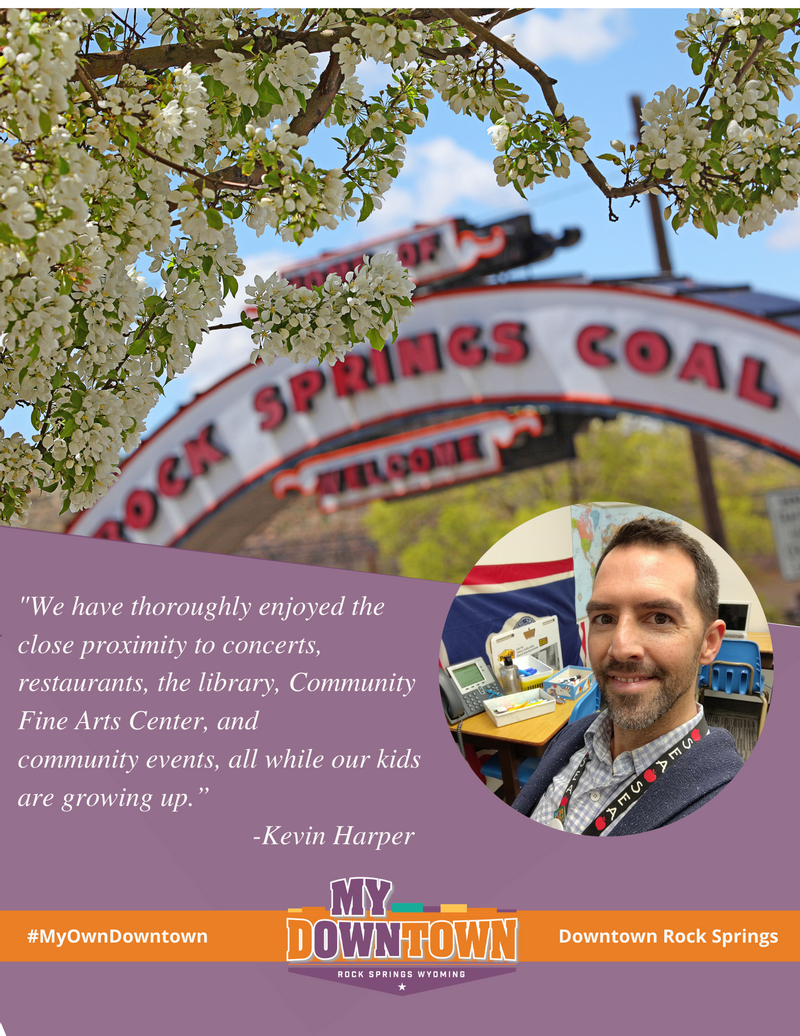 Kevin Harper and his wife, Kimberly moved to Wyoming from Oregon in 2011. They are educators for Sweetwater County School District #1. He is one of the Urban Renewal Agency Board members. 
From the moment Kevin and his family started hanging out frequently in Downtown, he knew the historical district has potential.
 "I've seen it in stores that have been around for a long time like The Bike and Trike, The Pickin' Palace, Rushmore Furniture, Bi-Rite/Sweet Sage/Remedies Grill, Bitter Creek Brewing, Broadway Burger Station and the remodeled Broadway Theater," Kevin said. "I've seen potential in new stores, murals art installations, Art Underground, and the current renovation of the old bank building."
He added, "I make an effort to go to the variety of stores and events."
 According to Kevin, supporting Downtown is simpler with a curious and local mindset.
 "Start with things you're comfortable and familiar with," he started to share. "For example, take chips and salsa - start buying them at Abarrotes El Primo market on Broadway."
He continued to say, "Then one day, try buying some meat and simple produce or different treats for that sweet tooth."
Kevin and his family enjoy buying treats locally in Downtown.
"Instead of buying them at a large grocery store, commit to buy them Downtown," he suggested. "That difference will turn that treat into an event that supports a local business."
Kevin and his family enjoy being a few footsteps away from Downtown.
"We intentionally established ourselves in the Downtown neighborhood on A Street," he shared. "We have thoroughly enjoyed the close proximity to concerts, restaurants, the library, Community Fine Arts Center, and community events, all while our kids are growing up."
"When my kids were little, we'd bundle up and walk to the Holiday Lighted Parade," Kevin said. "One February Leap Year, I took the kids to A Touch of Class Floral each day of the month and let them pick out a flower for their mother."
"Stopping by Coal Train Coffee Depot for a coffee and treats has always put a smile on my kids' faces," he expressed. "We enjoy art walks, music, drinks at Square State Brewing, Mexican food, Sidekicks Book and Wine Bar – there's just too much to mention."
Kevin concluded by saying, "Downtown Rock Springs is my Downtown because I make it mine."
…And that's why Downtown Rock Springs is My Own Downtown.