What's Up Downtown - the week of February 15-21, 2021
---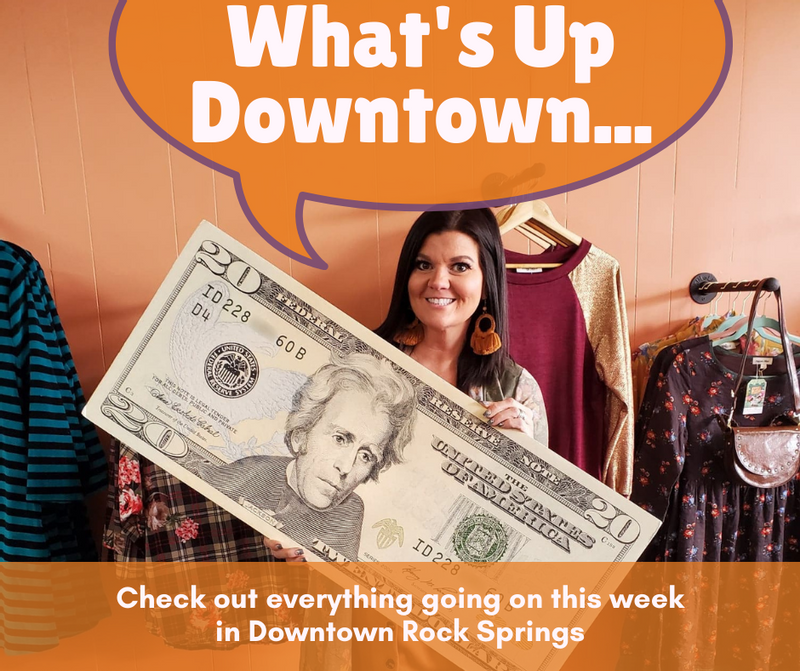 Looking for something to do?
Downtown Rock Springs is the center of activity.
Ongoing , New Year - New You! Yoga Classes with Salina, Escape Day Spa and Boutique, Various Times
Discover the benefits of Yoga! Salina teaches practices to quiet the mind, soothe the body & ease back from injury.  Salina Zanetti is a Certified Yoga Instructor and will be teaching Monday - Friday in the Fitness Room at Escape Day Spa & Boutique. All ages and abilities welcome! Classes are held Monday - Friday at 6:15pm and Tuesday-Thursday at 9:30am. (Room is large enough to allow social distancing.) Drop-in rate is $10, 10 class pre-paid series is $80
Feb  15, Vitalant 13th annual High School Blood Drive Challenge, Bunning Hall, 12 noon to 6 pm
Do you bleed ORANGE & BLACK?  Support the RSHS Tigers while helping a great cause.  
Feb  17, Educator's Night, Bitter Creek Brewing, 4 pm to 7 pm
Bring your school ID and purchase a beverage and receive the chef choice appetizer.
Feb  17, Downtown First Awards, Virtual Presentation, 7 pm
The Downtown First Awards recognize businesses, organizations and individuals who put downtown first through their commitments of time, advocacy and resources. The community was invited to nominate businesses, organizations, and individuals deserving of recognition. Join us ONLINE as we announce the winner.  
Feb  18, Advanced Learn to Knit. Part 2, the yarn and the tale, 6 pm to 8 pm
This is the 2nd part in a 2 part class. 
Feb  20, $20 on the 20th, Downtown Rock Springs
It's easy
Just spend $20 at local Downtown businesses on the 20th of every month to show appreciation for our merchants and all they bring to our community.
Make it fun
Shop for some gifts, go out to lunch or take a friend to your favorite hot spot for a cocktail. Ongoing thru
Feb  22, Exploration: Math - Tessellation, Rock Springs Library, 10 am to 6 pm
Pick Up a Grab & Go Bag From the Library
Grab a kit with everything you need to make a tessellation - a pattern of shapes that fit perfectly together!
Ongoing thru Feb  26, MARS Club - Mancala, Rock Springs Library, 10 am to 6 pm
Welcome to the Brooklyn House. Learn as much as you can about Egyptian mythology and earn some fun prizes along the way. Want to play the oldest game in the world? Grab a kit to make your own Mancala board and play the same game the Egyptians did in 1400 BCE.