My Own Downtown - Kent Porenta
---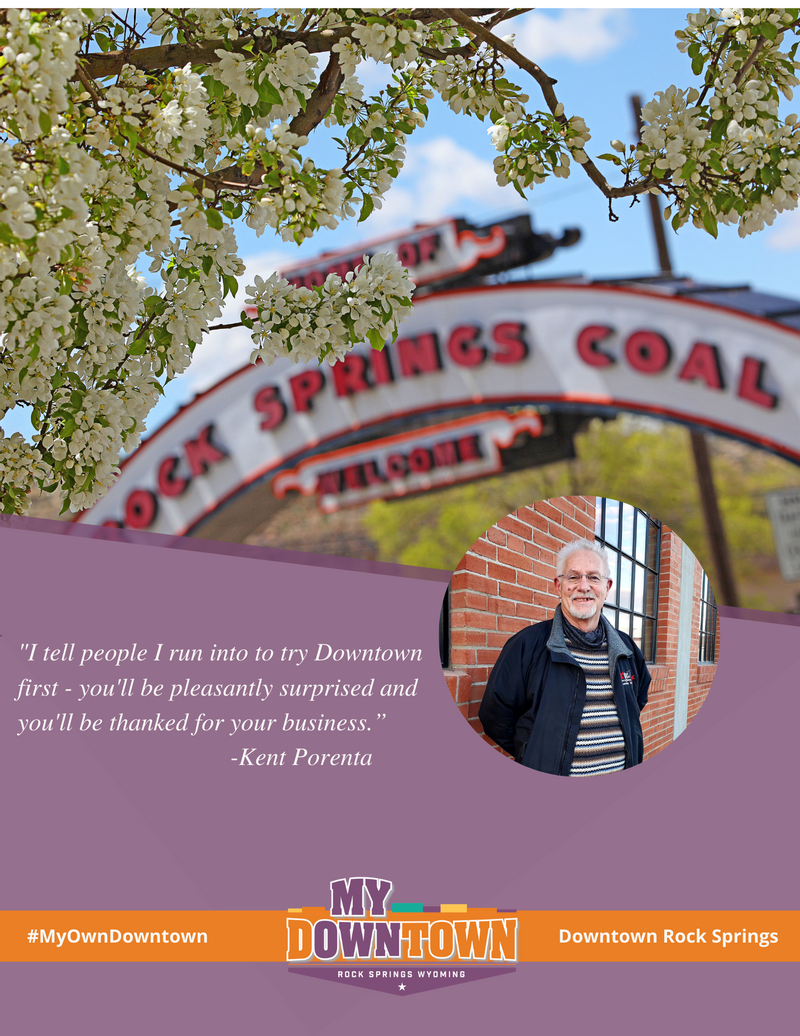 Kent Porenta is truly a Rock Springs native.
"Other than a LONG college career in Laramie, I've been here all my life," Kent shared.  
After graduating from University of Wyoming with a double major in Wildlife Biology and Range Ecology, he returned to Rock Springs, hoping to get a job.
"Having worked summers during college in the Bridger Wilderness, I became familiar with working on horseback," he explained.
Since Kent knew the folks who owned Current Creek Ranch, he became a "Cowboy"/ranch hand for a few years.
 "Great life, NO money," he chuckled." "But that kind of work had something to do with my degrees."
Not too long after that, Kent became an auto mechanic.
"I was doing this during college for beer money," he joked.
This eventually led into owning his own shop in Downtown, where Broadway Burger Station is now.
During that time, he became heavily involved in auto racing, car shows and teaching part time at Western Wyoming Community College
As a Downtown business owner, he got involved with promoting Downtown and serving on the first Downtown Advisory Board.
 Then, due to his motorsports experience, he was offered the job of Motorsports Coordinator at the Sweetwater County Events Complex. He closed his business and spent 20 years doing that.
Kent made it his mission to serve on every board and commission the City of Rock Springs and Chamber of Commerce had to offer. Most notably, he served 12 years as City Councilman, helped create the Urban Renewal Agency, served on the Sweetwater Economic Development Association and as a WWCC College Trustee.
About eight years ago, he was asked to chair the Rods and Rails Car Show.
    "With the help of a great committee, we transformed Rods and Rails into the 'go to' show in Wyoming," he mentioned. "My duties with the show now are mainly advisory and helping where needed."
 He currently serves on the Board of Directors of the Young at Heart Senior Citizen Center and on their Foundation Board, trustee at his church and on the URA Promotions Committee.
Give this man a bigger calendar!

     "Growing up in Rock Springs, knowing how important the Downtown was then and working with others now and over the years to improve and promote Downtown, instills 'ownership'," Kent said. "It's not MY downtown - it's OUR downtown."
According to Kent, Downtown Rock Springs reminds him of the old "Cheers" slogan - a place where everybody knows your name.
    "I tell people I run into to try Downtown first," he said. "You'll be pleasantly surprised and you'll be thanked for your business."
            Back in the day, Kent remembers the sights and the smells of Downtown, such as the bakeries, bars, restaurants, and even the tire shops.  
     "Oh, and of course the theaters!" he beamed.  
            Kent is excited to see what the future has in store for Downtown Rock Springs.
    "While I wish we could wave a magic wand and have it happen tomorrow, I realize it will involve a lot of hard work from many people to make it happen but it's happening now," he concluded. "Just look around - I'm truly honored to be involved."
            …And that's why Downtown Rock Springs is My Own Downtown.