My Own Downtown - James Lockhart and Tammara Hautala
---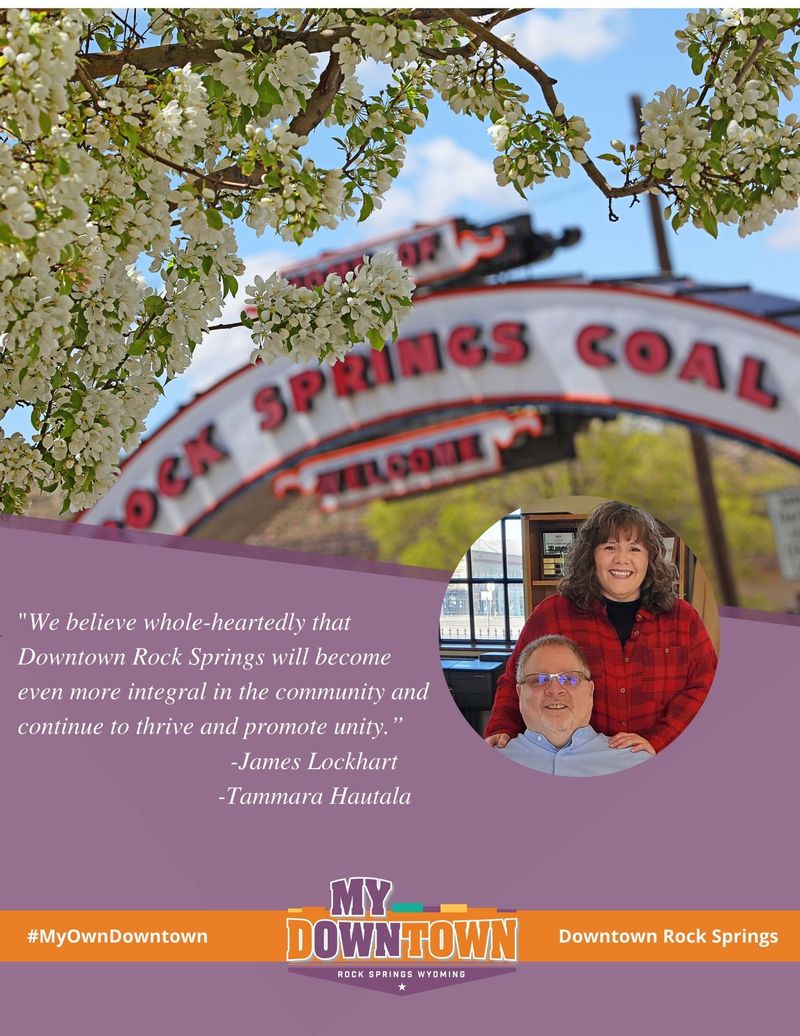 Jim Lockhart and Tammara Hautala are Downtown's super couple. They have been together for nine years. They currently own and operate three rental businesses consisting of residential rentals, Airbnb units and one commercial rental in Downtown Rock Springs.  They are one of the few rental companies that offer pet-friendly homes.
   "We enjoy helping people make Rock Springs their home," Tammara said.
   They have been active in the community, either volunteering or supporting various groups and organizations in different aspects. 
    They enjoy traveling and taking walks and participating in all the events in Downtown with their granddaughter and dogs. 
   According to the sweethearts, they have always loved the atmosphere of Downtown. 
    "Residents, visitors and local merchants always offer a friendly smile and a welcoming hello," Tammara shared.
    Since they own several properties within walking distance to Downtown and Bunning Park, they make it a habit to attend a majority of the events promoted by the URA and Downtown Rock Springs. 
    "Bunning Park is Jim's favorite place to go to ground and center himself," Tammara pointed out. "I enjoy walking around the Downtown area and viewing the mural."
    She added, "We eat at a Downtown restaurant at least three times a month."
        Since there are so many activities and events they've participated in, they find it difficult to choose a favorite memory.
       According to James, his fondest memories are from when he was a child, riding around Downtown, seeing a movie at one of the theaters; eat at Bi-Rite or the Park Hotel's café. 
       Tammara's most enjoyed moments consist of the family events.  She loves the parades, especially the Downtown Christmas light parade.
      "The event promotes such a wonderful atmosphere that the entire community embraces," she expressed. "Everyone is happy and joyful, watching the magical lit up floats and drinking hot chocolate." 
       They agree that the small businesses are happier when customers support them in Downtown Rock Springs.
       "We would suggest people make it a point to spend at least one day a week to venture Downtown and see what is going on, eat at a different restaurant each week or browse the local stores and meet your neighbors," Tammara advised. "There are many businesses Downtown, filled with friendly faces."
       She went on to say, "Following Downtown Rock Springs on Facebook is a wonderful way to keep up to date on current events and happenings".
        "Rock Springs is such a wonderful community," Tammara stated. "We all pull together in times of need and help one another grow and flourish. We are proud to call Rock Springs home."
       She continued to say, "Take for instance, this past year has been especially difficult for small businesses, but we are persevering, discovering new ways to serve the public and help one another."
    "We, as a community, found new ways to support our local businesses," she pointed out. "It is very endearing.
    "We believe whole-heartedly that Downtown Rock Springs will become even more integral in the community and continue to thrive and promote unity," she said.
   …And that's why Downtown Rock Springs is My Own Downtown.