What's Up Downtown - the week of December 7 - December 13, 2020
---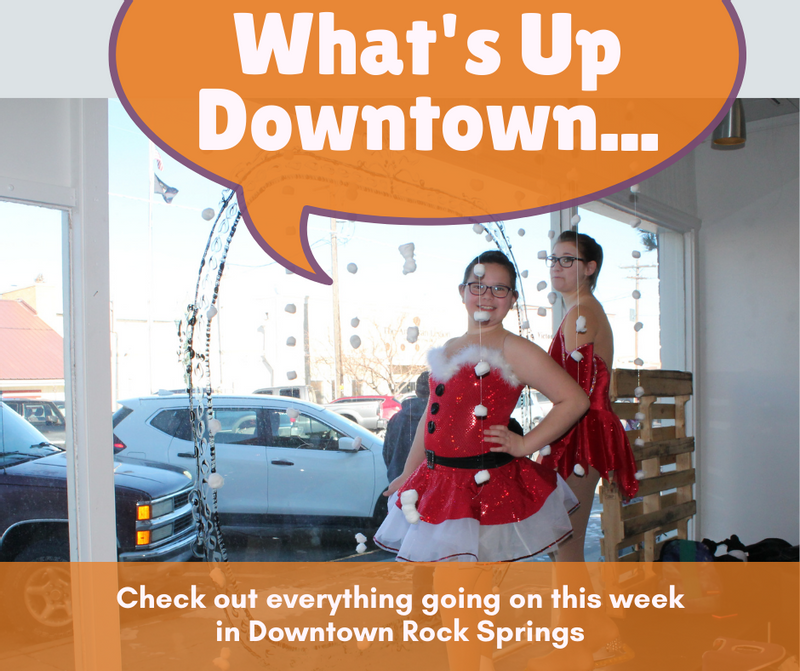 Looking for something to do?
Downtown Rock Springs is the center of activity.Ongoing
Mayor's Downtown Challenge (ONGOING)
Mayor Kaumo is inviting locals and visitors to participate in the Mayor's Downtown Challenge; it's a pledge to support local businesses at least five times during the holiday season. Residents and travelers can do so by purchasing gifts, dining, or participating in holiday events in Downtown Rock Springs.
DEC  7, Yoga with Salina, Escape Day Spa & Boutique. 4 to 5 pm
Come join Escape's new Yoga classes with Salina Zanetti, Certified Yoga Instructor! Salina will be teaching Monday-Friday in the Fitness Room at Escape Day Spa & Boutique. All ages and abilities welcome!  Classes continue all week so check for times and dates. 
DEC  8, An Evening of Merrymaking, Rebel and Roots Boutique, 6:30 to 8 pm
Girls crafting night anyone!?! Heck  YES! Come join me for a night of merrymaking. This Make N' Take Workshop will be for a few DIY marbling ornaments. Multiple variations & colors available. All supplies are included. Preregistration is REQUIRED.  $20 per person. To register call Becca Smith at 816-416-9293
DEC  9, Embrace Winter Discussion and Brainstorming, Online, 4 pm
Join us in brainstorming discussion (virtually) on what we can do to embrace winter - design, public arts, pop-ups, events, activities, and more. We want your input and ideas.
DEC  9, Educator's Night. Bitter Creek Brewing. 4 to 7 pm
Educators come in for a free appetizer (chef choice).  Educators will receive the appetizer with a purchase of a beverage and their school ID.
DEC  11, Ladies Night, Mack and Co. Boutique. 6 to 8 pm
Stop by for a night of shopping at the Second Annual Ladies Night! Vendors are offering discounts, they'll be raffling off gift certificates to locally owned business & various goodies from vendors. Plus the first 10 ladies in the door will get a free amazing swag bag filled with gifts.
DEC  11-12, December Event, WildFlower and Co
This is the event you wait for each month...WildFlower and Co's monthly opening and pop-up shop. 
     Friday, December 11 - 12 noon to 7 pm
     Saturday, December 12 - 10 am to 6 pm
     *Masks required
DEC  12, Santa Saturdays, Downtown Gazebo (corner of D and Broadway), 11 am to 2 pm
Santa's weekly visits will be at a new location this year, the Downtown Gazebo (at the corner of D Street and Broadway Street), Saturdays, November 28 to December 19. 11 am to 2 pm. This event is sponsored by Escape 307 Rock Springs. 

DEC  12, 

Living Windows, Downtown, 11 am to 2 pm
Watch performers from around the community smile, dance and pose as live mannequins in participating windows.  
DEC  12, 2nd Saturday - Holiday Edition, Downtown Rock Springs, 11 am to 4 pm 
Get into the Christmas spirit and find some unique gift ideas at our 2nd Saturday Holiday Edition.
Artist Locations:
     Escape Day Spa & Boutique
     Leslie Webster, poured acrylic painting
     Ana Reynolds, wood art
     Amanda Romero, watercolorist
     Edie Reed, painting
     Sidekicks Book & Wine Bar
     David Halter, photography
     Free admission to all events!
DEC  12, Sip & Shop, Rebel and Roots Boutique, 4 to 6 pm
Take the night off! Stop in from 4-6PM to enjoy some Holiday shopping while sipping on some Jingle Juice. This is a free event. No registration required. Take some time to come see your new favorite boutique while enjoying some cocktails, amazing sales and giveaways! Bring some friends!
DEC 12, Joe's Nightmare Before Christmas Party, Joe's Liquor and Bar, 7 pm to 2 am
Our dearest friends, we'd like you to join us at Joe's Liquor & Bar where we can gaze into our beers and sip together at our Nightmare Before Christmas party on Saturday, Dec. 12 at 7 PM. For it is plain as anyone can see: You at our holiday celebration is simply meant to be!