My Own Downtown - Lena Warren and Mike Mullins
---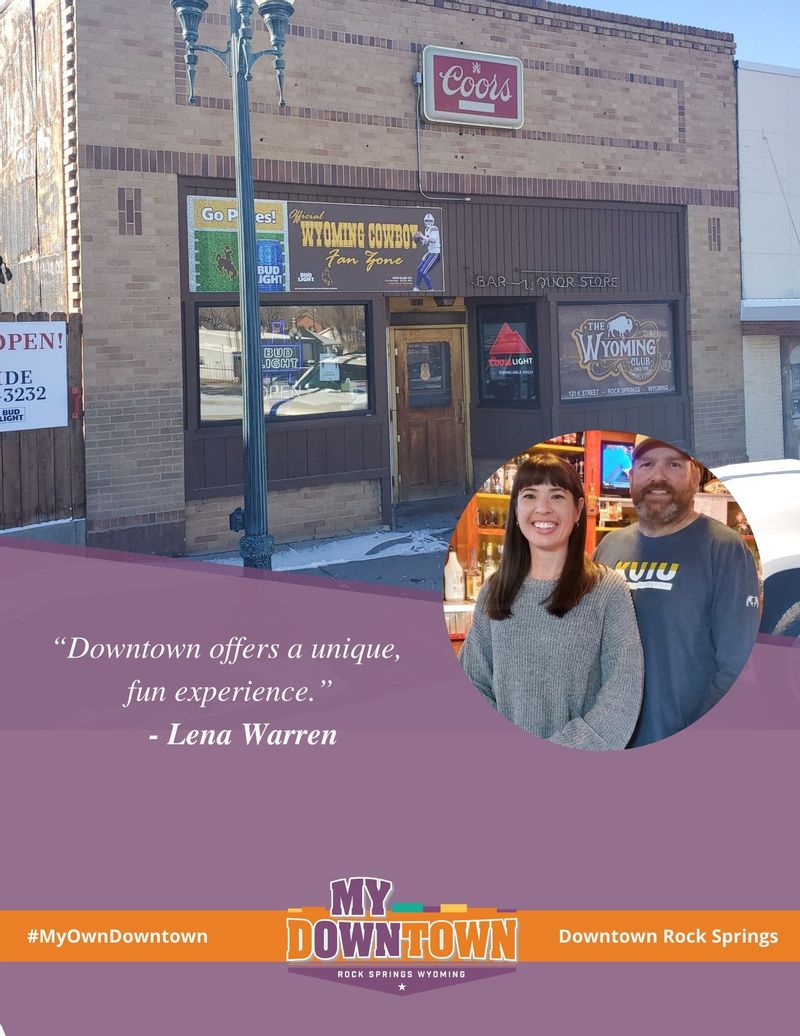 The goal of bars in Downtown Rock Springs is to stir up excitement, entertainment and fun. The Wyoming Club, 131 K Street, is no exception.
     Even as challenging 2020 has been, Lena Warren and Mike Mullins seized the opportunity to manage The Wyoming Club.
        "We felt that because we love this bar, the patrons, and the staff, we'd give it a 'shot,'" Lena joked.
     They enjoyed many great times down at Steve's Wyoming Club.
            "The history of K Street, the yellow walls, the ghosts, grandparents telling us stories about Kaiser's Wyoming Club," Lena continued to say. "We love it all."
    While bartending at Steve's Wyoming Club for several years, she was able to learn a lot about the business.         
     According to Lena, the patrons are her favorite part of Downtown.
            "We love the jokes, the laughter and the family it has created," she replied.
            Providing curbside service at The Wyoming Club has been one of her favorite memories so far. They had debuted the original Adult Juice Pouches when Downtown fell silent earlier this year during the pandemic.
            "We decided to have a fundraiser," Lena explained. "A portion of the sales from 'Pouches For A Purpose' went to the Memorial Hospital Foundation COVID-19 Response Fund."
            Lena and the crew didn't know what to expect. Soon, they discovered an amazing response from the community.
            "It was truly great to see so many people come together to show support for a small business, but also for a bigger cause," she expressed.
            She added, "We also saw our close staff become even closer. It just proved to us that not only do we have a great staff, but we're fortunate to live in such a supportive community. We are unbelievably grateful!"
            Lena hopes locals and visitors will continue to  support small businesses after the holidays.
            "Downtown has seen some great additions in the past few years," Lena said. "As long as we continue to support our local, small businesses, we will continue to see growth." 
            "Downtown offers a unique, fun experience," Lena shared. "The Wyoming Club hopes to give you a great memory."
            She concluded by saying, "Small businesses in Downtown bring a unique insight of our past and future in Rock Springs."
…And that's why Downtown Rock Springs is My Own Downtown.  
.