Thrift Stores Spread Hope In Downtown
---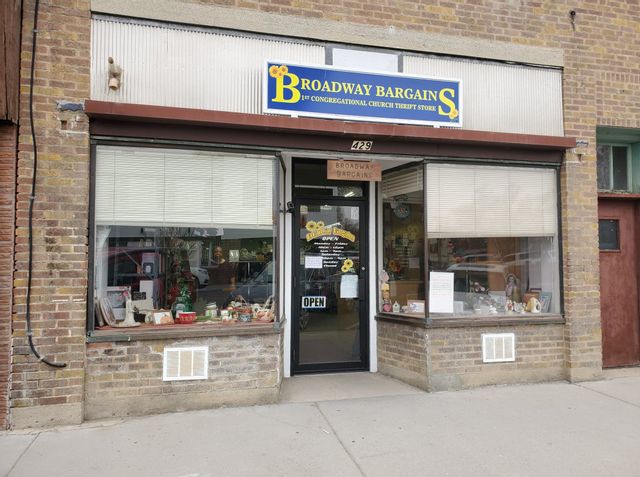 Tough Times - Since bargain-hunting customers of all ages have felt the economic pinch (OUCH!) during the COVID-19 pandemic, they are more open to shopping secondhand.
            Second-hand shops in Downtown are more equipped to safely help our community during these challenging times.
     At Broadway Bargains, 429 Broadway Street, there are 15 to 20 volunteers going the extra mile to help those in need.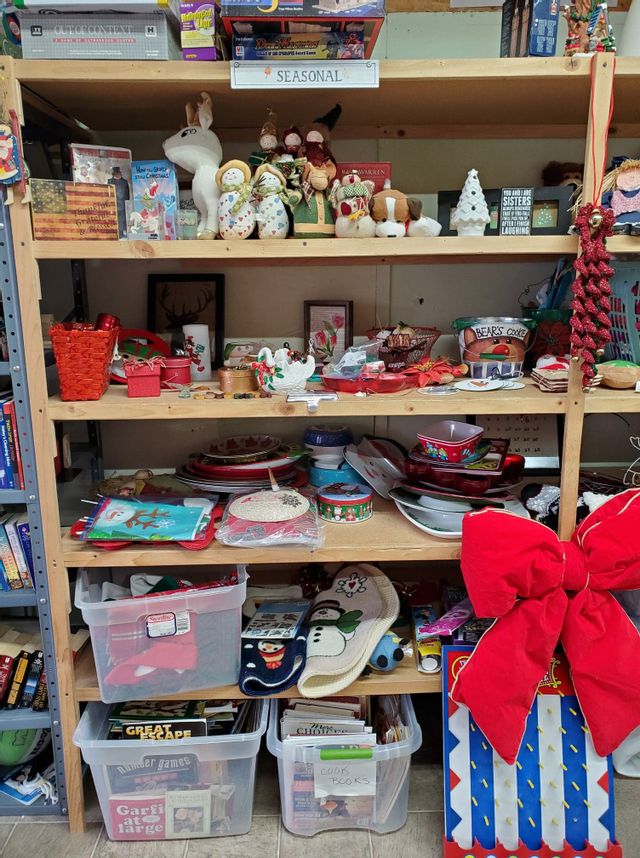 Decades of Helping Those In Need - Volunteers at Broadway Bargains in Downtown Rock Springs have bonded with those they helped throughout the years.
            Forty years ago, Juanita Angeli decided to start volunteering at Broadway Bargains. She had worked at Greyhound for 15 years. Her husband, Frank worked for Rock Springs National Bank. One weekend, she was having a yard sale to raise funds for the First Congregational Church.
            She thought, "I wish I can have a yard sale every day just to help people in need."      Eventually, she joined friends, relatives and members of the church in opening Broadway Bargains in a rental unit just next to Boschetto's.
            Soon, Broadway Bargains relocated to North Front Street in the Newberry Building. There were three or four other stores in the building; even Yoshi's Hair Salon was in there.
            Many customers have stood out and language barriers don't keep the volunteers from helping others at Broadway Bargains.
            According to Juanita, a farmer visited Broadway Bargains once a year who didn't speak English well.
            "We helped him get blankets for his baby cows," Juanita continued to say. "I've enjoyed meeting lots of different people. It's a community affair."
            Volunteer Shano Uhrig agrees. "It's all about giving back to the community," she replied.
            Being a volunteer can be uplifting. For Shano, volunteering was the solution when she started to experience "empty nest syndrome." She still misses her children and grandchildren but volunteering at Broadway Bargains keeps her busy.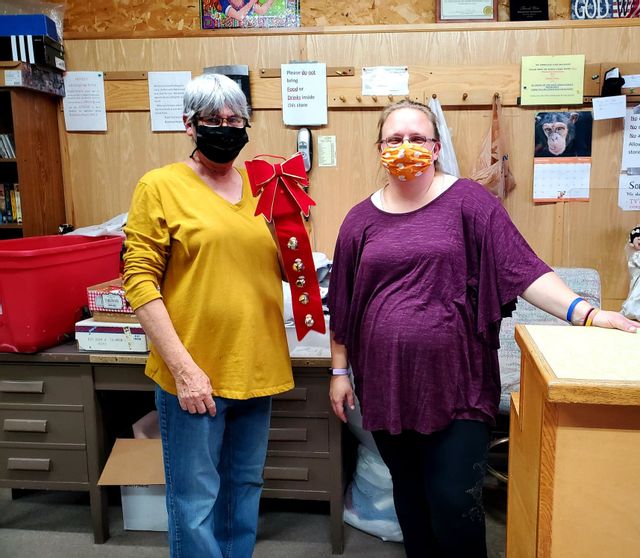 Ready To Serve - Rock Springs resident, Julie Godfrey (right) is currently managing Broadway Bargains. She helps her father, Paul Legerski with maintenance issues, directing volunteers and organization.
            "Ninety-five percent goes back to the community," Julie stated.
            Broadway Bargains is a non-profit establishment. They work with several organizations such as the YWCA, the Justice Center, the Boys and Girls Club, Hospice, the Salvation Army and the Family Resource Center.
            "We work toward improving the lives of others," Julie pointed out.
            Broadway Bargains is open Monday through Friday, 10am to Noon and 1 pm to 4 pm. Masks are required by all above age 2. Hand sanitizer is available for use.
            According to Julie, the organization is still accepting donations but they will be quarantined for extra care.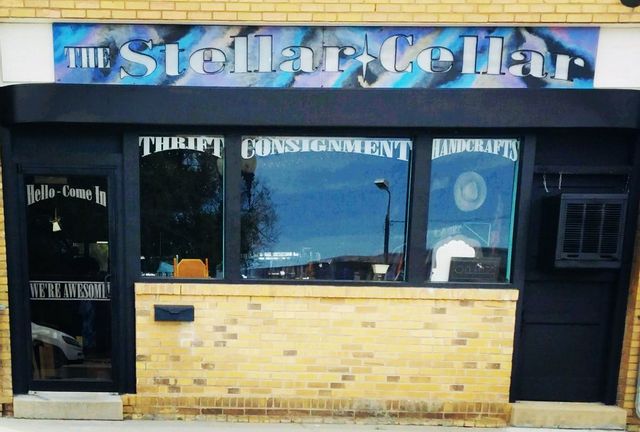 Saving The Planet - Times are changing and so is the inventory at consignment shops. When shoppers buy items from consignment shops, they are keeping those items out of landfills. The Stellar Cellar is a place to sell and find gently-used clothing for all ages.
            According to Jessica Fife, Owner of The Stellar Cellar, her grandmother introduced her to second-hand shopping when she was a little girl.
            "I've always loved thrift shopping," Jessica said. "I think it's especially important now to shop second-hand – it's environmentally friendly. We don't need to consume so much."
            She added, "There are a lot of clothes that need new homes. Don't throw them away."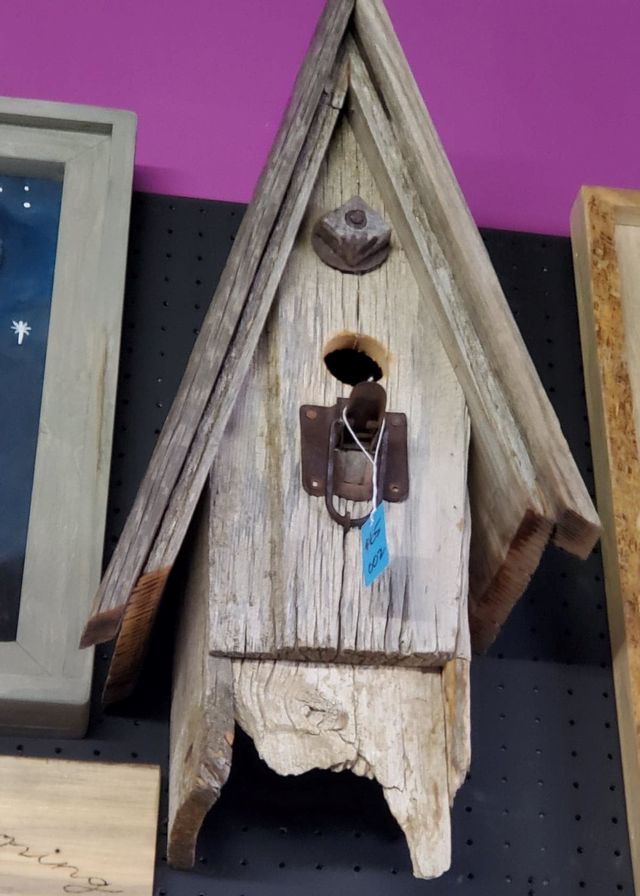 Retro Variety - This season, according to Jessica, The Stellar Cellar have unique handmade items that they are highlighting for the holidays such as rustic birdhouses, essential oil perfumes, all natural soap, dreamcatchers, and tie dye shirts, as well as gift cards to "give the gift of thrift."
            "When people make a purchase, it reminds me of something my friend said about buying used CD's," Jessica shared. "it's like giving a lost dog a new home."
            She added, "I love the thought of these items making someone happy, whether they are secondhand or handmade."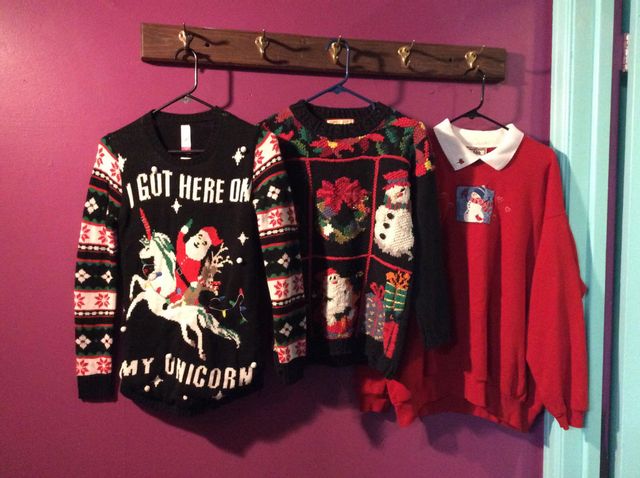 Holiday Print Galore - December 18th is National Ugly Christmas Sweater Day. Stop by The Stellar Cellar and get one!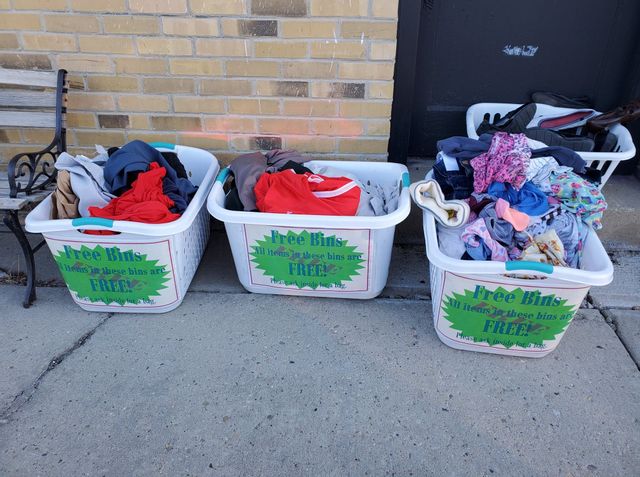 Help Yourself - The Stellar Cellar has items at no cost available in bins for those who are struggling.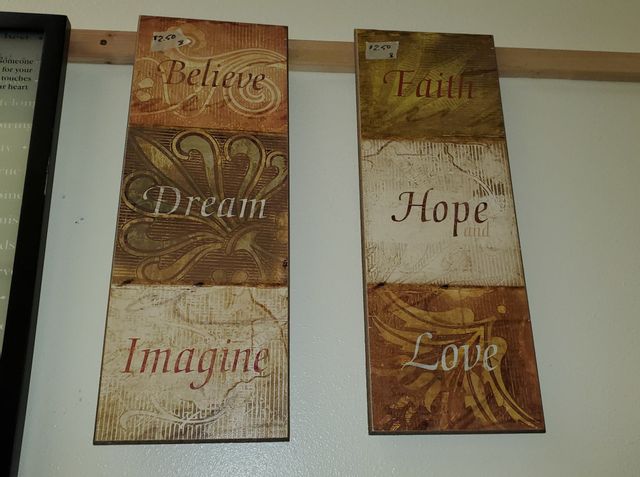 Helping Our Community - Eileen's Attic has been helping the community one sale at a time. They have been helping over 45 entities including Toys For Tots, victims of fires, veterans, the library system, scouts, Bowls of Sharing, Big Brothers/Big Sisters, clients from the local nursing home, the Food Bank, Humane Society, YWCA, Traveler's Assistance, the Actor's Mission and many more.
            Since 1964, the income from the thrift shop has made a positive difference for many in our town, state, nation and the world including donations to people who suffered tragedies in their lives, victims of domestic abuse and Cowboys Against Cancer.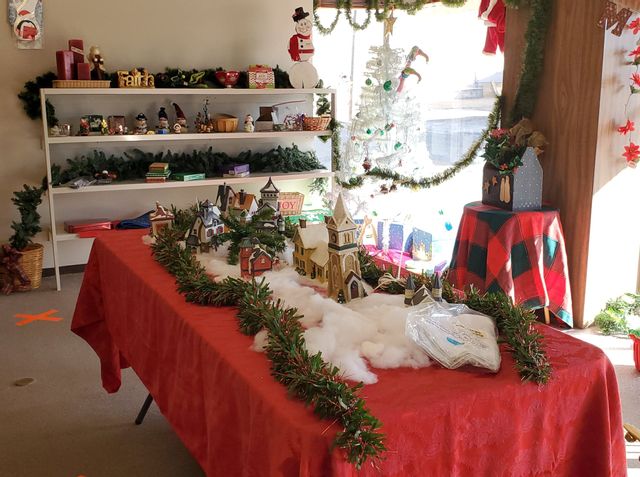 Always In Downtown - Eileen's Attic's first location in Downtown was in the old "Carlson Cleaners" building. Several years later, they moved into the old "Dye's Office Supply." A few more years went by and they moved into a building that housed "Paul's Variety" on K Street. Finally, in September of 2010, they moved to their present location on Fifth Street.
            They are involved in the "Dress For Success" program. They help people get clothes for interviews and clothes for new jobs.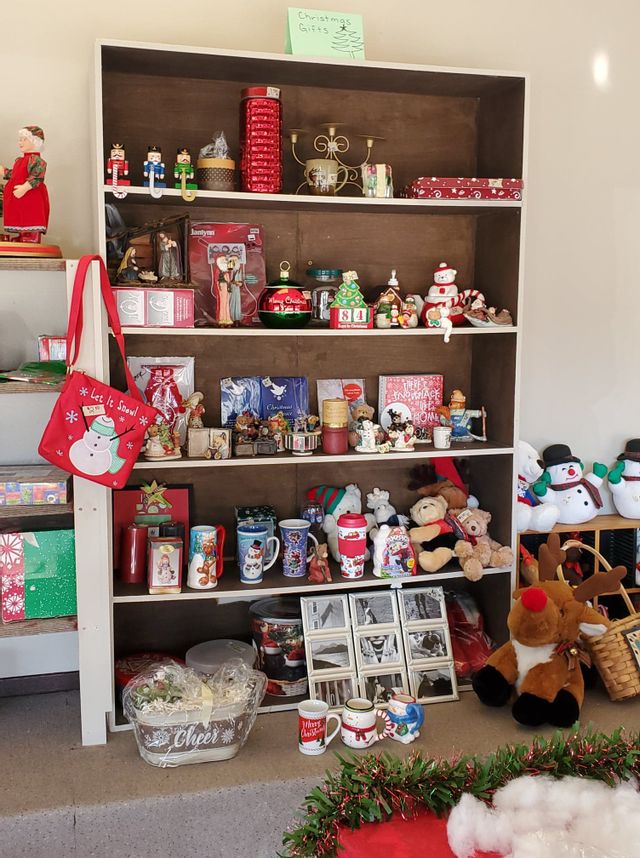 Shopping Safely - This charitable second-hand shop was renamed "Eileen's Attic" in honor of former longtime resident and volunteer, Eileen Zanation. Eileen was general manager for 20 years, making it her mission to provide for those who are less fortunate.
        As with other thrift stores, masks are recommended to shop at Eileen's Attic. Sanitizer is available to visitors and they are asked to sign in at the door. 
            "We keep everything clean and nice," Melissa Lucero noted. "Customers can re-gift about anything from here."
            She concluded by saying, "It's very heart-warming when we help those who are in need, especially during the holidays. Come on in – we'll help you furnish Christmas."
            Eileen's Attic is open Tuesday through Saturday, 10 am to 3 pm, 507 5th Street, Downtown Rock Springs.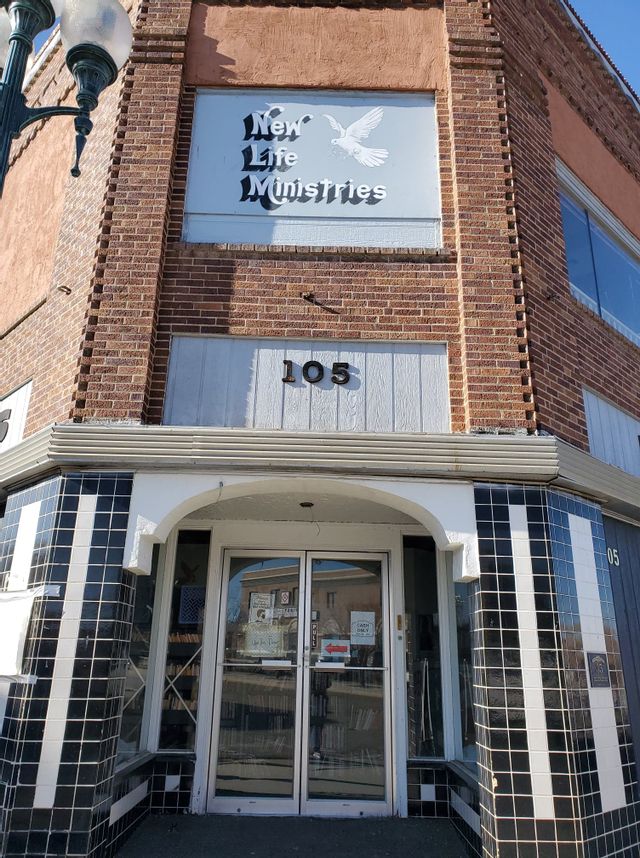 A Retail Blessing - New Life Ministries began forty years ago as a food bank and thrift store.
            One day, church members decided to have a rummage sale. They were able to raise enough funds to send a student to college.
            New Life Ministries continued having rummage sales through various donations by the public.
            Like many other stores, New Life Ministries was closed for two months due to the recent pandemic.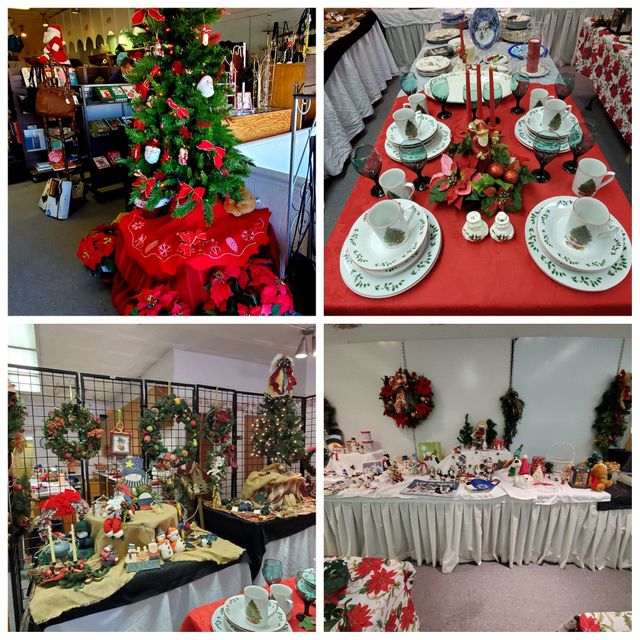 Making Christmas Happen - New Life Ministries has plenty of clothing, furniture, household items of all types and of course, holiday merchandise.
            This organization helps those who are stranded in our community by offering Traveler's Aid, they've helped battered victims, individuals with disabilities and others who need some assistance in starting a new life.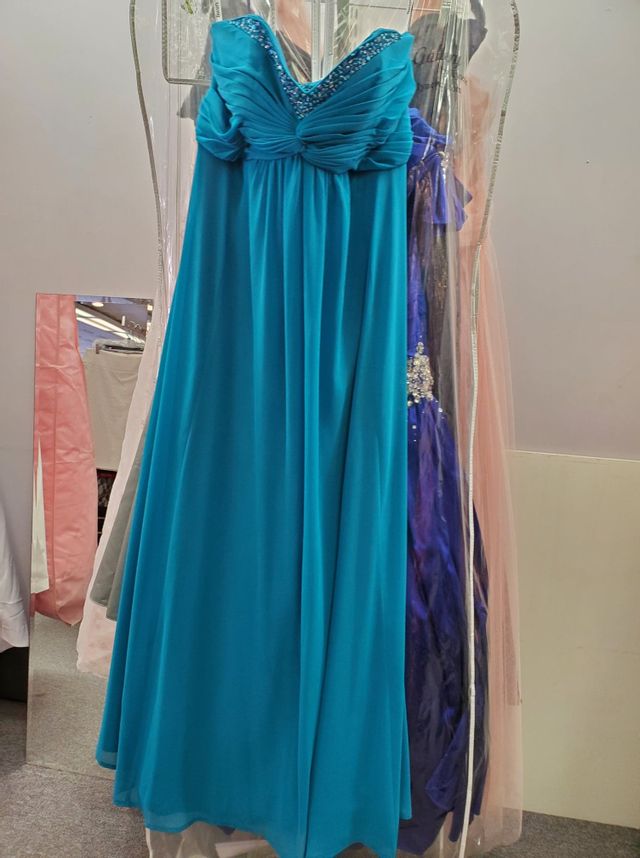 New To You - New customers will be amazed once they start exploring upstairs in the New Life Ministries Boutique.  
            "Setting people up feels good," Stacey Snyder mentioned.
            Shoppers will find a huge selection of purses, shoes, hosiery, clothing, houseware and other items.
            "It's like a department store," Stacey pointed out. "We even have expensive dresses from David's Bridal and Frenze."
            Parents who are on a tight budget don't have to order a dress online or go into debt when their children have plans to go to a school dance – there are never been worn or once-worn dresses they can try on in this spacious boutique.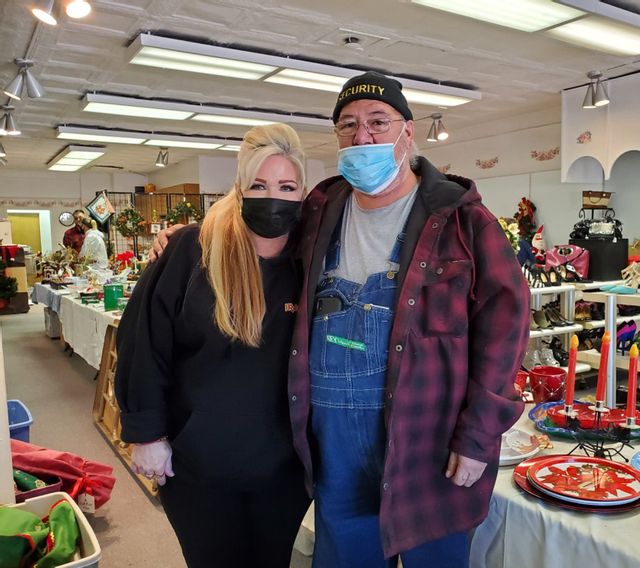 How Can We Help You? - Stacey Snyder and Teddy Rivera are ready to tackle any task in order to help residents and travelers passing through our community.
            New Life Ministries, 105 K Street, is open Fridays and Saturday, 10 am to 5 pm.  
There's no shame in making a purchase at a second-hand shop; it's a great way to buy high-end clothing and accessories well below retail prices. Take a day to check out the thrift stores in Downtown Rock Springs and see what you can come up with!