What's up Downtown - the week of November 30 - December 6, 2020
---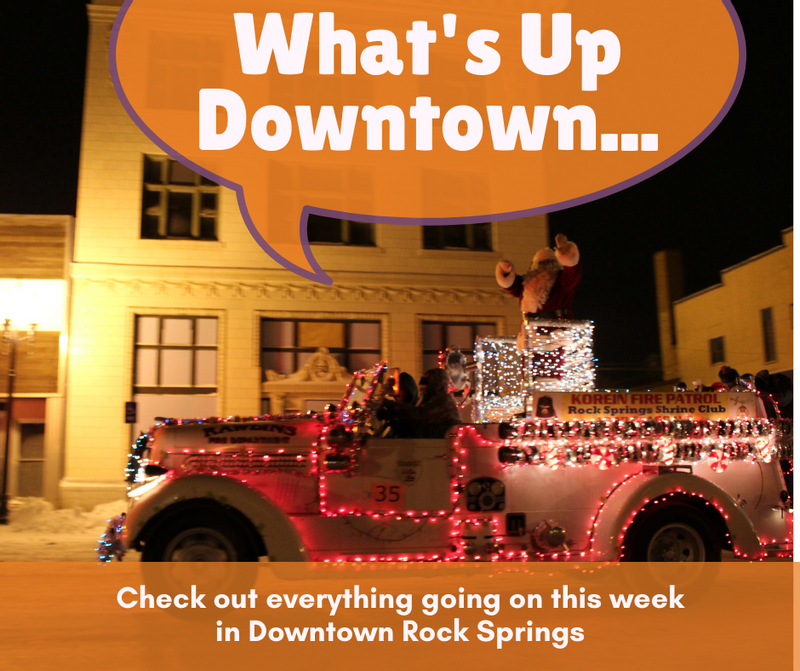 Downtown Rock Springs is the center of activity in our community.  If you're looking for something to do, we've got you covered.  
Ongoing, Mayor's Downtown Challenge
Mayor Kaumo is inviting locals and visitors to participate in the Mayor's Downtown Challenge; it's a pledge to support local businesses at least five times during the holiday season. Residents and travelers can do so by purchasing gifts, dining, or participating in holiday events in Downtown Rock Springs.
NOV  30, Yoga with Salina, Escape Day Spa & Boutique, 4 to 5 pm
Come join Escape's new Yoga classes with Salina Zanetti, Certified Yoga Instructor! Salina will be teaching Monday-Friday in the Fitness Room at Escape Day Spa & Boutique. All ages and abilities welcome!  Classes continue all week so check for times and dates. 
DEC  1, Knit Your Own Felted Knitting Bag, the yarn and the tale. 5:30 pm
Join in the fun with this knit along to make your own felted knitting/project tote. Knowledge of knit stitch, purl stitch and knitting in the round required. Choose your own colors, as many as you'd like.
DEC  2. MARS Club. The Rock Springs Library, 10 am 6 pm 
Are you ready to attend Camp Half-Blood? You must earn 12 god buttons by completing weekly and monthly contests, tuning in to our online programs, and creating with our MARS Club grab bags. If you earn all 12 buttons you will get a Camp Half-Blood t-shirt! Program is open to kids in fifth grade and up    
    

    

December 2 - Pegasus Myth

DEC  2, Educator's Night, Bitter Creek Brewing, 4 to 7 pm
Educators come in for a free appetizer (chef choice).  Educators will receive the appetizer with a purchase of a beverage and their school ID.
DEC 4-5, John Atencio 2 Day Jewelry Event, Daniel's Jewelry, 11 am to 7 pm
What good is wearing something remarkable if it never gets noticed? John Atencio creates bold statement pieces – wearable art, designed and crafted by hand from the finest materials with impeccable attention to detail for those who are passionate about making a distinct statement with their timeless jewelry. "Always Expect Something Different"

DEC  5, Santa Saturdays, Downtown Gazebo (corner of D and Broadway), 11 am to 2 pm
Santa's weekly visits will be at a new location this year, the Downtown Gazebo (at the corner of D Street and Broadway Street), Saturdays, November 28 to December 19. 11 am to 2 pm. This event is sponsored by Escape 307 Rock Springs. 

DEC  5

Dec 5, Mayor's Tree Lighting, Canon Park (intersection of Elk and Grant Streets), 5 pm
Join Mayor Kaumo as he lights the community Christmas Tree. 
DEC  5, Rock Springs Lighted Holiday Parade, Downtown Rock Springs, 5:30 pm
The Rock Springs Chamber of Commerce Holiday Lighted Parade will travel through Historic Downtown Rock Springs starting on the corner of "C" Street and Broadway, the floats will travel down South Main, then turn right on to "E" street, left on to Broadway and then under the underpass and on to "M" Street. From "M" street the floats will make a left on to Pilot Butte, a left turn on to "K" Street, followed by a right turn on to North Front, after traveling down North Front the parade will end at the corner of Elk Street and North Front.
DEC  5, Christmas Parade Watch Party, Square State Brewery, 5 to 8 pm
It's that time of year again!! Come hang out at SSB and watch the Christmas parade in the warm tap room, while you enjoy your beer.
DEC  5, The S'more the Merrier, Rebel and Roots Boutique, 5 to 7 pm 
Rebel and Roots Boutique is staying open late! Come shop and roast a s'more while waiting for the Holiday Parade to pass by. Do a little Christmas shopping while you wait. * S'more supplies will be prepackaged and roasted on a skewer over a warmer made for indoor s'more making. Available while supplies last!