My Own Downtown - Keaton West
---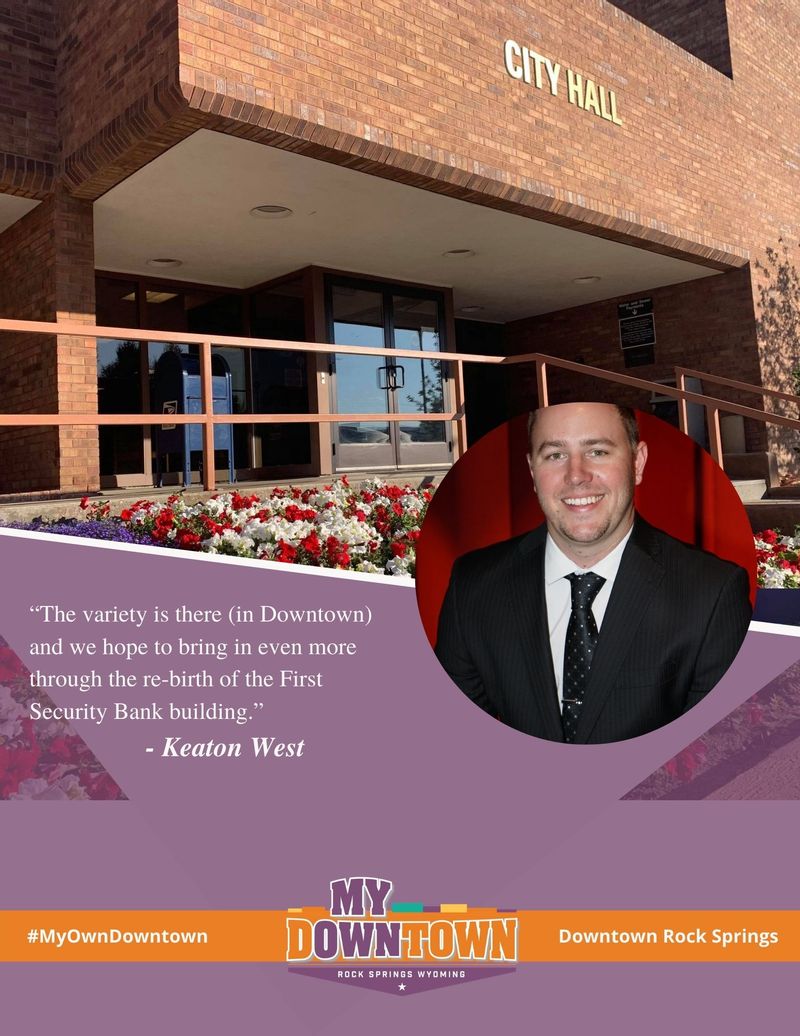 Local governments run our city utilities, libraries, fire departments, public swimming pools, parks, local law enforcement, schools and much more. Local government consists of city councilmembers, mayors, county commissioners, sheriffs, and school boards. Local government touches every aspect of our lives and enhances the quality of life.
    Keaton West is a councilor for Ward 4 in Rock Springs.
    "I wanted to make a difference," he shared. "I enjoy being involved, having a say, and working together to make improvements that this community can be proud of."
    He added, "It takes great vision, leadership, and ambition. I am truly honored to have been elected to the job."
    Of course, the city offices are located in Downtown.
    "Downtown has some great assets to offer; covering anything from dining, to retail, to grabbing a drink with a friend or family member, attending a concert, or even utilizing legal advice and services through some pillars within our community," Keaton described. "The variety is there, and we hope to bring in even more through the re-birth of the First Security Bank Building."
    Downtown was part of his "big day" five years ago.  
    "I married my lovely wife, Dana, in the Broadway Theater back in 2015," he said. "A special day for multiple reasons, but one that I will always hold close to my heart having taken place at the West Theatre."
    According to Keaton, his Great-Grandfather built the theater originally, and therefore it will always be the West Theatre in his eyes.
    Keaton believes Downtown is still the center of action. 
    "There is always something going on Downtown," he mentioned. "There are multiple events paired with neighborly and inviting merchant fronts who work hard to make the Downtown experience what it is. We should support them just like all small businesses throughout this wonderful community."
    Keaton went on to say, "Small business is a vital backbone to this city; and while convenient in many aspects, online retail can also be crippling to many of these entrepreneurs."
    Based on the latest figures, 68 cents of each dollar spent in local businesses stays in the community.
    "Let's help them prosper by supporting our own, and spending at home!" Keaton cheered. 
    The recent pandemic had put a cloud over most downtowns across the map but it's picking up and merchants are hopeful.  
    "I see the future of Downtown having opportunity," Keaton expressed. "The re-birth of the First Security Building will be a pillar in our Downtown and I look forward to working diligently with our Mayor and Council to make that opportunity a reality."
    He concluded by saying, "We are very grateful for the support of the Wyoming Business Council and SLIB Board. Without their assistance, it would be nothing more than a dream."
…And that's why Downtown Rock Springs is My Own Downtown.