My Own Downtown - Gwendolyn Quitberg
---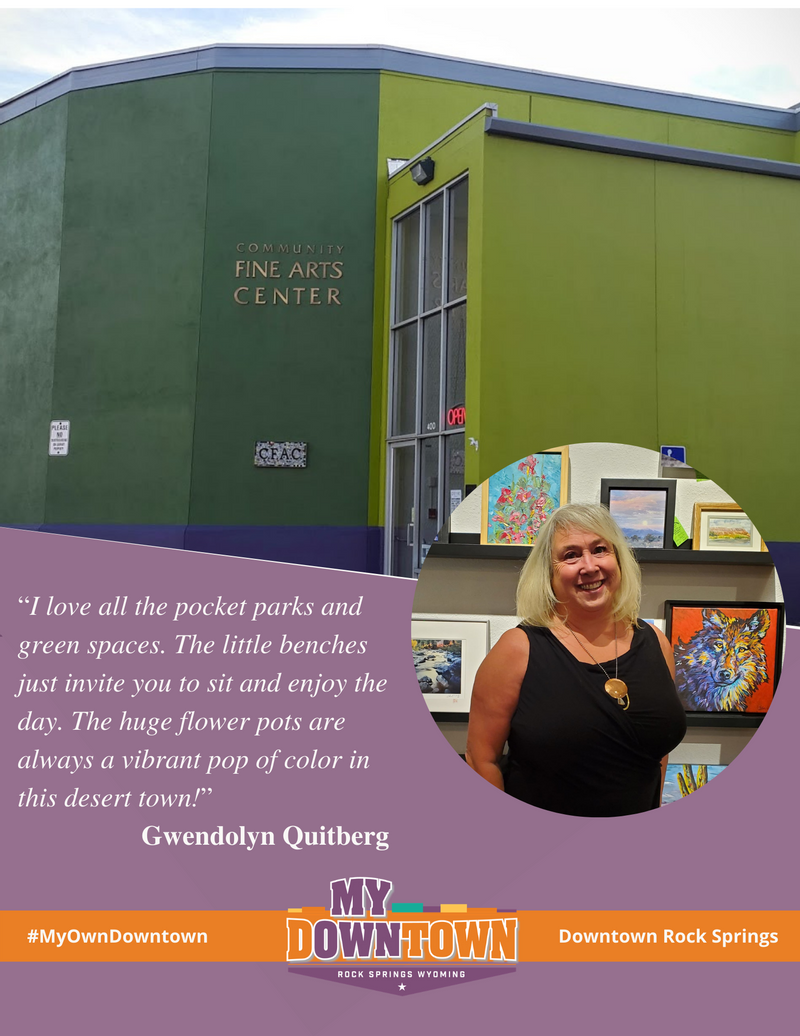 Gwendolyn Quitberg is an amanuensis at the Community Fine Arts Center in Downtown Rock Springs. The position is perfect for her since she, herself, is an artist. 
Gwendolyn's current work reflects her love of her grandmother's flower garden. Using a palette knife instead of traditional brushes, Quitberg works with thick oil paints applying the paint and moving it across the panel to create expressionistic florals. The colors are both pure and blended as the shapes take form being worked by the knife.
"I grew up on the family ranch south of Rock Springs, so I never really lived "in town," she explained. "When I paint, I'm inspired by tiny little glimpses of the vast Wyoming landscape - the sunsets are unbelievable!"
She went on to say, "It is said that you can never stand in the same river twice; the same is true of looking at the sky."
Working in Downtown brings a sense of pride to Gwendolyn.
"I love all the pocket parks and green spaces," she shared.
"The little benches just invite you to sit and enjoy the day." She added,
"The huge flower pots are always a vibrant pop of color in this desert town!"
The annual memory that stands out in her mind are the Christmas Lighted Parades. "The whole community joins in and really gets creative with their floats," she mentioned.
Gwendolyn hopes to see a rise in interest for art in our community. She enjoys participating in the pop-up art shows and sales in Downtown. According to Gwendolyn, she wants to see businesses stay open a little later, feature an artist, serve wine/snacks and generally make it a relaxed, grown-up shopping experience.
T
o keep Downtown alive, she believes the "interesting architecture should be saved." We agree with you, Gwendolyn!
…And that's why Downtown Rock Springs is My Own Downtown.