My Own Downtown - Caleb Michael Smith
---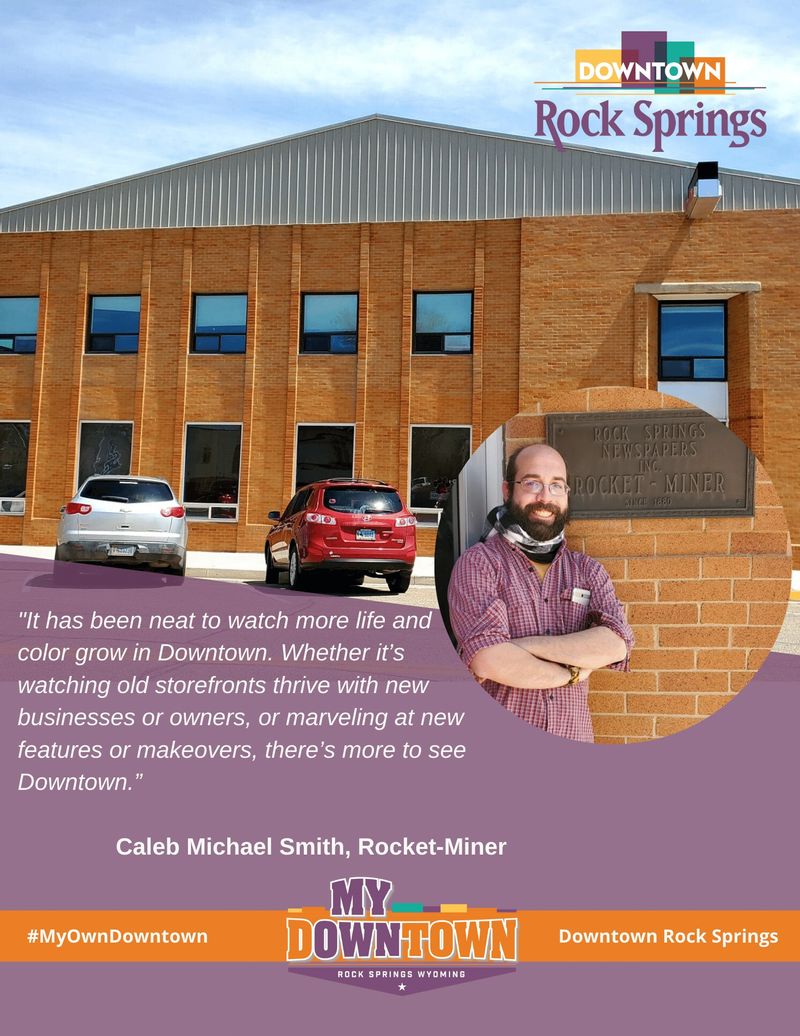 Journalism provides readers with news that help residents live their daily lives and get involved in the community. 
    Missouri native, Caleb Michael Smith is the News Editor at the Rocket-Miner Newspaper in Downtown Rock Springs.
     "I like telling stories," Caleb expressed. "Finding colorful people willing to share their adventures and views continues to be an exciting and rewarding experience."     He added, "It's a blessing to take a wonderful story and share it with others."
     To welcome newly hired Sports Reporter, Tyler Johnson to our community, Caleb took him on a tour of Downtown Rock Springs.
     "It has been neat to watch more life and color grow in Downtown," Caleb shared. "Whether it's watching old storefronts thrive with new businesses or owners, or marveling at new features or makeovers, there's more to see Downtown."
     During the tour around Downtown, Caleb caught himself smiling at all the new things he showed him compared to when he received a similar tour upon his arrival in Wyoming.
     "It was so intriguing to see what things are still around, such as the great collection at the Community Fine Arts Center or some of my favorite eateries," Caleb mentioned. "I, especially, enjoy simple additions like the bike racks, mini golf course, community library box and murals. The last mural was extra special as I got to contribute a few strokes to the painting done in memory of Chinese immigrants and the massacre in Rock Springs."
     Caleb believes it is more important than ever for locals and visitors to support small businesses in Downtown.
     "Don't forget the hardworking people who are based here," he advised. "Buy their products, even if it's just a gift card, and tell them you're thankful for them. If we do that, they may be able to weather the current storms."
     Undoubtedly, Downtown has kept Caleb on his toes. He recalls ghost hunting at the Broadway Theater when it first opened its' doors and watching countless productions of the Actors' Mission. He admires the masterpieces in the Art Underground, and of course, what better way to get the heart beating faster than racing to get photos of the Law Enforcement Torch Run for Special Olympics, and spooking the pigeons while touring the First Security Bank Building? He has had many contemplative moments watching snowflakes drift down on the streets of Rock Springs from the windows of the Rocket Miner along with lots of good parade memories.
Caleb is very optimistic about the future.
     "Where you find good people and creativity, you will find potential," he pointed out. "I believe we're going to harness a combination of tried-and-true methods along with new innovations to plot a new way forward."
     Caleb concluded by saying, "Throw in our ability to work hard and be more than a little bit stubborn in the face of adversity. I know the story of Rock Springs is long from finished. I am looking forward to writing more chapters along the way."