My Own Downtown - Bobby Pineda, Attorney at Law
---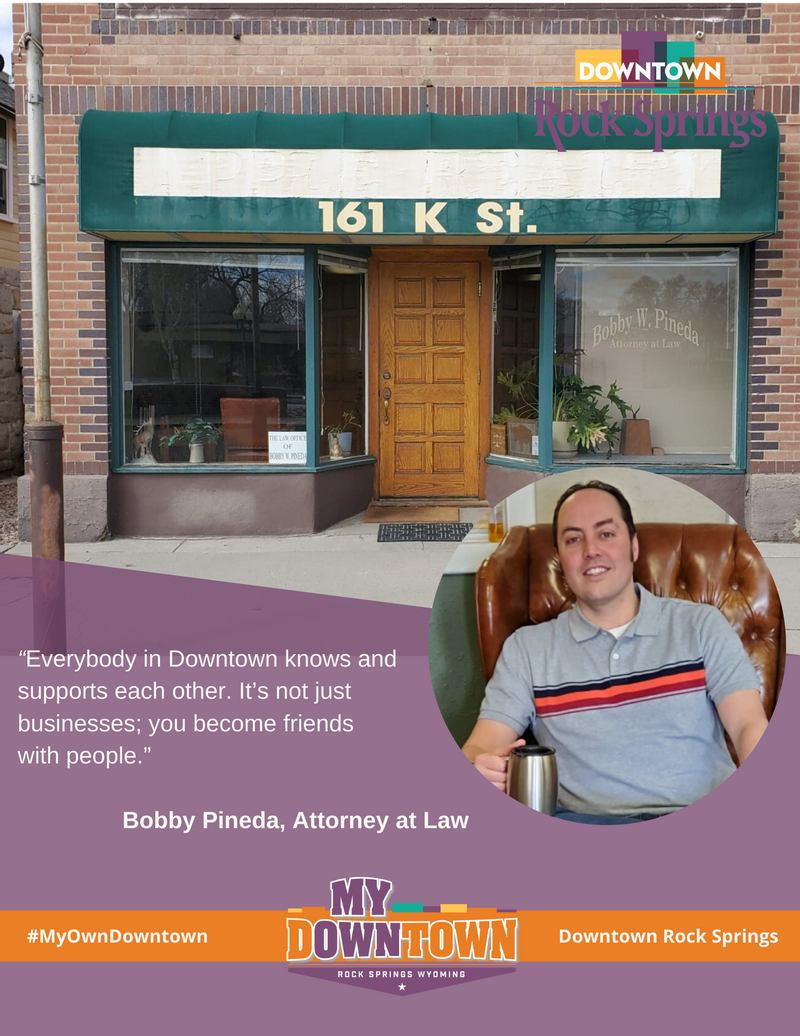 Whether it's reviewing contracts, writing up agreements, filling paperwork or making sure their clients are following the law, a knowledgeable attorney can make a huge difference. 
     According to Bobby Pineda, he knew he wanted to be a lawyer as soon as he could talk. "Being a lawyer was all I had ever planned on doing," Bobby revealed. "My Grandma saved a first grade assignment that asked where I would be as an adult and my answer was 'a lawyer in Rock Springs'."
     Bobby reminds students that they don't need to live in a big city to be a successful attorney. "Don't be afraid to ask for help," Bobby suggested. "Nearly every experienced attorney practicing in Rock Springs helped me out in one way or another."
     He went on to applaud local attorneys. "Harold Moneyhun, Lenny Kaumo, Charlie Barnum, Marv Tyler, Galen West, Mike Chadey, Tammy Harris, Dan Erramouspe, Jason Petri and Scott Nelson were willing to help when I would ask," he said. Bobby added, "Being in a small community also gives you access to judges who are a great source of advice and education. I owe a lot, not only to the attorneys, but to judges like Nena James, Jere Ryckman and Victoria Schofield."
     "Everybody in Downtown knows and supports each other," he noted. "It's not just businesses; you become friends with people."
     Bobby mentioned that Downtown has always had a welcoming attitude toward people.
     "There is always a friendly face in Downtown," he pointed out. "Whether it's my dad, Willie, teaching at Pineda's Kenpo Karate, Denise at 
Coal Train Coffee Depot
or Jason at 
The Bike and Trike
 pouring a cup of coffee, Carla and Shelly at Team Cutters or Nick at
Bello Capelli Salon, LLC
 cutting hair through the window, Father Bill shaking hands on the steps of the Catholic Church, the guys at
Rushmore Furniture
waving as I walk by, RJ putting out prints in the
New Studio Photography and Framing
 window, all the great people at
Bi-Rite/Sweet Sage/Remedies Grill
 and other restaurants, having a beer with the crew at 
Square State Brewing
or visiting with my neighbors at
Sweetwater NOW
  and Randy at AAA."
     Growing up in Rock Springs, Bobby has had many wonderful memories. "My dad's karate studio was on K Street, just up from where my office is now," he explained. "One of my fondest memories growing up was my dad sending my brother and I across the street to the New Grand Café for burgers and shakes when was teaching classes at night."
     Through thick and thin, Bobby believes Downtown is strong. "Downtown Rock Springs will always thrive," he shared. "There will be ups and downs just like Rock Springs has always had. The community is supportive and has a personal stake in the people."