My Own Downtown - Hucker's Wyoming Inc.
in
Business Features
---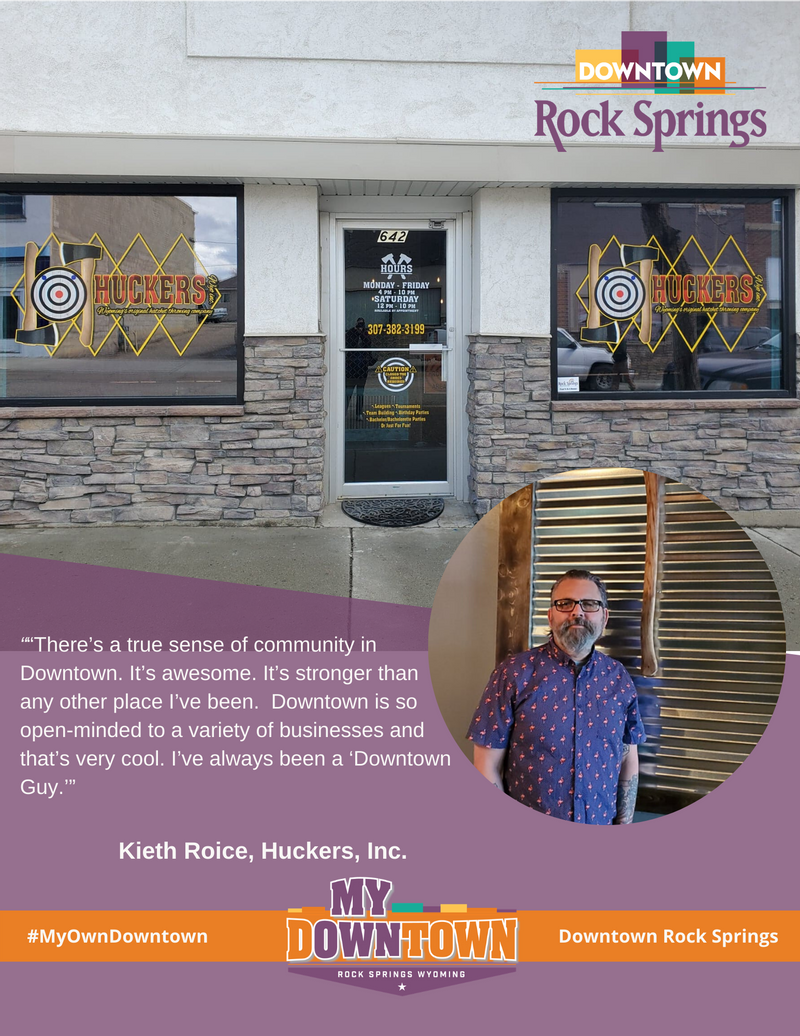 Undoubtedly, axe-throwing is getting more popular. Axe-throwing in Downtown Rock Springs is the new, unique sport for everyone to try.
        Owner of Huckers Wyoming Inc., Kieth Roice has been throwing hatchets for many years. He and his aunt, Donna Teeples decided it was time to provide the first stylish, clean and safe hatching-throwing facility to the community.
    According to Roice, the industry's growing. "It went obviously, from Vikings. In modern times, it became a more competitive sport at indoor facilities." 

    Roice added, "It's not a trend anymore, it's a sport. Even ESPN has picked up hatchet-throwing events and there's been world-wide championships."
                Once the waiver has been signed and Kieth gives the patrons specific instructions on how to throw the hatchet, chances are they will become addicted.
                "Typically, once people try it for the first time, they're addicted," he pointed out. "It's more exhilarating than playing darts. The minute I did it, I didn't want to do anything else. I knew it's for me. It's so much different than other bar sports."
                There's an incredible sense of accomplishment when the hatchet sticks into the bullseye.
                Kieth continues to explain, "While I was growing up, fathers and grandfathers would lecture kids about how to handle an ax. They would remind them that they're a work tool and nothing else. We use it for fun here. We took that taboo and made it acceptable."
                He believes the activity can be for everyone at some level.
                "Once you get involved in it, it's a part of you," he expressed. "I've played darts on a serious competitive level for twenty years but this sport here is like 'bowling on steroids.'
                Some patrons will go to Huckers Wyoming Inc. to experience it and get the excitement they need from it while others are competitive. They keep practicing until they are good at it.
                Kieth is thankful to be in Downtown Rock Springs, even during challenging times.
                "There's a true sense of community in Downtown," he shared. "It's awesome. It's stronger than any other place I've been."
                Kieth has seen how the diversity has grown in Downtown.
                "Downtown is so open-minded to a variety of businesses and that's very cool," he noted. "I've always been a 'Downtown Guy.'"