My Own Downtown - Boschetto's
---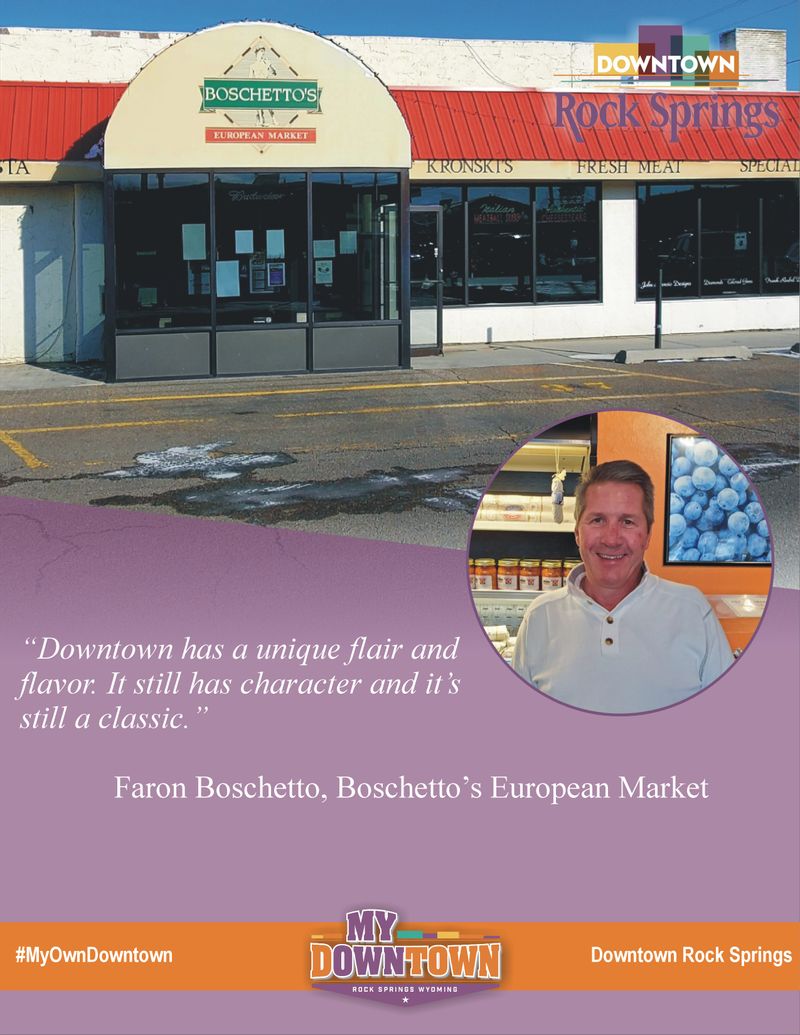 When some people come back to Rock Springs, they bring new perspectives. Others return because they still have family in town and feel the need to give back to the community. 
     During the holidays, Faron Boschetto, owner of Boschetto's European Market, 617 Broadway Street, surprised life-long friends and customers with his presence in the eatery. It was a good time to check on the store, reconnect with friends and see the great changes in Downtown Rock Springs.
     Italian traditions continue at Boschetto's. The tomatoey "wow!" of their homemade marinara sauce and the authentic bite of asiago gives shoppers a taste of the old country. On the shelves, guests can see pastas, peppers, olives, classic treats and specialty items they have never heard of, much less sampled them. Smell garlic? That might be Sweetwater County's favorite, Kronskis.
     According to Faron, Boschetto's is a third-generation operated business. "My family has been in the food industry at multiple locations since the 1900's," Faron explained. "In the 1940's, the family developed our famous smoked garlic sausage, the Kronski."
     Before it became the European deli, Boschetto's was "Ben's Foodliner," a dominant store in Downtown Rock Springs for decades. Locals remember shopping for fresh prosciutto, meatballs and Italian ingredients for supper with their parents after school.
     Impressed by the traffic in Downtown, Faron said, "Downtown has a unique flair and flavor. It still has character and it's still a classic."
     Every day can be a surprise when running a small business. "The future is in the eye of the beholder," Faron pointed out. "You never know what's going to happen but you do your very best."
     To be a "retail staple" in Downtown, it is important for small businesses to keep moving forward and thrive. "You have to work hard and give customers good service and offer quality products," he mentioned.
     He added, "I admire the support locals have for Downtown. There are quite a few people here with new ideas, they're energetic and have a good attitude." …And that's why Downtown Rock Springs is My Own Downtown.