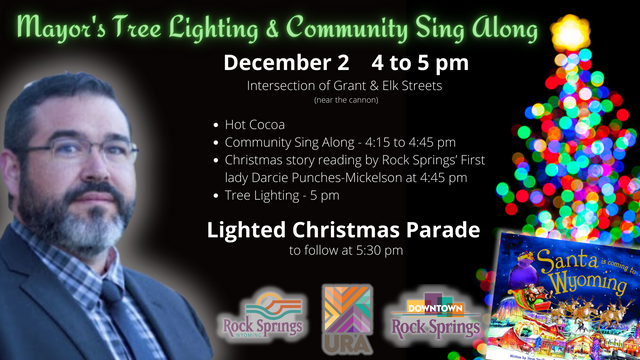 Description
🌟 Get ready for the Mayor's Tree to steal the spotlight! 🎄✨ Join us for a festive evening at the Mayor's Tree Lighting Ceremony & Community Sing-Along at the Elk and Grant Streets intersection, starting at 4:00 PM.
This year's magical celebration includes:
🍫 Hot cocoa to warm your spirits
📖 A heartwarming Christmas story read by Rock Springs' First Lady, Darcie Punches-Mickelson, at 4:45 PM
🎄 The grand tree lighting ceremony at 5:00 PM
🎶 A joyful community sing-along led by The Horizon Theater Company

Don't miss out on the enchantment! We'll be spreading the cheer with "Magical Snow" to help illuminate the tree. Gather your loved ones and join us for this unforgettable holiday kickoff!

Big thanks to the Parks Department for their exceptional work in getting everything set up, and a shout-out to Murdoch's for generously lending us straw bales for seating. Your support makes a significant difference! 🌟👏
#MayorsTreeLighting #CommunityJoy #HolidayMagic
Then stay around for the Lighted Christmas Parade at 5:30 pm.
Intersection of Elk and Grant Streets
Intersection of Elk and Grant Street, Rock Springs, WY 82901
4:00 PM MST
to 5:00 PM MST