Small Business Saturday
sponsored by the Southwest Wyoming Regional Airport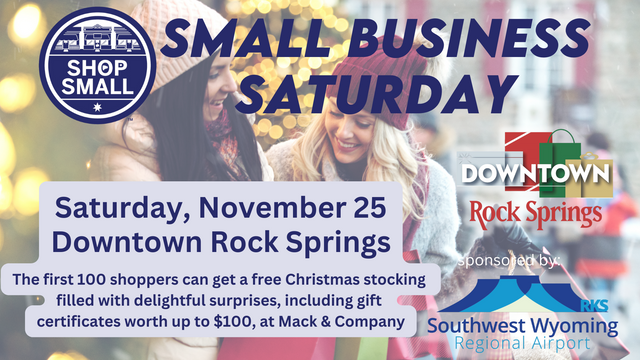 Description
Get a festive start to your holiday shopping with Small Business Saturday in Downtown Rock Springs. The initial 100 shoppers (adults only please, 18 and over) will receive a complimentary Christmas stocking filled with treats, including surprise gift certificates worth as much as $100, at Mack and Company Boutique. Afterward, explore all your cherished destinations in Downtown Rock Springs.
In addition the random gift certificates, one lucky winner each day will receive a voucher for two round-trips to Denver out of RKS! (The two round-trips need to be used together.)
Plaid Friday and Small Business Saturday are sponsored by the Southwest Wyoming Regional Airport, encouraging you to FLY and SHOP local this holiday season, and throughout the year.
Mack and Co. Boutique
623 Pilot Butte, Rock Springs, WY 82901
10:00 AM MST
to 6:00 PM MST