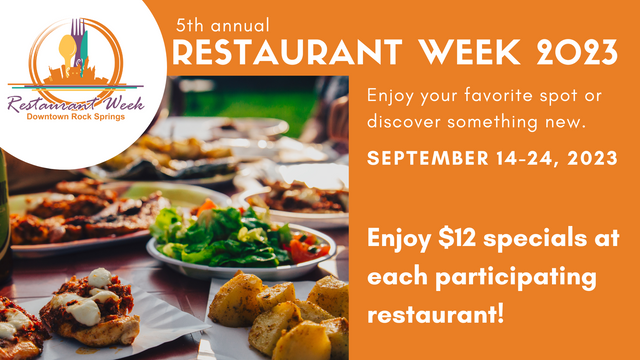 Description
There are no passes to buy, coupons to carry or cards to punch - patrons simply dine at the restaurant of their choice and take advantage of the $12 specials. (Diners are reminded to mention the special offer when ordering.) Participating restaurants will offer their regular menus, in addition to the $12 Restaurant Week specials. This is a great opportunity to visit the restaurants you've always wanted to try and to rediscover old favorites.
Participating locations with $12 specials include:
Bitter Creek Brewing (604 Broadway) - Half Sandwich and side with a fountain beverage (Lunch only)
Boschetto's European Market (617 Broadway, Suite D) - Any sandwich (excluding ribeye) with chips and a drink
Broadway Burger Station (628 Broadway) - Leader of the Pack with fries and a drink
Casa Chavez Mexican Restaurant (744 Pilot Butte Ave) - One Taco, Two enchiladas plus rice and beans
Coal Train Coffee Depot (501 S Main Street) - Chicken salad croissant, side of fruit and small latte (carry out available)
Fiesta Guadalajara (19 Elk Street) – Three beef burritos smothered in green chili, served with rice and beans
Java Peddler (612 Broadway, inside The Bike & Trike) - Three 16 oz Flavored Redbulls
Mi Pueblito (726 Pilot Butte Ave) - Nachos con Carne Asada
Mi Ranchito (443 N Front) – House burrito (rice, beans, and ground beef) smothered in sauce and cheese, topped with lettuce, tomato, sour cream, and guacamole with a soft drink

Remedies Grill (Inside Bi-Rite, 409 Broadway) - BLT, Fries and a fountain drink
Sidekicks Book and Wine Bar (507 Broadway Street) - 2 drinks and 2 giant cookies
Sweet Dayz Bakery & Cafe (535 N Front) – Chicken Cordon Bleu with your choice of side
Wild West Candy Parlor (617 Broadway, Suite B) – 2 Waffle Cones and 1 Small Boba

Downtown Restaurant Week isn't all about the food though– it's also about the people. So this year, the Rock Springs Main Street/URA and the Professional Womens Empowerment Network will honor top hospitality professionals from the annual Downtown Restaurant Week event.
The Top Notch Service Awards honor an employees whose performance exceeds expectations by going above and beyond the job to deliver outstanding customer service or team support and making a positive influence on the business.
There are two categories:
Front of House: $100
Back of House: $100
Nominate your favorite server, bartender, manager, dishwasher, sous chef, line cook and more.
Nominations open:
September 14, 2023
Downtown Restaurant Week: September 14 - 24, 2023
Nomination deadline: September 30, 2023
Winners announced: October 2, 2023
Downtown Rock Springs
603 South Main Street, Rock Springs, WY 82901
8:00 AM MDT
to 9:00 PM MDT