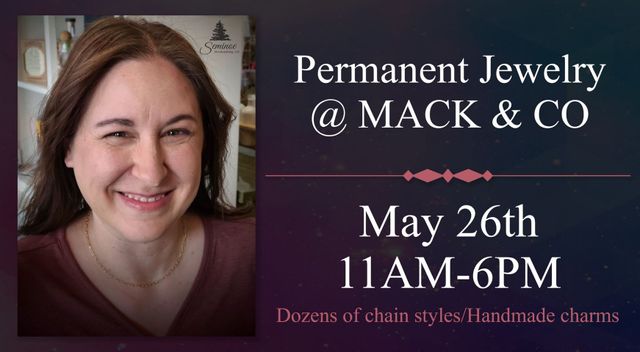 Description
Permanent jewelry at MACK & CO! Give a gift, treat yourself, or get matching bestie bracelets! Wake up with your jewelry already on, without the hassle of clasps or remembering to wear it. Get a bracelet, anklet, ring or necklace custom fit to you.
Over 30 styles of chain are offered in Sterling Silver and 14k Yellow or Rose GF from Wyoming's first permanent jewelry company, Seminoe Metalsmithing! Bracelet pricing starts at $38. All charms/connectors are handmade, original designs. Garnet, amethyst, jade, onyx and tiger's eye are a few offered. Stampable rounds are also available with the letter of your choice.
Not a fan of permanent jewelry? No worries! I can build you the perfect custom fit piece with a clasp so you can remove it at your leisure.
Can't make it? Visit Wyoming Freight Company located right across the street from MACK & CO during store hours to browse my finished jewelry!
Mack and Co. Boutique
623 Pilot Butte, Rock Springs, WY 82901
11:00 AM MDT
to 6:00 PM MDT