$20 on the 20th
(or in the case of March, the 21st!)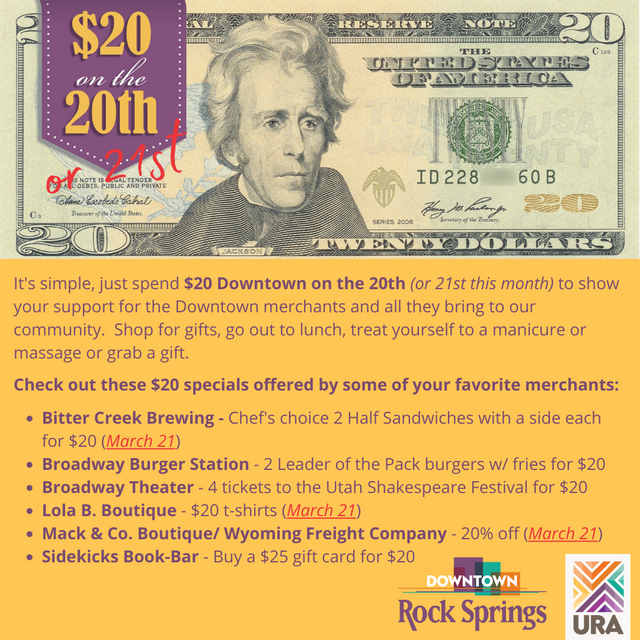 Description
We're bringing back $20 on the 20th (or in the case of March, the 21st)!
It's simple, just spend $20 Downtown on the 20th (or the 21st in the case of March since many Downtown businesses are closed on Mondays) to show your support for the Downtown merchants and all they bring to our community. Shop for gifts, go out to lunch, treat yourself to a manicure or massage, or grab a gift.
Check out these $20 specials offered by some of your favorite merchants:
Bitter Creek Brewing - Chef's choice 2 Half Sandwiches with a side each for $20 (March 21)

Broadway Burger Station - 2 Leader of the Pack burgers w/ fries for $20

Broadway Theater - 4 tickets to the Utah Shakespeare Festival for $20

Lola B. Boutique - $20 t-shirts (March 21)

Mack & Co. Boutique/ Wyoming Freight Company - 20% off (March 21)

Sidekicks Book-Bar - Buy a $25 gift card for $20
If your favorite business isn't listed, not to worry. Just spend your $20 wherever you'd like; any business will appreciate it!


Downtown Rock Springs
603 South Main Street, Rock Springs, WY 82901
8:00 AM MDT
to 8:00 PM MDT