Ladies That Lunch
focused conversations for professional networking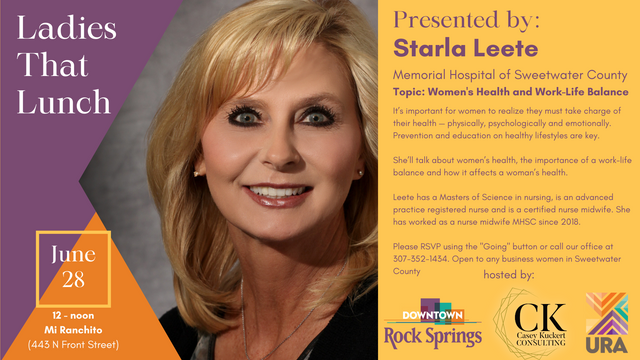 Description
The Rock Springs Main Street/Urban Renewal Agency (URA) is collaborating with Casey Kuckert Consulting to continue its initiative aimed at helping women entrepreneurs in Sweetwater County. "Ladies That Lunch" are regular conversations that can help build professional and personal networks for support and business growth for Sweetwater County business owners and managers.
Participants can enjoy lunch while meeting other business owners in the area. This is a time to not only network with other business owners but also have real discussions about business issues. Each meeting will focus on a different business-related topic.
This month's lunch will be held on Tuesday, June 28 at 12:00 noon at Mi Ranchito Family Restaurant (443 N Front Street).  Anyone is welcome to attend and there is no cost to attend although participants will be responsible for their own meals.  The June luncheon's topic is women's health and work-life balance featuring Starla Leete as the guest speaker. 
Leete, a certified nurse midwife at Memorial Hospital of Sweetwater County (MHSC), believes women must focus on all of their health needs, not just their medical care. She'll talk about women's health, the importance of a work-life balance and how it affects a woman's health.
"As women, we tend to put ourselves on the back burner and not higher on the list when it comes to needs," Leete says.
Leete concluded by saying, "It's important for women to realize they must take charge of their health — physically, psychologically and emotionally. Prevention and education on healthy lifestyles are key."
Leete has a Masters of Science in nursing, is an advanced practice registered nurse and is a certified nurse midwife. She has worked as a nurse midwife MHSC since 2018.
While pre-registering for the luncheon isn't required, participants are encouraged to RSVP at to the Rock Springs Main Street/URA office at 307-352-1434. 
 The Rock Springs Main Street/Urban Renewal Agency is charged with the redevelopment of downtown Rock Springs. As part of their mission, there are three standing committees – Business Development, Promotions and Arts and Culture. For more information on the program, contact the Rock Springs Main Street/Urban Renewal Agency at 307-352-1434 or visit their website at downtownrs.com.
Mi Ranchito Family Restaurant
443 N Front Street, Rock Springs, WY 82901
12:00 PM MDT
to 1:00 PM MDT
Private:No
RSVP Required:No
Accept Registration Online:No