My Own Downtown - Pete Candelaria
---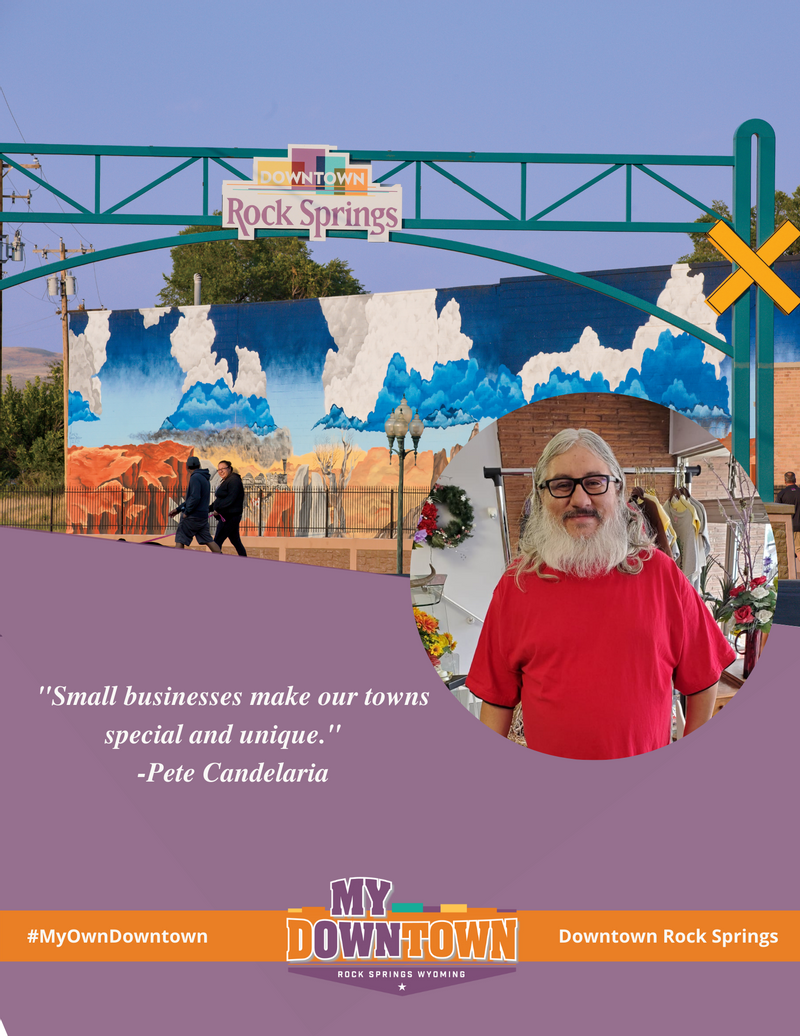 Sometimes it's difficult to use words for feelings but there is always a bouquet of flowers.
After being a volunteer in Downtown Rock Springs for many years, Rock Springs resident Pete Candelaria is finally working for a small business on Broadway Street.
Pete says when he delivers flowers for A Touch of Class Floral, it is priceless to see the reactions.
"I always look forward to seeing the expressions on their faces as I knock on the door," Pete shared. "At first they're shocked then they start feeling warm and fuzzy – it makes me giggle.
"People love flowers."
Pete said it makes him "happy to see people still shopping in Downtown, whether it's lunch or buying a gift card or sending someone they care about flowers from A Touch of Class Floral."
 "The people who work in Downtown help keep Downtown going."
 According to Pete, small businesses "bring growth and innovation to our communities."
 "They provide employment, create entrepreneurship opportunities and support the local economies, communities and neighborhoods – they support families who support our local schools," Pete said. "They care about their community. They're our neighbors and friends."
 "They are what make our towns special and unique."
 As an East Junior High school student, Pete skipped class to have lunch at Ben's Food Liner, which is currently Boschetto's.
 "It was a small grocery store but it had everything – even two or three cashiers because it was so busy," he recalled.
 "They even had a meat department."
 Since Pete lives close to Downtown, he enjoys walking around the area often.
 When he worked as a Computer Lab Assistant at Western Wyoming Community College, he would share information about Downtown to new students.
 "Facebook is the best thing for people to know about Downtown and small businesses," he mentioned. "Facebook is a big hit with small businesses and the owner can communicate with their customers."
 Pete lives with his cat, Oscar. He got his bachelor's degree in Accounting from Regis University.
 Since he likes to spread happiness and comfort in the community, he hopes to become a florist someday.
 "Flowers excite people especially when they receive them unexpectedly," Pete said. "I'm thankful to be a part of that joy. It was made possible by a small business in Downtown."
 ... And that's why Downtown Rock Springs is My Own Downtown.