My Own Downtown - Randall's Holistics
in
Business Features
---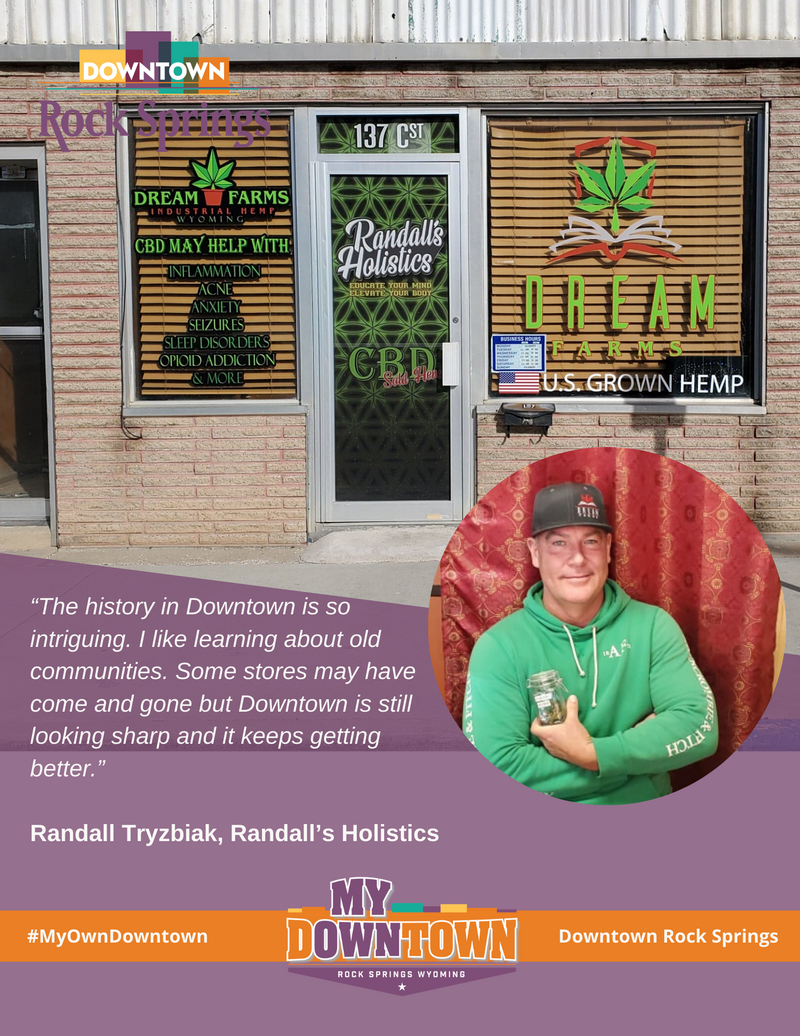 There are many myths circling around CBD. "CBD gets you high," "CBD shows up on drug tests" or "CBD is just sketchy!" 
     Randall Tryzbiak, Owner of Randall's Holistics started his business in Downtown Rock Springs to prove that it can help most health conditions.
     "People are still afraid of what I'm doing here," Randall revealed. "A lot of people just aren't familiar with what it is I'm selling. They assume it's a 'weed shop.' I'm working on educating people."
     CBD is known to help those with inflammation, acne, anxiety, seizures, sleep disorders and even opioid addiction.
     Randall moved to Rock Springs in 2007. His long-time friend from Florida was growing a hemp farm in Oregon. As soon as the CBD market exploded, he decided to take a different path. After seeing the benefits of CBD, Randall was inspired to get involved and open his store in Downtown less than a year ago.
     "There's more money in the CBD market because the benefits are there for everybody," he pointed out. "Not everyone wants to get high."
     Randall believes he found the perfect location for his business and enjoys walking to his favorite places in Downtown.
     "Who can ask for anything more?" he asked. "After work, I can grab a bite to eat and walk to one of the breweries. It's a great way to end the day."
     He added, "The history in Downtown is so intriguing. I like learning about old communities."
     "Some stores may have come and gone but Downtown is still looking sharp and it keeps getting better," he said.
     Randall believes advertising is essential to new businesses. "Let people know you're here before you open," he suggested.
     Let Randall show you that CBD is a safe, powerful natural treatment for many health issues at Randall's Holistics, 137 C Street, Downtown Rock Springs.