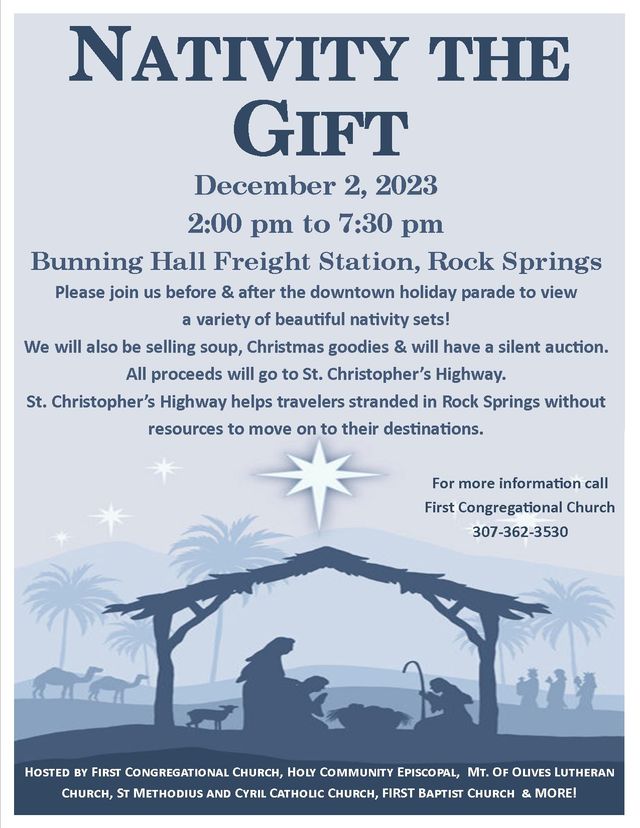 Description
This is a family friendly Christmas event to raise money for St. Christopher's Highway of Sweetwater County. It is the same day as the Downtown lighted Christmas Parade.
Many nativities will be displayed for you to enjoy. Many of the nativities will be on loan by private local collectors, come see their treasures.Soup and Christmas goodies will be sold.
There will be a silent auction of nativity sets.

Donations will be accepted.
This is an ecumenical event being put on collectively by Holy Communion Episcopal Church, First Congregational Church of Rock Springs (UCC), Mount of Olives Lutheran Church, Holy Spirit Catholic Church, First Baptist Church, and there is time for other churches to help!
St Christopher's Highway is a nonprofit traveler's assistance program. We assist people who get stuck while passing through Sweetwater County reach their destination in an effort to decrease homelessness.
Downtown Rock Springs
603 South Main Street, Rock Springs, WY 82901
2:00 PM MST
to 7:30 PM MST