What's Up Downtown - the week of October 18 - 24, 2021
---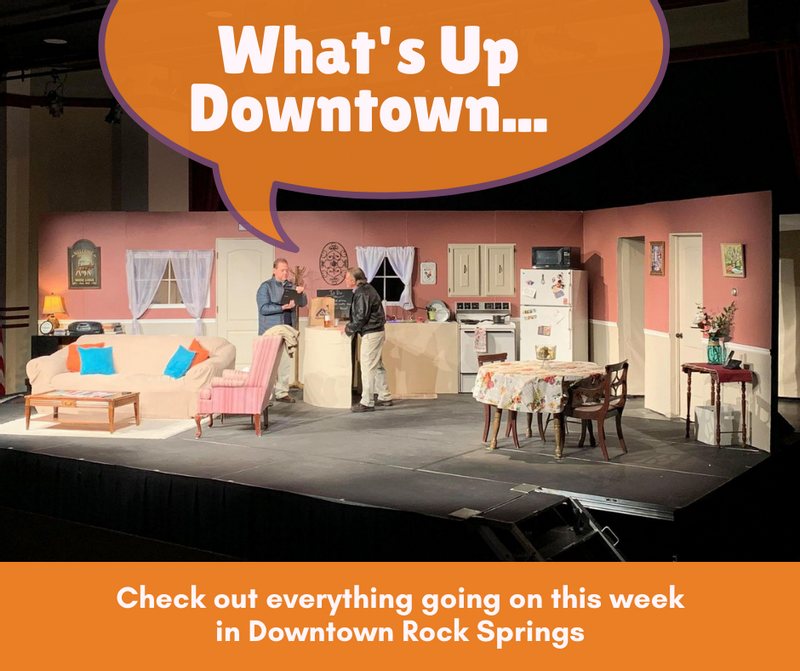 Looking for something to do?
Downtown Rock Springs is the center of activity.
Ongoing, Yoga Classes with Salina, Escape Day Spa and Boutique, Various Times
Discover the benefits of Yoga! Salina teaches practices to quiet the mind, soothe the body & ease back from injury.  Salina Zanetti is a Certified Yoga Instructor and will be teaching Monday - Friday in the Fitness Room at Escape Day Spa & Boutique. All ages and abilities welcome! Classes are held Monday - Friday at 6:15pm and Tuesday-Thursday at 9:30am. (Room is large enough to allow social distancing.) Drop-in rate is $10, 10 class pre-paid series is $80


Ongoing, Read Your Height, Rock Springs Library
Miss Sunny, Miss Konstanz, and Miss Brandy are going to try and read their height in books this year – want to try it too? Stop in and grab a reading log – we bet it's the tallest one you've ever seen! Fill up your log and bring it back for a prize and a treat! 


Ongoing, Pumpkin Lego Challenge, Children's Discover Center at the Rock Springs Library
 Try your hand at building a pumpkin or a pumpkin patch maze at the Children's Discovery Center. Show your completed LEGO work to a librarian for a prize!


Oct 19, Take 10 on Tuesday, Community-wide 
"Take 10 on Tuesday" is aimed towards maintaining the cleanliness of Rock Springs by encouraging all city residents and businesses to take ten minutes every Tuesday to clean dirt, debris, and trash from around their homes, businesses, in nearby vacant lots, alleys, etc.


Oct 19, Celebrate You!, Broadway Theater, 6 pm
Join us for a night of connecting, cocktails & hors d'oeuvres, guest speakers and celebrations!
Tickets are $25 and are available on our website.
Hosted by Downtown Rock Springs, the Rock Springs Main Street/Urban Renewal Agency (URA), and Casey Kuckert Consulting.


Oct 20, Educator's Night, Bitter Creek Brewing, 4 pm to 7 pm
Bring your school ID and purchase a beverage and receive the chef choice appetizer.


Oct 20, Toddler's in Tune, Rock Springs Library, 10:30 am
Join the Rock Springs Library for interactive stories, songs, and yoga! For children 3 and under, and their adults.


Oct 20, Story Time, Rock Springs Library, 1:30 to 2 pm
Let's have fun reading, singing, and dancing at Story Time! For preschool age children, 3 - 6.


Oct 21, Trivia Night, Square State Brewing, 6 pm
It's that time again ya'll! Put your heads together for some fun trivia categories with great beer and friends! Let's get crazy!


Oct 22-23, Diamond and Gemstone Event, Daniel's Jewelry, 10 am to 6 pm
Friday October 22nd and Saturday October 23rd Daniel's Jewelry would like to invite you to our diamond, gemstone, and remounting event.
We have combined decades of diamond and gemstone experience with talented designers. Daniel's is on the cutting edge of the latest in Bridal & Fashion designs. Quality, style, superior craftsmanship, and value are at the heart of all of our jewelry.
Whether you are looking for something new, or want to reset your diamond into a modern design.
We are offering special show prices this weekend.


Oct 22, Family Fridays, Rock Springs Library, 10:30 to 11:30 am
Art, science, movies, and more! Come down for a different family friendly activity every Friday at 10:30! For kids of all ages and their adults.


Oct 22, MARS Club, Rock Springs Library, 10:30 to 11:30 am
Come down to the library for snacks, movies, STEM, and art - for kids in fourth grade and older.


Oct 22, Live Music, Sidekicks Book and Wine Bar, 7 to 9 pm
Sidekicks is your place for live music on Friday night.  Come enjoy a cocktail and some live music with friends or your date. 


Oct 22, Hemlock and ZamTrip in Concert, Park Hotel, 7 pm
Hemlock and ZamTrip live and in concert.  21 and over only.  FREE Admission


Oct 22, Drag Queen Bingo, Halloween Movie Trivia, and Costume Contest Fundraiser, Bunning Hall at the Freight Station, 6:30 pm
Join DRAG for a CAUSE as we host a Drag Queen Bingo, Halloween Movie Trivia, and Costume Contest Fundraiser!  Doors at 6:30 pm, Bingo 7:00 pm – 9:00 pm
Adult admission is $20.00, includes 5 bingo cards.
Kid admission is $5.00, includes 1 bingo card.
Additional Bingo cards can be purchased for $5 each
A portion of the funds will benefit the Red Desert Human Society.


Oct 21-23, Beer for Breakfast, Broadway Theater, 7 pm
Enjoy this wonderful performance by the Actor's Mission.  Performances: Oct.21st - 23rd at 7:00 PM at the Broadway Theatre in Downtown Rock Springs. Admission is free and a complimentary meal will be served before each performance!


Oct 24, Flapjacks & Flannels!, Square State Brewing, 12 noon to 2 pm
Join us for pancakes and beer with the brewers! It's flannel season, so wear your favorite one down and let's have a great time!