What's Up Downtown - the week of September 27 to October 3, 2021
---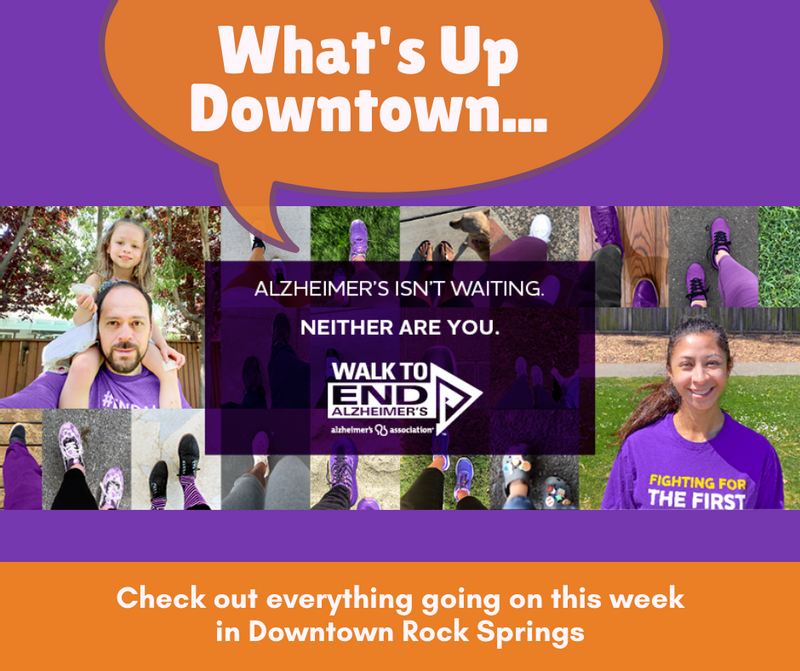 Looking for something to do?
Downtown Rock Springs is the center of activity.
Ongoing, Yoga Classes with Salina, Escape Day Spa and Boutique, Various Times
Discover the benefits of Yoga! Salina teaches practices to quiet the mind, soothe the body & ease back from injury.  Salina Zanetti is a Certified Yoga Instructor and will be teaching Monday - Friday in the Fitness Room at Escape Day Spa & Boutique. All ages and abilities welcome! Classes are held Monday - Friday at 6:15pm and Tuesday-Thursday at 9:30am. (Room is large enough to allow social distancing.) Drop-in rate is $10, 10 class pre-paid series is $80


Ongoing, Coloring Contest, Rock Springs Library
Unleash your inner artist! Grab a coloring page from the Rock Springs Library and do your best! They'll hang it on the wall when you turn it back in - and choose a winner every month!


Ongoing, Flaunt Your Card, Rock Springs Library
Show your library card at the Youth Circ desk of the Rock Springs Library anytime during the month of September (it's National Library Card Month!!!) and get a treat!


Sept 28, Take 10 on Tuesday, Community-wide 
"Take 10 on Tuesday" is aimed towards maintaining the cleanliness of Rock Springs by encouraging all city residents and businesses to take ten minutes every Tuesday to clean dirt, debris, and trash from around their homes, businesses, in nearby vacant lots, alleys, etc.


Sept  28, The Queers at The Old American Legion, American Legion, 7 pm
The Queers are Here!!!
Finally The Queers make it to Rock Springs, Wyoming. Best week night party we could ever think of. Show starts early so we don't go late. Local support from Shocktroopers and Casper favorites System Restore!!
$15 Presale, $20 at the door
Doors @ 6, Show @ 7
All Ages
Presale Tickets here


Sept  29, Educator's Night, Bitter Creek Brewing, 4 pm to 7 pm
Bring your school ID and purchase a beverage and receive the chef choice appetizer.


Sept 29, Toddler's in Tune, Rock Springs Library, 10:30 am
Join the Rock Springs Library for interactive stories, songs, and yoga! For children 3 and under, and their adults.


Sept 29, Story Time, Rock Springs Library, 1:30 to 2 pm
Let's have fun reading, singing, and dancing at Story Time! For preschool age children, 3 - 6.


Sept 29, Sidekicks Book Club, Sidekicks Book and Wine Bar, 2 to 7 pm
Come participate in the discussion about "The Good Life" by New York Times bestselling author A. R. Torre


Sept 30, Beginning Knitting Parts 1 & 2, the yarn and the tale, 6 to 8 pm
This is a 2-part class on Thursdays:

September 30, 6 - 8 pm
October 7, 6 - 8 pm

Have fun, and enjoy this beginning of the journey into the fabulous world of knitting! By the end of our second session, you will have completed a cozy scarf in your choice of color.  Payment is due by September 28th, 2021, and may be made in shop by cash or check, or through Venmo @Heidi-Yaklich.


Oct 1, Family Fridays, Rock Springs Library, 10:30 to 11:30 am
Art, science, movies, and more! Come down for a different family friendly activity every Friday at 10:30! For kids of all ages and their adults.


Oct 1, MARS Club, Rock Springs Library, 10:30 to 11:30 am
Come down to the library for snacks, movies, STEM, and art - for kids in fourth grade and older.


Oct 1, Live Music, Sidekicks Book and Wine Bar, 7 to 9 pm
Sidekicks is your place for live music on Friday night.  Come enjoy a cocktail and some live music with friends or your date. 


Oct 2, Sweetwater County Walk to End Alzheimer's, Bunning Park, 10 am
The walk is meant to be a celebratory event looking to show support to families and individuals dealing with Alzheimer's and other forms of dementia.