Downtown Putt Around Is Open!
---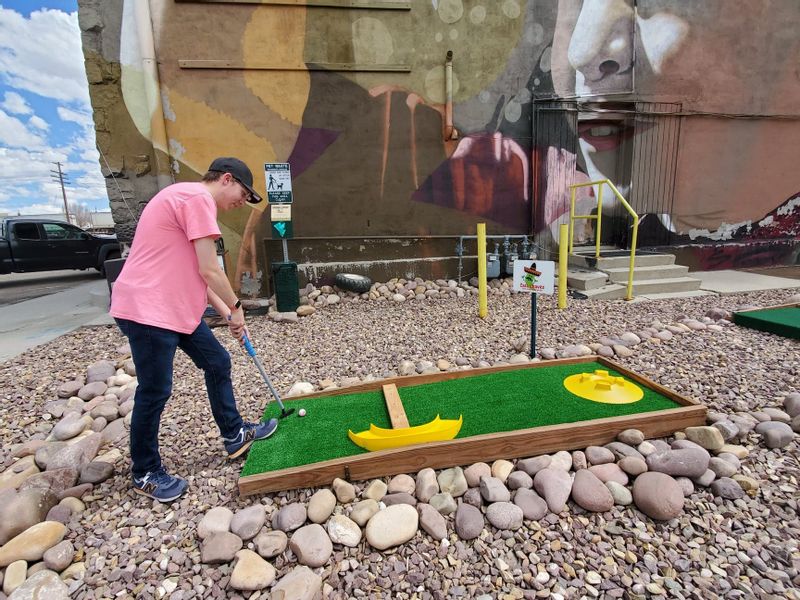 The Downtown Putt Around, located at the corner of 5th and J Streets, adjacent to the cowboy mural, is now open.
The twelve-hole miniature course is available on the honor system and putters and balls are available there, players are reminded to return them upon completion.
The Downtown Putt Around was completed with grant funds and volunteer work in the summer of 2018.  The course has been rehabbed with new obstacles added. There is a registration box located at the course and players are encouraged to register so the Rock Springs Main Street/URA can track usage of the course.
            The mini golf holes are sponsored by local businesses to help pay for upkeep and maintenance of the course. These businesses include:
•                     1st Bank of Wyoming
•                     Able Hands
•                     Casa Chavez
•                     Commerce Bank
•                     Escape 307 Rock Springs
•                     Eric Phillips Law Office
•                     Memorial Hospital of Sweetwater County
•                     Romney Pediatric Denta
•                     Southwest Wyoming Regional Airport
•                     White Mountain Dental
•                     That Yogurt Place 
The Rock Springs Main Street/Urban Renewal Agency is charged with the redevelopment of Downtown Rock Springs.  As part of their mission, there are three standing committees –Promotions, Business Development, and Arts & Culture.  For more information on the program, contact the Rock Springs Main Street/URA at 307-352-1434 or visit their website at DowntownRS.com