Making Downtown Colorful: Are You An Artist?
---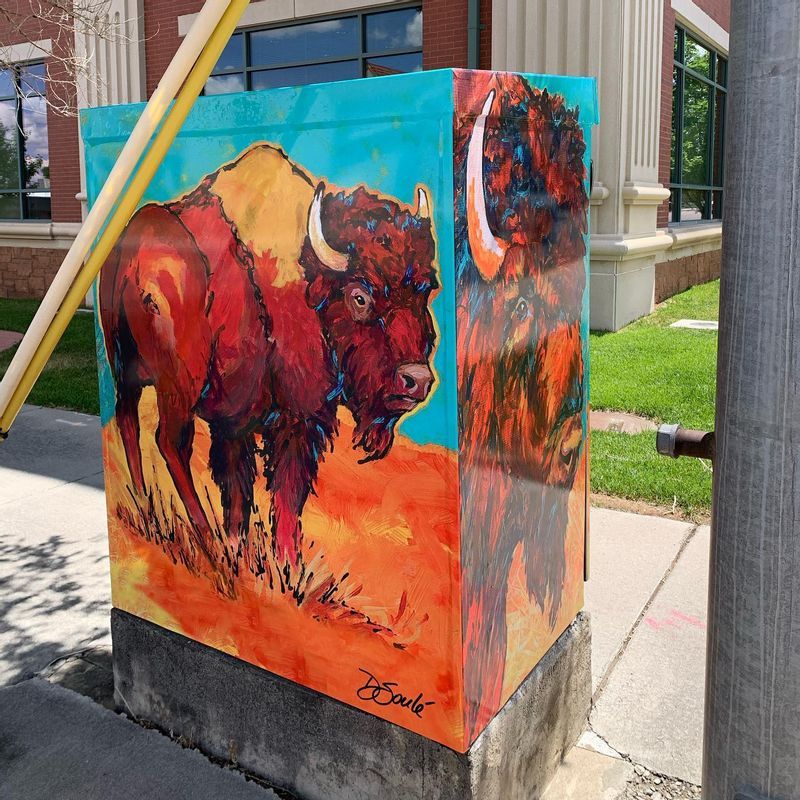 We want to see your work! 
The Rock Springs Box Art (RSBA) Committee was created by a few individuals from the community that want to transform some of the power boxes in our community into public art.  The RSBA Committee is calling all Sweetwater County artists to submit an original work of art. 
Here is how the Rock Springs Box Art project will work:
1.      Any Sweetwater County artist or photographer may submit art.  If you know of an artist, please copy and pass this invitation on to them.
2.      Selected artists from prior years may be selected up to two (2) times. An artist whose work appears on two power boxes will be ineligible to submit again.
3.      Selected artists will be paid a fee of $200 for their art design. The owners of the power box will own the physical work, however, the artist will maintain ownership of the design and may reproduce it without permission from the owner of the power box or the RSBA Committee. 
4.      The current deadline for submission is April 30, 2021. With the social distancing still in effect, a photograph of the submission must be emailed to the Rock Springs Chamber of Commerce, [email protected]
5.      The winners will be selected the week of May 3, 2021.
6.      We will accept original work only; no clipart, nothing taken from the internet.
7.      Artists are welcome to submit a previously created piece as long as the artist owns the rights to the work.
8.      It is encouraged that artists create something that can be tailored to be easily formatted to the boxes. Paintings or photographs are welcome. The vinyl artwork will be placed on all four sides and possibly the top of the box.
9.      People should not be in a photograph.
10.  We welcome up to two (2) submissions per artist.
11.  Submissions may not contain more than 20% words.
12.  Submission designs should avoid a large amount (over 20%) of black color.
13.  Submissions should include a photo of the work being submitted and the application.
14.  Boxes will be wrapped as weather permits.
15.  PLEASE SEE ALL DETAILS AND SUBMISSION FORMS ON THE ROCK SPRINGS CHAMBER OF COMMERCE FACEBOOK PAGE.
We are looking forward to receiving your artwork!!
We currently have two (2) Calls for Art available.
Special Requirements: Must have a Patriotic Theme
 1 – Box
Size – 29" wide x 56" tall x 14" sides
Corner of Elk and Grant by the Cannon, Rock Springs
Special Requirements:  Must have an International or Cultural Diversity Theme
4 – Boxes
48.25'" x 36.5" x 13"
Bunning Park
J and Evans Street, Rock Springs
We currently have two (2) Calls for Art available.
Special Requirements: Must have a Patriotic Theme
1 – Box
Size – 29" wide x 56" tall x 14" sides
Corner of Elk and Grant by the Cannon