My Own Downtown - Deborah Burback
---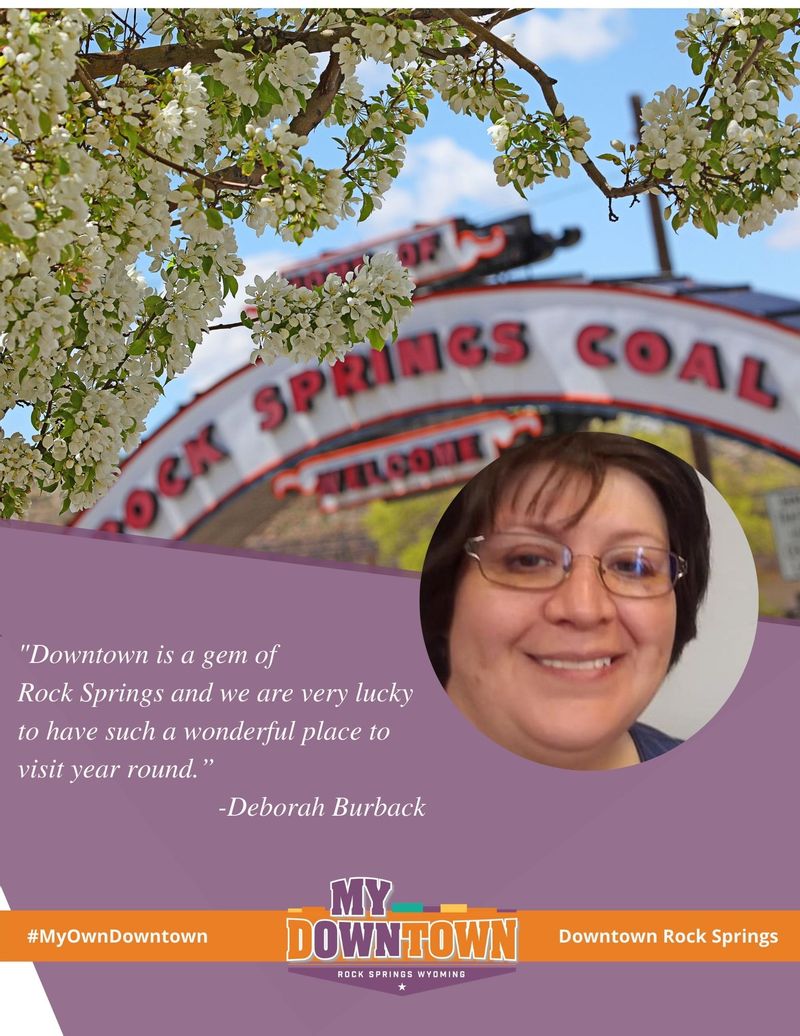 Deborah Burback works for Sweetwater County School District #1. She moved to Rock Springs in the summer of 2007 from Utah. Deborah, a devoted hockey fan, enjoys the climate, our small community, and the opportunities to explore Wyoming.
When Deborah isn't traveling, she enjoys "me time" in Downtown Rock Springs often.
"I love Downtown because the shops are locally owned and you get to know the people and support your community," she pointed out. "I have my hair done Downtown, shop at Abarrotes El Primo Carniceria, and bought my Trek bike at The Bike and Trike, just to name a few places I patronize."
Summertime is her favorite season in Downtown.
"Downtown has the Main Street Market, we can take a self-guided tour of the historical landmarks, admire the murals and Art Underground," she shared.
When friends visit Deborah from other places, Deborah becomes their personal tour guide. She makes time to take them to the Rock Springs Historical Museum and points out Robert LeRoy Parker, a.k.a. Butch Cassidy.
"They always get a kick out of that!" Deborah laughed. "Then we get lunch in Downtown."
Volunteering in Downtown has always been important to Deborah.
"I enjoy volunteering at the Broadway Theater," she expressed. "We are so lucky to have such a quaint theater for live performances of all genres."
Locals and visitors from all over Wyoming look forward to the annual Blues and Brews.
"That's my favorite time to volunteer," Deborah said. "I see so many people I know. Just watching others enjoy the incredible Blues bands with their families and friends is so much fun."
She added, "Bunning Park offers so much to families throughout the summer and fall months."
Deborah is proud to share information about Downtown to visitors and new residents of Rock Springs.
"Downtown businesses have so much to offer from restaurants, flowers, a gun shop, pet grooming, hair stylists, a gym, a bookstore, music store, tattoo artists, sports equipment, novelties and of course, the Broadway Theater," she said.
She concluded by saying, "Downtown is a gem of Rock Springs and we are very lucky to have such a wonderful place to visit year round."
…And that's why Downtown Rock Springs is My Own Downtown.