My Own Downtown - Jennifer Messer
---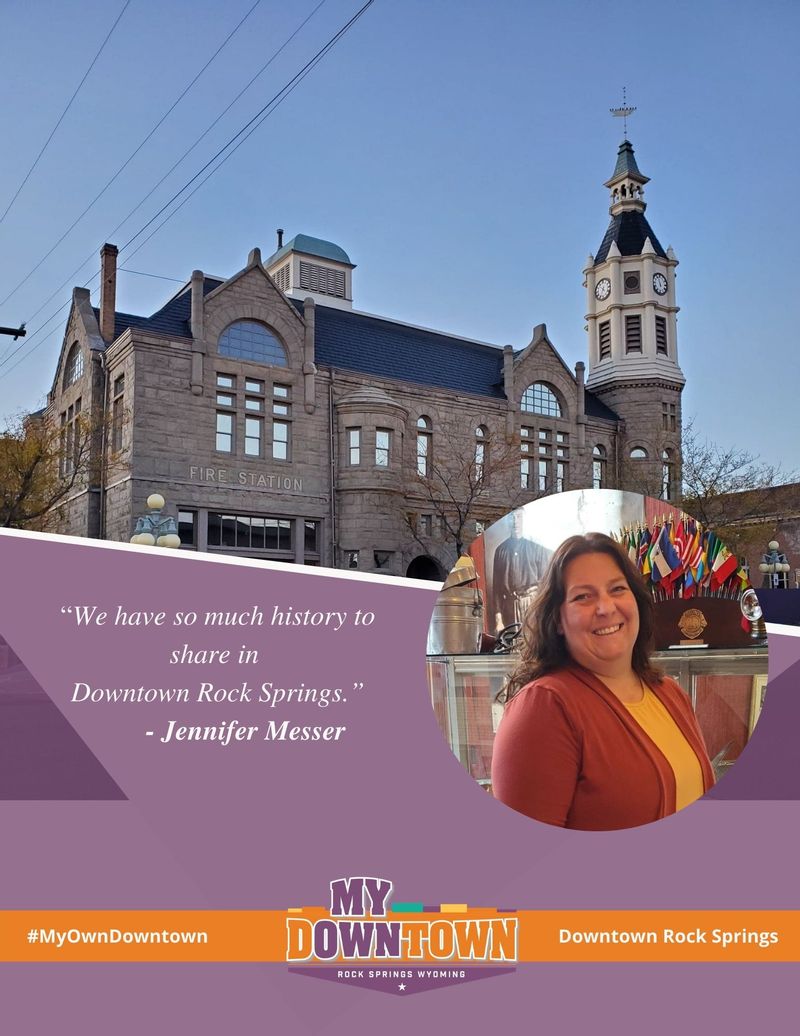 Jennifer Messer is the Director of the Rock Springs Historical Museum.
     According to Jennifer, she has always seen the potential in what the museum could offer tourists and locals.
     "We have so much amazing history to share," she said. "Rock Springs is uniquely situated to catch people going East and West on I-80 and North and South to Yellowstone."
     She added, "Downtown can offer every one of them a chance to stretch their legs, enjoy some refreshments, see our local history and art. They get a chance to breathe before they resume their journey."
     Jennifer and her staff not only shares Rock Springs history with others, but others share their ties to our community's history as well.
     "Nothing makes me happier than museum visitors having a personal connection to something they see in our museum."
     Jennifer is no stranger in Downtown Rock Springs.
     "I have worked Downtown for 20 years and I have so many memories tied to it!" she beamed.
     Jennifer and her family have always loved walking the Halloween Stroll and watching the Christmas Parades.
     "My boys have spent their childhoods having picnics in the grass by the caboose and spotting the fish in the stream by the underpass," she shared. "We've hung out at all the pocket parks, played mini golf on the corner and spent hours watching trains go by."
     Jennifer loves all the consistent things in Downtown such as the spire of the Catholic Church and the clock tower of the museum coming to view driving over the A Street Bridge. She enjoys the sound of the trains going by all day and the museum's bells chiming the hours.
     "I love all the food and coffee smells walking around Downtown and the chance to look in all the shop windows for gift ideas," she expressed. "It makes me happy when people open up brand new places to shop and eat in and when buildings get renovated to be the best versions of their historic selves."
     Jennifer believes it does our community good by supporting small businesses.
     "Locals spending money in those small businesses is as important as sending visitors into different places to shop," she pointed out. "Take the Downtown Walking Tour, grab a snack or a drink while you're out and see what is going on – most of these places are in walking distance."
    ... And that's why Downtown Rock Springs is My Own Downtown.