What's up Downtown - the week of October 19 - 25, 2020
---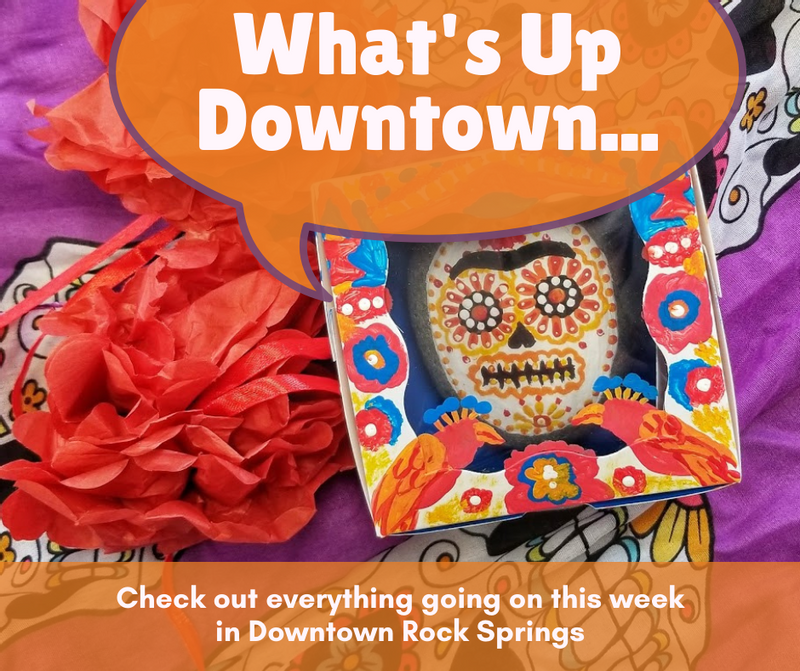 Looking for something to do?
Downtown Rock Springs is the center of activity.
Oct  1-31, Oktoberfest
The first-ever Virtual Oktoberfest invites beer fans to enjoy a "cold one" in our local microbreweries or at home with friends and family.

Tickets are $40 and are available at the Rock Springs Main Street/Urban Renewal Agency office, 603 South Main Street, beginning October 1, through October 31.Oct  15-28
Exploration: Art - Frida Kahlo Day of the Dead Shadow Boxes, Rock Springs Library, 10 am to 1 pm 
Stop in and pick up your kit.
Each kit will include information on the principal we are exploring this week and all the materials necessary to create a fun craft. Kits will be available for two weeks - until our next Exploration program, or until they are gone.
Oct  19, Downtown Toddler Time, Downtown Caboose, 10:30 am
Join the Rock Springs Library for a story and some songs at the Downtown Caboose! For kids ages tiny to three! All days will be weather permitting. Please check their Facebook page at 10 a.m. each Monday for any updates.
Oct  19, Yoga Classes with Salina, Escape Day Spa & Boutique, 4:00 pm
Come join Escape's new Yoga classes with Salina Zanett, Certified Yoga Instructor! Salina will be teaching Monday-Friday in the Fitness Room at Escape Day Spa & Boutique. All ages and abilities welcome!  Classes continue all week so check for times and dates. 
Oct  20, $20 on the 20th, Downtown Rock Springs
It's simple, just spend $20 Downtown on the 20th to show your love for the merchants and all they bring to our community. Shop for gifts, go out to lunch, treat yourself to a manicure or massage or grab a gift.
Check out the 20 specials offered by some of your favorite merchants here
Oct 20, Homecoming Parade, Downtown, 4 pm
Come support the RSHS Tigers! 
Oct  20, Triva for Squares, Square State Brewing, 6 to 8 pm
We are back at it! Bring your brain, your friends and slug some beers while you compete in trivia for prizes. We will see you in the taproom it's going to get wild!
Oct  21, MARS Club, Rock Springs Library, 10 am to 6 pm 
Are you ready to attend Camp Half-Blood? You must earn 12 god buttons by completing weekly and monthly contests, tuning in to our online programs, and creating with our MARS Club grab bags. If you earn all 12 buttons you will get a Camp Half-Blood t-shirt! Program is open to kids in fifth grade and up.

October 21 - Design a Sword and Shield
Oct 21, Educator's Night, Bitter Creek Brewing, 4 to 7 pm
Enjoy a free chef's choice appetizer with your beverage.  
Oct  21, And the Wind Howls, Streaming Event via the Broadway Theater, 7 pm
Who says theater fans can't enjoy the performing arts at home? Make popcorn, get cocktails to-go from Wyoming Club ($2 off when you show your registration numbers) and get ready to join others for a FREE online theatrical performance.
REGISTER HERE
Oct  24. Ghouls Day Out/ Halloween Workshop, Bitter Creek Brewing, 2-3:30 pm
Join Rebel & Roots Boutique and Bitter Creek Brewing for a Ghouls👻 Day Out. For this workshop we will be making a freestanding Halloween pumpkin. All supplies are included. There are a lot of different options and supplies to cater to everyone's creativity. The price is $25 per person. Pre-registration is required. Limited spaces available.
October 24,  Book Discussion with Author, Clark Allred, Sidekicks Book and Wine bar - Noon 
Oct  25, 2nd Annual Fall Shopapalooza, Park Hotel, 10 am to 2 pm
Get in the mood and get a jump on your holiday shopping with this fun shopping event featuring 9 vendors.  
Oct 25, Shuffleboard Tournament, Park Hotel, 12 noon (sign up by 11:30 am)
Sunday funday coming to the Park Lounge! Doubles shuffleboard tournament on Sunday, Oct 25th @ noon. You must be signed up by 11:30am to participate. Text the word "shuffle" to (307)200-8205 for more information or any questions.